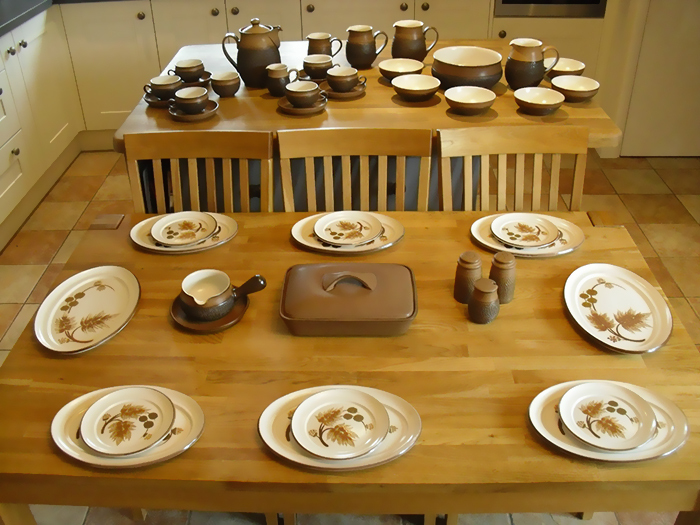 In 180 years, Denby ottery has learned to produce dinner services that satisfy the eye, have saucer space for a biscuit, and can go conveniently from oven to table. Durable stoneware is the core of the collection, but porcelain and fine china sets are also available, adding to the range of designs possible from Denby.
Denby Stoneware for Dinner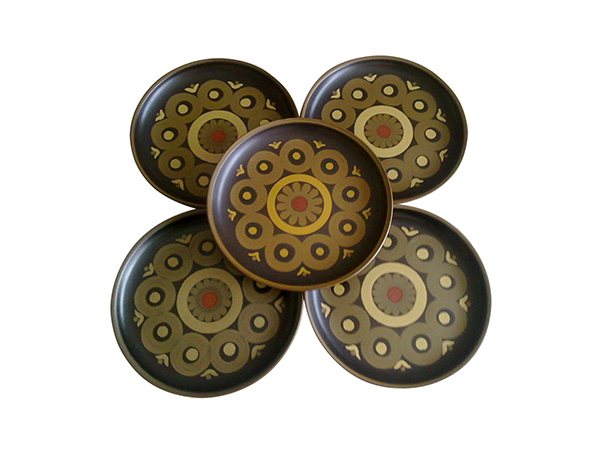 At any moment, the company offers several reasonably priced 16-piece settings for young families. These have bright rims on a cream base. "Everyday" Denby stoneware services, at about twice the price, offer more sophisticated colours. In the same price range is the line of "Cook & Dine" crockery, with bright exteriors and cream coloured interiors. These offer limited cutlery. All of the Denby stoneware are specified for the same stove- or microwave-to-table uses.
Mix-and-Match Denby Stoneware
Multiple Denby dinner services, with coffee beakers, wine glasses, or craftsman's mugs according to the buyer's preference, come in the highly popular imperial blue colour. A breakfast set provides just plates and bowls in solid blue instead of the standard blue rim, offering material for mix-and-match settings. Denby Jet likewise provides dinner and entertaining sets, but offers a choice of jet black or grey rims and outsides. Coordinating pieces include dishes with striped rims or horizontal stripes across the entire dish.
Porcelain Dinner Services
Porcelain dinner services from Denby remain in the tradition of simple, elegant crockery. Most pieces are white and combine happily with each other, including the few black-backed pieces in the Intro Bistro line. White Coupe is round with a raised inner ridge, Denby White Squares are square-shaped, and James Martin is round without the strongly defined ridge of the Coupe. Select four-piece individual services, 16-piece service for four, or 12-piece service for four in James Martin, leaving the choice of cup or mug open. Serving bowls, tea service, and party pieces mix readily across the lines.
Fine China Denby Dinnerware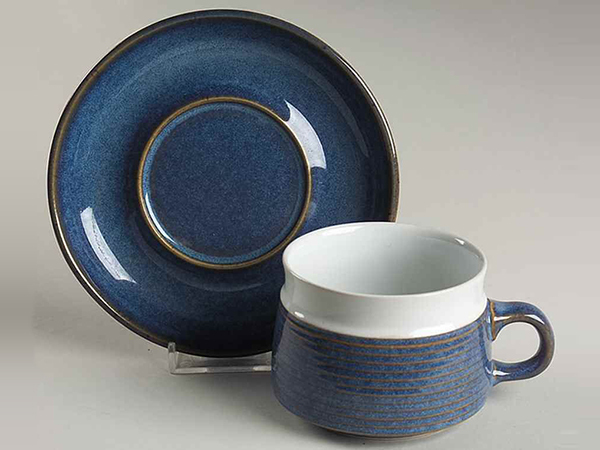 Denby china services offer contemporary designs in upbeat colours and come in 16-piece sets for four or four-piece individual services. In many patterns, alternate pieces may also be purchased: for instance, a salad plate in a complementary colour or a can mug instead of a large mug. Moreover, they can pair with sauce jugs, tea pots, serving bowls, and other essentials, as well as harmonising glasses, placemats, and coasters.
Filling Out a Denby Dinner Service
It is usually easy to fill out an older Denby dinner service that is missing a piece or two. More than 300 past and present Denby patterns, such as Denby Chatsworth or Denby Arabesque, are available.