I bought a set of Denby mugs on ebay, the seller described them as First Quality/Fully Backstamped but when I got them they were clearly seconds with a seconds backstamp and obvious glaze flaws.
So I thought I'd write a guide to help both buyers and sellers tell the difference.
Whereas Wedgwood and Royal Doulton use a standard backstamp and scratch or deface it to indicate the item did not pass as 1st Quality, Denby will either overstamp with an S, do a double backstamp or use an abbreviated stamp to indicate a second.
So, which ones are seconds from the sample below?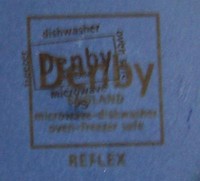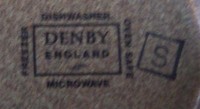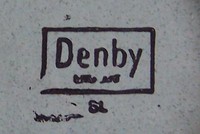 The answer is: they all are.
#1 and #3 were backstamped as 1st Quality then downgraded after a quality check. #2 and #4 were from pieces stamped as seconds.
Note that you often see a letter under the backstamp and this is the date code (2008 is T) but S always means seconds. So PS means 2005/seconds. The P does not mean Perfect.
Also if a seller does use terms like perfect and 1st Class Quality, this can be a reference to the condition of the item (new rather than used) rather than whether it's a 1st Quality piece. Some descriptions you see on ebay have been quite carefully written to gloss over this point and this is not entirely honest IMHO, Remember, Denby sells its new Seconds at up to 50% off RRP so you are buying something that is intrinsically less valuable and may have significant manufacturing defects.
Anyway, now I've got that off my chest, I'd just like to add that the quality of seconds is extremely variable. Some will have just a tiny flaw somewhere ... but some will have come out misshapen or wildly the wrong colour. But there will always be something wrong with them. So if a seller says they can't see anything wrong with the item, they should have gone to Specsavers before they listed on ebay.
Whether you think this guide is good or useless please vote on the helpfulness of this guide!
Thanks for reading and keep buying quality British-made pottery.