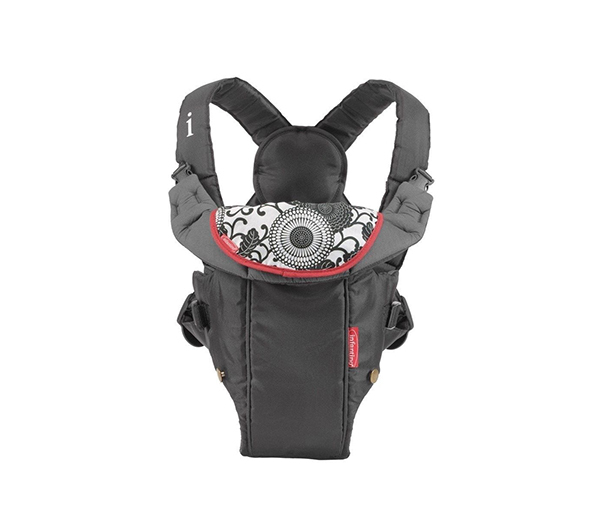 Baby carriers are considered a necessity by many parents. Moms and dads alike love them because of the convenience they offer and the bonding that comes from snuggling closely with their child. Parents can shop, cook, clean, or get work done at the desk while the baby sleeps cosily against their body. While all carriers serve the same general purpose, some do it with more fashion and flair than others. Designer baby carriers, with their elegant prints and ergonomic designs, make it possible for little ones to travel in style.
Designer baby carriers are available in a variety of styles, colours, and price ranges, but that does not make choosing one any easier. Choosing a designer baby carrier means finding one that fits the size and shape of the parent's body as well as the size and seating preferences of the baby. Parents must also look for necessary safety features and ease of use. With so many factors to take under consideration, the simple task of finding a stylish designer baby carrier can quickly become a chore. Read about the styles and brands of designer baby carriers to make finding one easier and more enjoyable.
Types of Designer Baby Carriers
Designer baby carriers are similar to their bargain counterparts in the sense that they are mainly available in three forms, front carriers, backpack carriers, and sling carriers. Becoming familiar with each of these types is the best place for shoppers to start their search for the right carrier.
Front Carriers
The main components of a front carrier are 1) the fabric pouch, and 2) the two shoulder straps that hold the child in an upright position against the parent's chest. In a front carrier, the baby usually faces inward during the first couple of months, then can face outward as they grow older and gain enough strength to control the weight of their own head. Some front carriers can be switched and worn backpack-style. Front carriers lack the extra support structure needed to hold bigger children, and are therefore best for carrying younger infants.
Backpack Carriers
Backpack carriers resemble backpacks, but have an added harness designed to securely hold a toddler. Backpack carriers are made for babies old enough to sit up on their own. Additionally, the packs' enhanced lumbar support lets them carry considerably more weight. The backpack style comes in handy for trail hiking, as well as for routine trips to the grocery store.
Sling Carriers
Also known as wraps, sling carriers are comprised of at least one shoulder strap and a wide stretch of fabric worn around the waist. They are extremely popular due to their versatility, since they are easily adjustable for wear in a variety of configurations. However, that versatility also complicates putting them on and taking them off. Slings typically provide great comfort for babies, but parents should be aware that the cosy pocket they create could be a suffocation hazard for small infants, if not used properly.
Designer Baby Carrier Features
Convenience, comfort, and safety are all vital to a baby carrier. The following features impact each of these elements, and should be considered carefully before purchasing any baby carrier.
Material
Many front carriers are made exclusively of cotton, though some are a mix of cotton, nylon, spandex, and other materials. Most backpack style carriers have a rigid frame with a cloth harness and seat. The sturdy frame makes them suitable for heavier children. Slings, on the other hand, are made from a broader range of materials, including polyester, silk, and various organic fabrics. For products like a baby carrier, which require both comfort and support, the right material is everything.
Shoulder Straps
While often an afterthought, shoulder straps are an important part of a baby carrier. Parents want something that can be adjusted to fit properly without digging into their shoulders after long periods of use. A potentially painful experience can be avoided by choosing a carrier with padded shoulder straps.
Fastening Mechanisms
Baby carrier manufacturers implement several types of belts and buckles to ensure that children are securely fastened into their seats. This is a critical feature that deserves special attention. Ideally, buyers need something that is simple for the wearer to remove, yet next to impossible for a baby to undo.
Body Support
A designer baby carrier should not only look good, but should also provide adequate protection for the person wearing it. The shoulders, chest, and back are among the key areas of the body affected during use. Consumers are strongly advised to see how a given item supports the body, when comparing and evaluating baby carriers.
Features for Added Convenience
Designer baby carriers often come equipped with optional features that are also very useful. These include built-in pockets for storing small items, blanket covers, inclement weather covers, sunshades, and ventilation ports. Such luxuries are typically a matter of need and preference.
Designer Baby Carrier Brands
Designer baby carriers distinguish themselves from the competition, and are designed by giants in the fashion and nursery equipment world. These are companies known internationally for their visually impressive presentations, innovative designs, and top quality. The following sections discuss several of the most popular designer brands.
ErgoBaby
ErgoBaby is an exclusive maker of baby carriers and carrier accessories. The company's mission is to deliver sturdy products that keep kids safe, while freeing parents to enjoy the greatest comfort and flexibility. The original ErgoBaby carrier served as a prototype for later models, which were designed to cater to a range of baby behaviours, parenting needs, and style preferences.
Baby Bjorn
Baby Bjorn manufactures a vast selection of baby products, including carriers, bouncers, and travel beds. Baby Bjorn baby carriers are not as flashy as other designer products, but the brand's quality is top of the line. Its failsafe design technology and wearer-friendly customisation options provide parents and baby a safe and hassle-free experience.
Baba Slings
Immensely popular in Japan, and gaining in popularity in Europe, Baba Slings are made with organic materials under No Sweat and Fair Trade operations. Baba Slings is an Australian, family-owned company that has been in business since 1999. Their sling design is unique, and uses a high quality ski buckle and a safety strap. Patterns include a two-tone design, boutique prints, and embroidered fabrics.
Mei Tai
When it is comes to a wide, diverse selection, Mei Tai's collection is hard to beat. Mei Tai baby carriers are available in many types and styles, enabling the company to satisfy the needs of a broad customer base. From ornately designed front carriers to strapless slings, Mei Tai has something for everyone.
LittleLife
LittleLife specialises in outdoor adventure and travel gear for children. Their baby and child backpacks are designed with comfort in mind, both for parent and child. With key safety features, ergonomic grab handles, and reflective fabrics, these baby carriers are constructed for optimal load carrying, and are a popular choice for active parents.
Buying Designer Baby Carriers on eBay
Part of what makes buying a designer baby carrier such a tall order is actually finding a good place to shop. Conventional wisdom points you to a local retailer of baby products and accessories. The problem with this is that many designer brands are exclusive to certain stores, which may or may not be located near you. The location aspect is one of several reasons many buyers take to the web and shop at online retail outlets like eBay.
eBay instantly takes the location challenge out of the equation. It provides you with immediate access to a global marketplace where you can purchase items from sellers in your region, or from vendors across the world. The site also gives you a huge selection to choose from, with a variety that is much greater than can be found at your local baby goods boutique. What is more, eBay makes finding what you want a breeze.
Searching for Designer Baby Carriers on eBay
You can begin your search from any page on the eBay website. Simply enter what you're looking for in the search bar such as " sling baby carriers ", and the site quickly returns listings that are relevant to your keywords. From there, you can enter something different, or use the available filters to narrow your search by location, price range, buying format, or other categories. If you put the search features to use, it is evident that the discovery process on eBay is very targeted and efficient.
Conclusion
A baby carrier is a must-have accessory for many busy parents. The ability to carry a baby around while keeping hands free means parents can tidy up around the house, get dinner prepared, or take care of other chores that are difficult to tackle with a baby tucked in their arms. However, shopping for such a handy item can be a frustrating ordeal, especially when factoring designer products into the mix. The number of designer brands is huge, and the wide array of styles they offer makes that pool of options even larger. Throw in aspects such as safety, the needs of the baby, and personal taste, and you have a daunting task on your hands.
Buying a baby carrier is an important decision, so give it the attention it deserves. Sit down and identify what you want, then take some time to evaluate the market for products and stores that coordinate with your vision. This due diligence should help you find a designer baby carrier that accommodates the needs of both you and the little companion you plan to bring onboard.