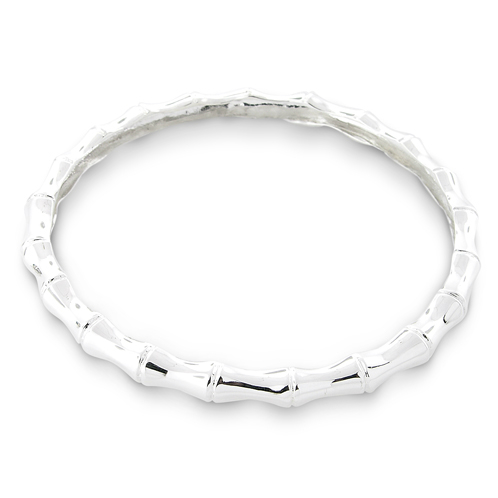 Whether worn solo or by the handful, bangle bracelets are an enduring fashion statement enjoyed by girls and women all over the world. Bangles are rigid, circular bracelets that are slipped over the hand and that fit loosely on the wrist. When two or more bangles are worn, they create a jingling sound. Bangles are made with many types of materials, from wood and leather to jade, brass, silver, and gold. The simple, elegant form of the bangle bracelet makes it an ideal showcase for many styles of adornment, including etching, inlays, and precious and semiprecious stones.
Bangle bracelets are a versatile addition to any jewellery collection and enhance casual clothes, beachwear, trendy clubwear, and business attire. Designer bangles can be found in many department stores, boutiques, and online retailers. For the woman who wishes to adorn her wrist with a designer bangle or three, the online auction website eBay is a great source for these pieces. eBay features listings that are continually updated, offering the consumer any kind of bangle she might want, including those that are no longer offered in brick-and-mortar stores.
Types of Designer Bangle Bracelets
Because of the simplicity of its design, the bangle bracelet is the true chameleon of the jewellery world. The bangle can be dressed up to complement a formal gown, or it can be dressed down to fit in at a beach barbeque. The variety of designs and styles is virtually unlimited.
Precious Metal Bangles
Bangle bracelets crafted with precious metals, such as gold, silver, and platinum, are sought-after, timeless pieces of jewellery. These bangles trace their lineage back thousands of years, when they were first created by Egyptian artisans in 1400 BC. When personalised with an engraved monogramme, name, or meaningful message, these beautiful, engravable bracelets can become treasured keepsakes to last a lifetime.
Gemstone Bangles
The ideal bangle to complement the unadorned previous metal bracelet, gemstone bangles can be encrusted with precious stones such as diamonds, rubies, and emeralds. The choice of semiprecious stones such as topaz, opal, and peridot are also beautiful accents to an elegant bangle.
Glass Bangles
Glass bangles have a colourful history, serving as a traditional ornament worn by women in Bangladesh, Pakistan, and India. On her wedding day, a bride tries to fit as many bangles on her arm as possible. By tradition, the couple's honeymoon concludes when the last glass bangle bracelet has broken. The popularity of Bollywood movie musicals around the world has also spread the desire for these beautiful glass bangles, which are available in complementary colours as well as narrow and more substantial widths.
Costume Jewellery Bangles
Wearing costume jewellery is a great way to stay current with fashion trends. The selection of bangles meant for daily wear is vast. These stylish bangles complement a wide variety of clothing styles, and are crafted using crystals, enamel, and stainless steel. These bangles are also available in a variety of widths, from slim bracelets wide enough for one gem to wide pieces that could accommodate beach glass or mosaic tiles. Wearers who are sensitive to nickel should exercise caution when buying costume jewellery, since silver plating and other alloys frequently utilise nickel.
Bangle Bracelets Made with Other Materials
Bangles are a veritable showcase for every kind of decorative material. These include glass beads, shells, Lucite, enamel, bamboo, and even feathers. Distinctive bangles are also crafted of materials that do not qualify as precious metals, but are beautiful additions to a jewellery collection. These include pewter, bronze, copper, and titanium.
Styles of Designer Bangle Bracelets
Just as there is a wide range of materials that bangles are made from, there is an even more extensive variety of designs available. One need not spend a lot of money to choose designer bangles to match any taste and style. Some of the most popular styles are discussed below.
Classic
The classic bangle is usually in a simple, round shape, and is adorned with gemstones, engraving, or similar understated designs. Designers who offer classic bangle designs include Michael Kors, Tiffany, and Maurice Badler. These bracelets are ideal accessories to any outfit, and complement cocktail dresses, power suits, weekend wear, and wedding dresses with equal flair.
Contemporary
Contemporary bangles are a vital part of the jewellery design palette. Many of the materials classified as costume jewellery are featured in contemporary designs. A sample of designers who create these stylish and colourful bangles include Kate Spade, Juicy Couture, Alexis Bittar, and Swarovski, which features sparkling bangles covered in high-quality rhinestone crystals. Consumers can find contemporary bangles designed to resemble buckles, bows, twisted rope, and elaborate scrollwork.
Vintage and Antique
Vintage and antique bracelets run the gamut from Victorian reproductions, to Art Deco designs, to mod designs from the 1960s. A few designers represented in this style include Michaela Frey, Whiting and Davis, and Elaine Miller. Some bangles are actual vintage pieces from the original time period; some are contemporary designs or vintage reproductions that resemble the original pieces.
How to Wear Designer Bangles
Fashion-forward women have many choices in how to wear bangles. Brilliantly coloured bangles are a great match with jeans and casual dresses. They can be worn as a rainbow of different colours or all the same shade to match or contrast with one's outfit. Another way to accessorise an outfit is to combine different shapes or materials for an eclectic style. For instance, square wooden bangles can be worn with round jade bangles to create a truly individual look.
Different styles of these lovely bracelets complement a woman's outfit; a set of bangles with a vintage look can give a simple black top an entirely different look than a sleek, modern trio of bracelets. An elegant bangle encrusted in diamonds, pink topaz, or even cubic zirconia is a lovely addition to a bridal gown; the bride can also present matching bangles to her wedding party as a thank-you gift.
Another distinctive feature of bangle bracelets is the lovely sound they make when worn together. Bangles made from metals such as silver, gold, brass, or copper create a bell-like jingling sound. Bangles that feature gemstones or beads produce a more muted sound. When made from materials such as jade, glass, and pearl, bangles create a more subtle tone. For casual outfits, wood bangles offer a gentle, soft sound, and plastic bangles create a cheerful percussive sound.
Sizing Designer Bangles
Not all hands and wrists are the same size, and it's important to ensure that the beautiful bangle the consumer has just purchased does not fly off her hand or remain stuck on her wrist. Using a tape measure, the buyer should measure her wrist at the narrowest part, as well as at the widest part of her hand, passing over her thumb and pinky finger. For a loose fit, the buyer should choose a bangle that is slightly larger than her hand measurement. If the buyer is not sure about the size of a bangle, she can contact the seller to verify the size.
Shopping for Designer Bangle Bracelets on eBay
After you conduct your research and have found the designer bangle bracelets that best suit your taste and needs, you may begin your online search for bangles on eBay. Enter a search phrase such as "designer bangle bracelets" in the search field on any eBay page. When the results are displayed, you can browse those listings, or you can continue to narrow your search by selecting types of bangles such as vintage and antique bracelets.
If you know exactly what you're looking for, you can enter more specific search phrases of your own to locate bangles created by particular designers such as David Yurman, Kate Spade, or Roberto Coin. Likewise, you can enter a search for a specific material such as jade, stone, or stainless steel.
You can search for bangle bracelets within a specific distance from your postcode, and if the seller is amenable to an in-person pickup, you can meet in person and save both time and shipping costs. Whilst browsing the listings, it is important to research the seller's policies, feedback ratings, comments, reliability of dispatch and communication.
Conclusion
One can spend a great deal of time searching for just the right bangle bracelets in brick-and-mortar retail stores, running the risk that the item is no longer available. eBay offers an extensive selection of designer bangles that suit every style and budget. Because the listings on eBay are continually updated, consumers have a greater chance of finding the ideal bracelet for their needs and tastes. eBay's vast selection of bangle bracelets allow buyers to select the right item with ease.
Amongst the factors to consider are whether to buy a bracelet made with a precious metal, the number and kinds of gemstones, if any, as well as other materials such as jade, titanium, or bronze. Another factor to consider is which style to select, whether classic, contemporary, vintage, or other style. After thoroughly researching the seller's history, policies, delivery costs, and feedback ratings, consumers can peruse an extensive array of designer bangle bracelets on eBay and find one to suit their style and budget.