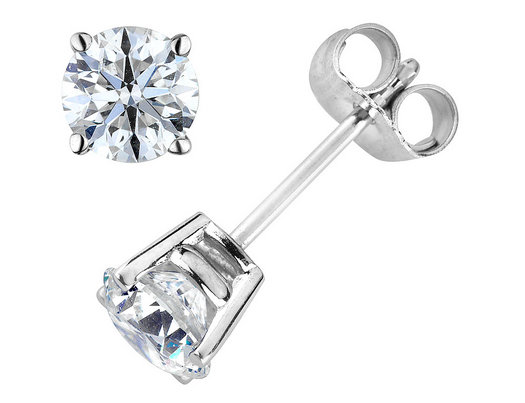 Designer diamond earrings are possibly the most coveted, most valuable types of earrings on the market, but they can also be confusing to buy. With multiple styles, high prices, and a variety of materials, buyers can quickly forget what they are looking for, what styles fit their needs, and even the real meaning behind designer brands. Some buyers might also have difficulty finding designer earrings, especially if searching for a specific brand, such as Chanel.
Buyers looking for designer diamond earrings should consider what brand they are looking for, what their budget is, what occasion the earrings should match, and where they intend to buy the earrings. Many malls and designer boutiques offer designer earrings, but many do not. Searching for local designer stores can be difficult, but many people also choose to purchase earrings online via online jewellers and designer shops, as well as eBay. Most importantly, buyers should keep in mind their style, their budget, and their location while shopping for designer diamond earrings.
Why Choose Designer Diamond Earrings?
Designer diamond earrings can be incredibly expensive, often to the point of being multiple times the same price as the exact same quality earrings from a different brand. An 18-carat white gold set of earrings with 3 carat diamonds could be ten times or more the cost from Channel as from a random jewellery shop. However, despite the added cost, designer earrings offer quality of design, purity of materials, and the value of a brand that keeps growing over time. Other than as an investment, a quality pair of designer diamond earrings is an excellent way to show personal fashion and taste in a way that almost anyone can recognise. In some areas, designer brands are the only 'fashionable' wear, so this can also be taken into consideration when making a purchase.
Designer Diamond Earrings Types
Designer diamond earrings include a variety of posts and setting styles such as hoop, huggie, stud, and several more. Because designer earrings are generally aimed towards traditional dress, alternative options such as plugs are not usually included in designer brand styles. The most popular varieties are those that can be worn either everyday or as formal evening wear, although the exact type of earrings available does differ per designer.
Designer Diamond Stud Earrings
Stud earrings are the most popular designer diamond earrings. They are small and therefore less expensive than other types of earrings, can be worn to literally any occasion that allows women to wear earrings, and can be worn with anything from a baggy T-shirt to a satin evening dress. Studs are small, versatile, and can be personalised by the shape of the diamond, the colour of the metal, and the colour of the diamond. These earrings can feature screw-on, push-on, or butterfly backs.
Designer Diamond Chandelier Earrings
Designer diamond chandelier earrings are usually very large, with multiple layers of earrings. They can feature a variety of shapes, but generally have gemstones or teardrop shapes hanging from each layer. These can include higher-end earrings as chandeliers are very large and even if they only have two diamonds, still require a lot of precious metal and artwork. The plus side of the chandelier is that they are often more personalised than studs, but tend to be more attention grabbing.
Designer Diamond Drop or Dangle Earrings
Drop or dangle earrings can hang from fishhook or French hook earrings, and sometimes push back options as well. As the name suggests, these earrings drop down from the ears to dangle anywhere from a few centimetres to more than 20 centimetres down. The longest of these earrings actually touch the shoulders, which limits their use in some cases. Most designers sell single stone drop earrings, feathers, chains, geometric designs, and a great deal of other styles so most buyers can choose something that suits their personality.
Other Designer Diamond Earrings
There are many other styles of earrings including a variety of hybrid designs, off designs, and one-of-a-kind items that are unique to the designer. Different designers sometimes feature earrings with their logo or brand name, such as Guess and Bulgari.. Other designers work on producing designs that blend in well with their clothing, shoes, or other jewellery.
Diamond Carats
Another important decision-making factor when choosing designer diamond earrings is the number of carats in the jewellery. The higher the carat, the more valuable the earrings; however, a large carat single stone is more valuable than more carats of smaller stones. For example, one 5 carat stone is more valuable than five 1 carat stones. Because many people actually prefer the appearance of having multiple small diamonds to a single large one, some buyers should actually look for the cheaper options.
| Carat | Size (millimetres) |
| --- | --- |
| 0.03 | 2.0 |
| 0.05 | 2.5 |
| 0.07 | 2.7 |
| 0.10 | 3.0 |
| 0.15 | 3.4 |
| 0.20 | 3.8 |
| 0.25 | 4.1 |
| 0.33 | 4.4 |
| 0.40 | 4.8 |
| 0.50 | 5.2 |
| 0.65 | 5.6 |
| 0.75 | 5.9 |
| 0.85 | 6.2 |
| 1.00 | 6.5 |
| 1.25 | 7.0 |
| 1.50 | 7.4 |
| 1.75 | 7.8 |
| 2.00 | 8.2 |
Buyers can compare the virtual size in millimetres to the actual size of an object on a measuring tape to see exactly how big the diamond is. Some diamonds are smaller and larger than the ones listed here, but larger ones are very rare and often hard to come by, and can retail for literally hundreds of thousands of pounds depending on the quality, clarity, and colour. Most 1 carat diamonds can be quite expensive on their own, which in part contributes to the high value of designer diamond earrings.
High End Designer Diamond Earrings
High end designer earrings are any earrings made by very high end expensive designers. These include brands such as Armani, Versace, Chanel, Prada, Gucci,, and many more. These brands are for the discerning buyer with a very high budget. High end designers often cater to the wealthy, but a small pair of diamond studs can be priced affordably to a buyer with a lower budget. In fact, many fashion experts recommend small purchases of designer items for anyone who wants to build their designer collection. Because earrings are often a once-in-a-lifetime investment, choosing quality over quantity is an excellent method of selection.
Lower-End Designer Diamond Earrings
Lower-end designer earrings are those made by brands who offer more affordable prices. These include Calvin Klein, Victoria's Secret, Coach, Marc by Marc Jacobs, Betsy Johnson, Juicy Couture, Guess, and literally hundreds more. Generally, buyers can choose these lower-end designer brands based on what styles of clothes they wear, what style the earrings are, and how affordable they are. Lower-end designer brands are still 'expensive' by most standards, but can cost half or less of the price of the very high-end designer diamond earrings.
Both choices are personal and can be made based on budget, taste, quality of earrings, and styles that are available. For example, some very high-end brands do not offer everyday style functional earrings, while many lower-end brands do. However, many high-end brands do cater to everyone, and sometimes offer lower-end lines for sale in many malls and stores. For example, Marc Jacobs offers the very high-end Marc Jacob's Collection and a lower-end Marc by Marc Jacob's collection.
Buying Designer Earrings on eBay
eBay is an excellent place to purchase designer earrings of any quality, style, or age, mostly because eBay is home to a very wide range of diamond earrings. Whether you are looking for specific high-end designer brands, or looking for the cheapest designer diamond earrings you can find, you are likely to find the right pair on eBay. In fact, options range from brand new to used, so you can easily purchase a more affordable second-hand option if you like.
Most designer items on eBay can be found by searching for 'diamond designer earrings', and you can of course replace 'designer' with whatever specific designer you are looking for, for example, 'Gucci diamond earrings'. There are plenty of options available so you can feel free to browse as much as you like. Read the full description to ensure that the item is what you think it is, look at any pictures, and ask the seller any questions you have if you are not sure about the item.
Conclusion
Designer diamond earrings are an excellent option to purchase for either a personal addition to a collection or as a gift. Designer diamond earrings can come in many shapes and sizes including studs, hoops, dangles or drops, chandeliers, and more. Styles generally vary per designer, but usually include something to do with the designer's logo or fashion style. For example, many Chanel diamond earrings are in the shape of two back to back C's, for Coco Chanel.
Designer diamond earrings can be purchased for a variety of reasons, but most people buy them for fashion or for collection purposes. Considerations include the metal and diamonds, or the actual real value not considering the designer value, and then the value of the designer brand. Buyers searching for designer diamond earrings can look in designer stores and boutiques, some jewellery stores, online designer shops, and on eBay. The main considerations for purchase include budget, quality, style, and preference of the wearer.