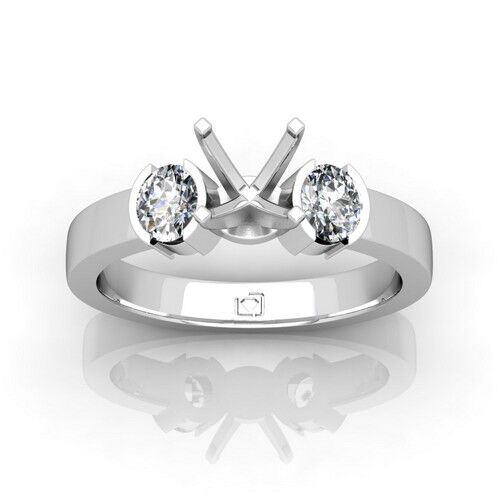 A marriage proposal can be both exciting and terrifying for men. Most men pick out a special ring to present to their girlfriend when they request her hand in marriage. This ring represents the commitment between the two people and indicates to others that a marriage is planned for sometime in the near future.
To save money, some buyers may look for antique engagement rings or lower-priced rings. For others, price may not be an issue, and they may be prepared to spend a significant sum on a very valuable designer engagement ring. To select the right designer engagement ring, buyers should be familiar with some of the top ring designers in the world. They should also understand the four Cs: four key factors to consider when choosing a diamond ring. Designer rings are available from local jewellery stores or designer jewellery shops as well as from websites like eBay.
The Four Cs
When selecting an engagement ring, experts usually point to the four Cs: cut, clarity, colour, and carat (or weight). Buyers should think about these same four Cs when selecting a designer ring for their future spouse.
Cut
Most designers take great pride in their work. They have a reputation to uphold, so they hire only the most expert diamond cutters to transform their diamonds from rough form to sparkling gem. Some of the most common cuts are described in the chart below.
| Cut | Description |
| --- | --- |
| Princess | A perfect square |
| Cushion | Slightly oblong, like a rectangle with rounded corners |
| Heart | Shaped like the traditional stylized heart |
| Pear | Teardrop-shaped with one wide, rounded end and one pointed end |
| Marquise | Shaped like a human eye, wide in the centre with pointed ends |
| Radiant | A rectangle with the corners cut off to create eight sides |
| Brilliant | Round with 57 or 58 facets |
| Oval | Shaped like an oval |
The bride-to-be may have some preference regarding the cut of the diamond. If the buyer is unsure of her preference, they can either ask or, if the ring is a surprise, choose one of the classic cuts for engagement rings, such as princess, heart, or brilliant cuts.
Colour
Transparent white diamonds are very valuable gems and are often used in engagement rings. However, some designer engagement rings feature diamonds with lovely, subtle hues like green, yellow, blue, or pink. If the diamond has a vivid colour, it is referred to as a 'fancy' diamond. The rarity of these fancies makes them extremely valuable and desirable for designers. If buyers are interested in purchasing an unusual and beautiful ring for a special person, they may want to consider a diamond with some colour.
Clarity
Clarity refers to the number of inclusions within the diamond. Inclusions are generally so tiny that the human eye cannot detect them. Jewellers use a special loupe to magnify the diamond and determine its inner quality. The fewer inclusions are present, the higher the clarity rating and the price. Too many inclusions can interfere with the diamond's reflective capacity and its resulting brilliance. Since most designers work with only the best and clearest stones, buyers purchasing a designer engagement ring are likely to receive a crystal-clear gem. Diamonds are graded using a scale established by GIA England. On this scale, FL represents a flawless gem and IF stand for 'internally flawless'. At the opposite end of the scale, I3 represents a severely included diamond.
Carat
The diamond's weight is measured by a unit called a 'carat'. One carat is 0.2 grams or 200 milligrams. Buyers should be careful to distinguish the carat, used in reference to a diamond, from a karat, which measures the purity of gold.
The heavier the diamond, the greater the cost. For instance, a 0.5-carat diamond would be much less expensive than a 3-carat diamond. Some designer rings include a large diamond plus several other small ones, for a grand total well over 100 carats.
Top Designer Brands
Some famous designer brands that are popular in both the UK and North America include Asprey, Graff Diamonds, Tiffany & Co., Harry Winston, Neil Lane, Cartier, Tacori, and Van Cleef & Arpels. These names are all known for producing stunning jewellery, including collections of expensive, magnificent engagement rings.
Asprey
Asprey designs and produces beautiful rings that are well-known in British society. These expensive, richly designed rings are ideal for expressing to a loved one how truly unique and beautiful she is. Asprey's engagement rings come in both classic and ultra-modern styles. Some feature jewels other than diamonds, such as emeralds. A designer engagement ring from Asprey is likely to become a prized heirloom.
Graff Diamonds
Another well-known designer of engagement rings is Graff Diamonds. This company was started by Lawrence Graff, a jewellery apprentice in 1950s London. Since that early period, Graff has expanded to serve customers around the globe. The gems that Graff uses are sometimes traditional, clear white diamonds. However, their engagement rings may also feature diamond with unique tinges or hues such as pink, green, blue, or yellow. Throughout its history, Graff Diamonds has acquired, set, and sold some of the rarest and most beautiful diamonds in the world.
Tiffany & Co.
Many women are familiar with the classic blue boxes used for Tiffany & Co. jewellery. A ring designed by Tiffany & Co. is sure to please any bride-to-be. These engagement rings are usually designed with traditional simplicity and elegance. Pristine diamonds and flawless bands create luxurious rings that are sure to last a lifetime and beyond.
Harry Winston
Harry Winston engagement rings generally include white diamonds. The diamonds used in these rings meet very strict standards of excellence and clarity. They are usually brilliant-cut, cushion-cut, pear-shaped, oval, or round. The number and placement of the facets cause Harry Winston diamonds to sparkle with unusual brilliance.
Neil Lane
Neil Lane has provided engagement rings for Hollywood's elite for years. This designer has a large collection featuring an amazing assortment of gems. One example of a Neil Lane ring is a large, cushion-cut pink diamond with a ring of tiny diamonds set around it in a platinum band. For some customers, Neil Lane also designs a one-of-a-kind, beautiful ring that fits the recipient's unique style.
Cartier
Cartier is a famed and beloved brand, known for providing jewellery to royals and celebrities worldwide. An engagement ring from Cartier makes the bride-to-be feel like royalty. One of Cartier's famed designs is the Solitaire 1895, with a beautiful brilliant-cut diamond in the centre and smaller diamonds embedded along the band.
Jacob & Co.
Designer Jacob Arabo, or Jacob the Jeweller, owns the jewellery company Jacob & Co. He has created unique engagement rings and other pieces for well-known European and American celebrities. Among his designs are traditional, simple engagement rings set with perfectly clear solitaire diamonds, as well as flamboyant, sparkling designs featuring multiple stones and lavish embellishments.
Mauboussin
Since 1827, Mauboussin has been a popular choice for French customers. In 2009, the company opened the doors to its New York City. They offer a broad selection of stunning engagement rings with unique cuts and meaningful designs that connote passion, commitment, and timeless love. While many of the gems in the Mauboussin collection are white diamonds, they also favour purple and pink hues. One of these designer rings is sure to be an ideal choice for the finger of a bride-to-be.
Other Top Designers
Other popular designers of engagement rings have their headquarters in different regions of the world. Their products are sold in satellite shops and online so that as many customers as possible have access to truly amazing rings. A few other names in engagement ring design are Verragio, Van Cleef & Arpels, and Tacori.
Buying Designer Engagement Rings on eBay
You can find a wide variety of designer engagement rings on eBay, often for lower prices than you would pay in a brick and mortar store. To start your eBay shopping session, enter the term 'designer engagement ring' into the search bar. If you know which designer you want, you can further narrow your search by including the designer's name in the search term. To see only listings from sellers near you, enter your postcode and your preferred kilometre radius. Sometimes, local sellers allow you to pick up the item in person, saving the cost of postage and packing.
If you do not see the ideal ring right away, you can save your search. This feature gives eBay permission to email you every time a seller posts a new listing for a designer engagement ring. That way, you can keep track of the available products and watch for a good deal on a stunning ring. You can also check eBay Shops, the retail section of eBay's website, for additional listings of designer engagement rings.
You will find that many sellers offer extra benefits like free P&P, bundles, return policies, or package deals. If you have questions about any products or policies, ask the seller either via the item's product page or by visiting the seller's profile. You may see top-rated seller seals on some listings. These seals mean that other buyers have left positive feedback about that seller's excellent products and prompt, professional service.
Conclusion
Designer engagement rings are typically more expensive than rings from other jewellery manufacturers. Famous designers use only the best gemstones and the purest precious metals to create their rings. The rings are usually one-of-a-kind creations. Some designers even associate a theme, story, or descriptive name with each one of their rings. This makes it easier for buyers to find a ring that carries with it the perfect symbolism and meaning for their relationship with their special someone.
In addition to considering cut, clarity, colour, and carat weight, buyers should take into account the character and personal preferences of their future fiancée. They should also get the correct size for the recipient's left-hand third finger so that they can ensure that the ring is a perfect fit. After careful, thoughtful research into all the designer options, buyers should be able to select the ideal designer engagement ring to make their proposal even more special.