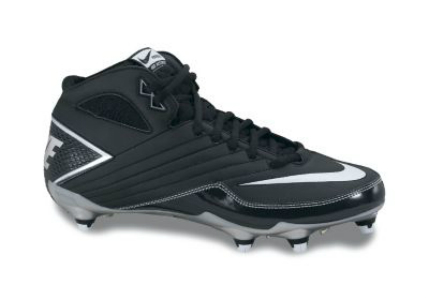 Football is one of the most popular sports in the UK. With players being exposed to such a variety of pitches and weather conditions owning the right football boots is essential. Boots really can either make or break a player's game. To find the right football boot there are lots of different aspects that need to be taken into consideration and shopping on eBay can make selecting the right pair very easy.
When making the decision to purchase a designer pair of boots, it can be tempting to choose a shoe on the basis of its enticing appearance, but opting for substance first will put football players at an advantage. When equipped with the right knowledge, consumers should be able to find a stylish boot that suits their needs. Ideally, choose something that is both attractive and comfortable.
According to the pitch type to be played upon and other special requirements such as seasonal weather conditions, a football boot will entail different:
There is also a difference in the levels of quality that the different major designer boot brands have to offer. This guide will examine the different elements of a boot that need to be taken into account before buying and how to read into what the description really means.
Designer Football Boot Brand Names
The major long-term players in the designer football boot market are:
Their latest ranges all offer competitively engineered products that are styled to look vibrant and appealing. But, these will come at a premium cost, as they all compete with one another to produce new and exciting boot designs. However, when buyers shop on eBay they should be able to find previous season's ranges, and occasionally current ranges, at lowered costs.
Tactility, design and touch are always a high priority for these designers, so even when opting for a slightly older model it is still possible to end up with a pair of boots that are of the highest quality. Every year a lot of money is invested by these brands into finding the right designs for the public.
Boot Studs and Playing Surfaces
Normally, players will regularly find themselves on a particular type of football pitch with their club. So to avoid over-spending when choosing soccer boots shoppers must first take into account which type of surface they are going to be playing on. This will determine which type of stud is the most suitable for the terrain, will maximise the player's abilities and will prevent any unnecessary strain on feet. Different studs can have very different effects on a footballer's grip and movements.
The general consensus is to buy a pair of boots suited to both firm ground and soft ground use so that you are prepared for muddy and hard fields. But when only ever playing on one type of field, it is smarter to stick to a specific type.
Purchasing a pair of boots with screw-in studs will allow buyers to change the studs according to different situations. Nevertheless, the more variations of boots that players own, the better prepared they will be for matches. It is a good idea to keep boots worn-in for big events, so if one pair is in constant use, then try to alternate them occasionally with a new pair being broken in. This also works very favourably if the current pair breaks.
SG: Soft Ground – Soft Muddy Pitches
Soft ground football boots are engineered for muddy pitches. This is because playing in these conditions necessitates far better grip than when playing on firm ground. Typically, these will come with a set of six studs or blades to maximise traction. If the boots allow screw-in studs then it is possible to change from SG studs to shorter sizes or metal versions when experiencing firmer pitches, while blades will be moulded into the boot and unable to be changed.
Although these are the most popular style of boots, the shape of the boot and distribution of the studs will be made with soft ground in mind. So if you are going to be playing on firm ground as well as soft ground, then get at least one pair of both types. Boots that have screw-in studs should come with a spanner or a similar device to help you to secure and change the studs.
FG: Firm Ground – Hard Pitches
When playing on firm ground football pitches, boots with shorter, moulded, rubber studs and blades are the way to go. Blades are sharp and more condensed around the heel to enhance grip and balance, giving better overall control. The front should be shaped A-symmetrically, as this formation should spread the impact evenly, when a player's foot meets the ground. Because the studs or blades and the out sole of the boot are made from rubber, the boot is more durable. So they should be able to flex and withstand tougher ground.
All Weather Surfaces – Astro-Turf and Sand Pitches
Astroturf boots will have very short multiple rubber studs that are designed for very dry or artificial pitches. The dimpled rubber out sole will look flatter and normally comes in a herringbone pattern, which makes them look a lot like trainers. This means that they will provide grip without causing the same potentially damaging impact as studs on very hard surfaces. They are also great for playing recreationally and for the occasional kick about, as they have a more casual feel to them.
| Playing Conditions | Stud / Sole on Boot |
| --- | --- |
| Artificial conditions | Astro-turf boot |
| Dry grass pitch | Short studs / rubber sole |
| Wet / muddy grass pitch | Long studs |
Materials
Plastic or leather football boots are available with a variety of customisation options that can tailor the boot to individual's need. So while there are merits to using both fabrics, ultimately the choice will come down to personal preference. Nonetheless there are some attributes to plastic and leather that are worth taking into mind before deciding on which way to go.
Plastic
Plastic is a synthetic fibre and as such does not give skin the chance to breath, nor does it mould to a foot's shape. This can result in feet getting rather sweaty. To tackle this issue plastic boots will often have in-built ventilation. However, one of the positive aspects of using a plastic boot is that it is waterproof, which makes it ideal for use on muddy pitches and in wet weather conditions. So, opting for unventilated plastic boots can add to the waterproofing.
Another useful thing to know is that plastic is lighter and cheaper than leather, so it is better suited to players who want to improve their speed or shoppers on a budget.
Leather
Leather is the traditional choice of shoe fabric because it is a breathable material that moulds to a foot's shape, creating a very comfortable feel once broken in. But, because it is sourced from the hide of an animal, leather products tend to be more expensive than plastic.
The mark of a good football boot is its elasticity, how well it is crafted and its lightness. So, do not be fooled into thinking that leather is a superior choice purely based on the slightly higher price tag. Leather is not ideal for players who primarily play in wet weather conditions, or on muddy pitches. This is because it is not naturally waterproof and has a tendency to absorb water.
What to Check When Buying Designer Football Boots on eBay
Here is a quick check-list of the things to look for when buying designer boots from eBay:
Always buy from sellers with a positive rating
If unsure of a boot's specifications or suitability then ask the seller
Check that the seller accepts refunds, that way the boots can be returned if they are not a good fit.
Pick substance over style, but aim for the best of both worlds
Opt for a reputable sports brand
Always buy a surface-relevant boot to avoid damage to feet and improve traction on the pitch
Looking After Your Designer Football Boots
After putting in the effort to find and wear-in the appropriate football boots, it is important to maintain them. To do so, proper cleaning is essential. When a shopper is happy with the fit, and are sure they do not want to return the boats, they should be coated with a water-repellant protective spray, which can also be bought from eBay. Doing so will mean the boots will last for longer.
How to Buy Designer Football Boots on eBay
From home page of eBay.co.uk choose the category of sporting goods, here shoppers will find that football has its own sub-section. On the left hand side of the football page there is a list of categories and football boots is one of them. Once on the page for football boots it is possible to navigate to the exact pair required by further narrowing down the selection, using tick box refinements that include size, brand and even types of sole, which determines the types of stud.
Used plastic boots can are affordable and make a great alternate back-up pair for wet weather conditions. Remember that leather boots mold to a wearer's feet so be wary of used leather boots. Ask the seller how many times they were worn. There are numerous brand new and never worn boots available on eBay.
The buyer protection scheme that eBay runs means absolute peace of mind and by using PayPal, a recognised money transfer agent shoppers can be assured that each transaction is secure.
Conclusion
Choosing the right designer football boots means balancing style with multi-functionality and technical usability. Each individual will have different needs, styles and budget, thankfully eBay has a wide range of boots available and clearly labelled categories that mean consumers know exactly what they are looking at. It is Important to remember to assess the pitch type and likely weather conditions and if necessary purchase more than one pair of boots, so that no matter what the conditions it will be possible to be prepared. Remaining within budget should not be a problem as eBay has a wide choice of affordable options.