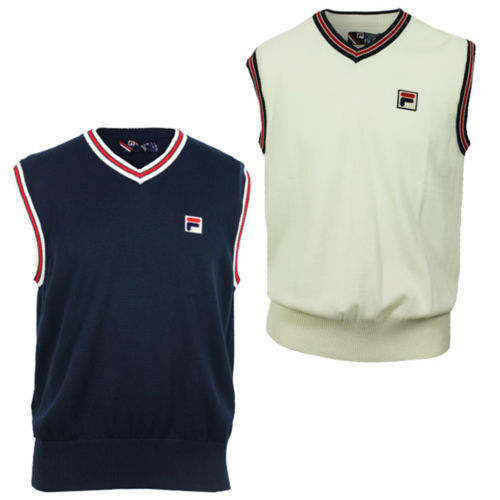 Golf has a long history as a gentleman's sport. It requires a large amount of precision and will normally require the golfer to wear smarter sports clothes. Many golf clubs do not allow entry onto the course if the person isn't wearing the correct attire.
There are a number of things to think about when buying designer golf wear online. The person will need to find clothing items that are the correct formal style still commanded by golf clubs. They will also want to find something that they can comfortably wear and perform well in, and decide what type of material is best for the varied weather conditions.
Ladies golf wear has come a long way recently, and sports fashion for men has also notably progressed. There has never been a better time to buy designer golf jumpers via eBay. When shopping online, it's important to understand some of the terms that an eBay seller might include in their golf jumper product descriptions and what constitutes a suitable purchase for a typical British golf club.
Golf Wear Dress Codes
Many golf courses have dress codes. To find a golf sweater that is the correct size, shape, style, and fabric, it is imperative that the buyer first consult the golf club's dress code guidelines. Failing to do so could result in competitors losing a day of golfing, purely because they are wearing improper clothing.

In general, a collared shirt and smart jumper and trousers will get you into most golf clubs. Some clubs will allow their members to have zip necked jumpers and designer logos visible on their clothing. However, more formal private members clubs will strictly forbid this and it is perfectly within their rights to do so. If the person is in any doubt of whether an item is suitable for wearing in the specific club, then consult the club's guidelines first.
Designer Golf Jumper Basics
An accurate aim and a good swing is the key to performing well at golf. These are subtle muscular actions that run from the legs, up to the back and arms. To perform well at this sport, clothing should be consistently flexible, unrestrictive, and keep the muscles warm. To achieve this, golfers must find a jumper size that fits them loosely but is not baggy and is the correct length. Please note that the same rule will apply to ladies golf sweaters. If a designer sweater is too large, then it may get in the way of swinging clubs. If a golf sweater is too small, however, then it will constrict movements and interfere with arm momentum.
The best way to check what size corresponds to the person's proportions is to measure their chest, hips, and shoulders size against a UK sizing chart. Most jumpers will come in standard UK-sizing, European-sizing, or small, medium, large, and extra large. Men's fashion and women's fashion will also vary in size. The dimensions of small, medium, large, and extra large items will vary according to the manufacturer, so check with the eBay seller if these details are not listed in the item's description. UK and EU-sizing measurements are standard across the board. Below is an EU to UK sizing chart conversion table and the normal parameters for small, medium, and larger items.
Golf Jumper Neck Style
The designer jumper that is most suitable for a golf club varies somewhat according to the style of neck. V-neck designer jumpers are a commonplace choice among golfers, as they provide room to display golf shirts and offer the choice of having shirt buttons undone or buttoned up to the neck. This cut also looks the most formal and will give the golfer more space for their neck.
There are also many suitable designer round neck golf jumpers. Round neck jumpers do not offer is the same level of neck movement and they do not always look as formal. What they do give you is a higher level of protection around your upper chest area, which can be particularly useful if the golfer wishes to avoid wearing a scarf. Sometimes clubs will prefer v-neck jumpers to round neck jumpers, but this is not normally an issue.
| | | | | | | | |
| --- | --- | --- | --- | --- | --- | --- | --- |
| | Small | Medium | Large | Extra Large | | | |
| | 34 | 36 | 38 | 40 | 42 | 44 | 46 |
| UK | 6 | 8 | 10 | 12 | 14 | 16 | 18 |
Zip-up jumper necks are also occasionally an acceptable option. As this is not always the case, it is worth consulting the golf club's dress code guidelines before purchasing this more casual style of jumper. Zip-up jumpers are the more versatile choice as you can choose whether or not you wear the neck opened or closed on top of your golf shirt.
Designer Golf Sweater Patterns
Designer golf wear is available in lots of different styles. It's important to keep the design as smart as possible to stay within the club's guidelines. Argyle patterns offer a traditional and formal look, as do plain or striped jumpers. Items displaying large logos are not acceptable at most clubs, although smaller logos are often allowed as long as they are golf-related.
Golf Jumper Fabrics
Cashmere and wool are the main types of natural yarns that are available for knitted golf jumpers. Thicker synthetic fabrics may also sometimes be worn as an alternative to knitwear and can provide superior insulation, but they do not always look as smart and will not breathe as well as natural fabrics. Below is a reference table of each fabric's individual properties.
| | | | |
| --- | --- | --- | --- |
| | Breathable? | Insulation | Expense |
| | Yes | Very warm | High to medium |
| Wool | Yes | Less warm | Medium |
| Synthetic | No | Warm | Low |
Cashmere golf jumpers have the advantage of keeping wearers warmer than wool equivalents, but these items come in a range of grades and blends so the quality can vary. High-grade pure cashmere jumpers that are two ply will be adequately warm for protection against cold British weather and are the most coveted. Although these jumpers are pleasantly soft and hold colour well, they can also be very expensive as they are created entirely from goat hair.
Wool golf jumpers are generally a more cost effective option that are still just as breathable and can be just as soft. However, these jumpers will normally need to be thicker knit to provide the same level of warmth as cashmere jumpers. Acrylic golf jumpers are another alternatively. These items are made from manmade fabrics and should not involve the use of animal products, but they do not provide the same level of air circulation.
eBay Buying Guide
eBay offers you the opportunity to select from a uniquely large range of competitively priced designer golf jumper products. You can find these by using either the search function or by selecting the appropriate categories to narrow down your search. There are also a wide number of payment options available to you to choose from. Paying via PayPal will qualify you for the eBay Buyer Protection Programme and provide you with additional transaction security.
To search for designer golf jumpers using the search facility, simply type a keyword, such as 'designer golf jumper'', into the search bar. You may also want to search according to the size, neck style, pattern, gender, or fabric that you wish for your item to come in. Once you have conducted a search you can instead narrow down the results according to the categories that are available to you in the left hand sidebar.
Alternatively you can select a category that you wish to search within, such as Sports Goods. To look by category, select the category button in the bar below the site header and then click on 'Sporting Goods'. Then you can pick the 'Golf' category, in which you will find 'Golf Clothing'. From here, select 'Sweaters'. When you have reached this subcategory, you can pick from the full range of sizes, colours, fabrics, conditions and more.
Conclusion
eBay has thousands of top quality designer golf jumpers in different sizes, neck styles, patterns, and fabrics to choose from online. Plus, thanks to advances in technology, there are now more options available to golfers at a wider range of prices than ever before. So while buying a designer product online can sometimes cost too much, there are such a wide range of items on eBay that you won't need to compromise. Keeping all of the options in mind will enable the buyer to make a more considered purchase when shopping online.
Whether it's a large cashmere v-neck that is the buyer's item of choice, or a small synthetic round neck, there is something to suit everyone. Not every style and shape will be suited to every golf club. Keeping this in mind and consulting the regulations where necessary will avoid this. Beyond that, it is up to the person to ensure that they get the best out of their purchase and their game by selecting the options that they feel the most comfortable and confident in.