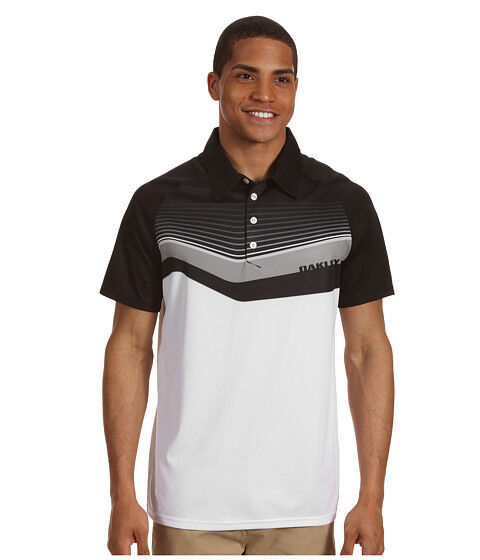 Buying a designer shirt that is suitable for wear during games of golf from eBay is a decision that although relatively straightforward, benefits from a little bit of extra knowledge. Typically, a golf shirt will be a designer polo shirt that is worn tucked into a pair of formal trousers beneath a belt. This can be layered with a jumper, or chosen in a wind proof fabric, to help players endure harsher weather conditions. Before purchasing designer golf clothes golfers should consult their golf club's clothing regulations, as these will differ from place to place. Above all, golf clubs want members to look smart, so buyers should make sure that their shirt is clean and ironed prior to use.
Generally, large logos, short tops that expose a player's torso, as well as low cuts on ladies golf polo shirts, are not permitted. This is because clubs like to retain an air of formality about their grounds to create a more exclusive and special feel. It is at their discretion as to who they allow to join, as well as who they let into their clubhouse, dining areas, events and golf course. It is worth taking their dress codes seriously as it could result in a player going home without being allowed on the course to join in with friends. In most situations it is acceptable to wear a round neck golf jumper over a T-shirt, but the T-shirt must not be exposed when taking this route.
Shirts Suitable for Golf
When a buyer is selecting golf polo shirts from eBay they should be shrewd about the dress code of their club. Golfers spend a fair amount of time retrieving their ball and watching other people play as well as swinging golf clubs. Try to strike a balance between looking smart and being practical. Before thinking about their look, the buyer must select a slightly looser fit than normal fashion wear so that their golf clothing does not constrict their movements. Shirts must have buttons to the neck, as well as a collar, and at least shoulder length sleeves. Although longer sleeves are widely acceptable and are good for keeping warm, sleeveless shirts are generally not. The eBay buyer may also want to buy a shirt that is made from a machine-washable fabric, so it is worth checking the washing instructions before buying anything.
Adaptable Designer Golf Shirt Fabrics
Here is a look at the different properties of the most commonly available golf shirt fabrics:
| Fabric | Stain resistance | Durability | Machine washable | Weather suitability | Price |
| --- | --- | --- | --- | --- | --- |
| 100 percent cotton | No | Fairly | Yes - avoid hot temperatures | Hot conditions | Mid range |
| Cotton blends | Yes | Yes | Yes | Hot and cold | Cheaper |
| Engineered fabrics | Yes | Extremely | Yes | Windy, hot, and cold | Expensive |
Engineered Golf Shirt Fabrics
Although the most commonly used type of polo shirt is cotton, the golfer is also at liberty to pick from wind proof and other similarly engineered fabrics. Some designer golf shirt brands have developed fabric that prevents sweat from collecting on the skin, while others will simply protect from the wind. These often light and versatile fabrics have a different appearance to cotton and will not be as breathable, but make harsh weather conditions more forgiving.
Often engineered designer golf clothing materials will be based on polyester blends as this material has particularly versatile properties. If the buyer is playing golf outdoors and thinks that it might rain during the game, bringing waterproof golf wear is perfectly acceptable. Getting caught in the rain or harsh winds is never a pleasant experience, so it is wise to prepare accordingly but take them off before entering the clubhouse.
Cotton Designer Golf Shirts
Cotton is a very popular fabric for polo shirts because it is naturally stretchy, breathable, light, and it holds colour well. This makes it the choice of fabric for hot and sunny weather conditions, or when layering clothes during unpredictable weather spells. It is also a good choice for when the golfer is playing indoors as it will allow air to circulate around their skin.
Designer Golf Shirt Cotton Blends
Some cotton blends will be less expensive than designer polo shirts made in 100 percent cotton fabrics, and they will often be crease proof as well as being more stain resistant and durable. But cotton has a naturally high tensile strength and its main appeal comes from its hypoallergenic properties teamed with its ability to keep moisture away from skin. This attribute is often lost in cotton blends as they are put through harsher chemical processes and have synthetic fibers incorporated into them.
There are two types of cotton shirt weaves that are used for polo shirts. They are interlock weaves, which are smooth and soft in texture, and pique weaves, which have regular patterns of tiny bumps in them. Pique fabrics are heavier and tend to be used more often for sportswear. Both are equally popular, although pique fabrics are more favoured by sportswear brands.
Golf Shirt Designs
To keep an athletic look about the game, golf polo shirts tend to be fairly unassuming for designer clothes. Modest stripes or block colours are the most popular styles of shirts that can be seen on players. Large pictures on the front or back of shirts are not generally seen as acceptable as they look too casual. This rule of simplicity extends to more visible logos and other wording that is unrelated to the sport. If wearing a team shirt in a match, this will obviously not apply. Bright and dark colours are equally acceptable choices, as is wearing thermal clothing underneath a shirt.
Polo Shirt Sizing
There are many subtle movements that are involved in playing golf. To get a perfectly fitted golf shirt, it is a good idea for the buyer to use a tape measure and check what size of clothing they currently are. UK and EU sizing comes under a standard set of parameters that are consistent throughout the various manufacturers.
Below is a table to convert your UK or EU size into a small, medium, or large. Smaller and larger sizes are also available, but most sellers will stick within this range.
Small

Medium

Large

Extra Large

EU

34

36

38

40

42

44

46

UK

6

8

10

12

14

16

18
Once the eBay buyer has confirmed their current size, it is a good idea to consider going up to a size larger than normal. This will make sure that the clothing is as unrestrictive as possible.
Checklist for Buying eBay Designer Golf Shirts
Check golf club clothing regulations to confirm what is considered to be suitable attire before buying anything for playing.
Choose a polo shirt that has sleeves, a collar and is a slightly loose fit.
Large logos, pictures, and logos that are not related to golf should not be worn in this game.
Collarless golf T-shirts are usually not suitably smart but may be worn when concealed beneath layers of clothing.
Cotton fabrics are breathable so are a good choice for summer.
Pique cotton fabrics have a bumpy texture and interlock cotton fabrics have a completely smooth feel.
Cotton blends are more durable and warmer but do not circulate air as well.
Engineered fabric may also normally be worn and is available in wind proof and water proof designs.
Golf shirts should be kept clean and ironed so check that the item's washing instructions are straightforward.
To buy a designer golf shirt from eBay the user can either search by the appropriate keywords or use the category function. Useful search terms for this type of item are: 'designer golf shirt', 'golf shirt', 'polo shirt', or 'golf polo'. It is possible to narrow down these broad searches by selecting categories on the left hand side of the page.
Alternatively, the user can select the Sporting Goods category and from there click on Golf Clothing. From here you can pick from either Shirts or Polo Shirts and narrow down results according to the other categories that are available. Items that are bought through PayPal will normally qualify for eBay's additional Buyer Protection Scheme..
Conclusion
Good quality designer golf shirts are essential for playing golf throughout the British seasons and are easy to find in styles that are tailored to one's individual needs. There are a huge number of eBay listings to choose from thanks to the websites capital reputation. The eBay buyer can get a wider variety of old and new polo shirt designs, fabrics, and sizes, from around the world at market rate.
If there are any questions about an item, the seller is very easy to get in contact with and it is possible can see how other people interacted with them by viewing their feedback. To get the most out of golf wear the buyer can really take their time to examine the finer points of each option that is available. This straightforward attitude is what makes eBay a quick and easy way to source good quality golf apparel at competitive prices.