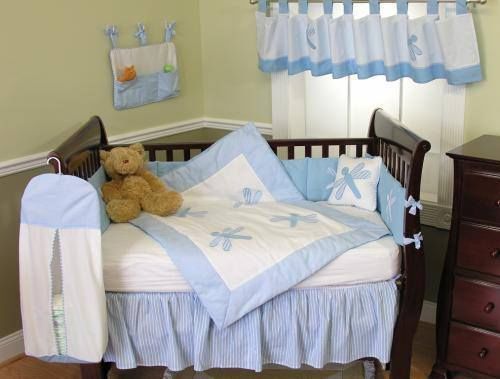 Decorating a nursery is an exciting time for parents who are expecting a new baby. While this choice typically involves painting the walls, choosing furniture, and deciding on other decorative wall hangings, one of the most important decisions is choosing the nursery bedding. It is advisable to choose the nursery bedding first, and then base the rest of the room off of the colour and pattern scheme of the cot and its bedding. There are many popular nursery themes available including: jungle, princess, under the sea, and sports. Let the nursery bedding inspire the decor of the room. Although the nursery design is important, comfort and quality are the most critical features of the bedding.
Designers offer the best-quality nursery bedding money can buy. Designer nursery bedding is available in sets or may be purchased separately. Sets typically range from two to 16 pieces. Nursery bedding is broken into pieces including: sheets, cot skirt, comforter, bumpers, blanket, mattress pad, nappy stacker, window valance, and mobile. Choosing the nursery's bedding can sometimes be overwhelming, and it is easiest to choose a theme, and then find a designer collection to create a vision. Consumers should research the different types of designer nursery bedding available at different venues including department stores, designers' websites, and online at eBay. Before purchasing designer nursery bedding, parents should learn about the types of designer nursery bedding available and then create a budget.
Types of Designer Nursery Bedding
Designer nursery bedding is broken down into the major pivotal pieces of bedding for a baby's room. Designer nursery bedding typically includes sheets, a cot skirt, a comforter, bumpers, blankets, decorative pillows, changing pad covers, a mattress pad, a nappy stacker, a window valance, and a mobile. Designer nursery bedding is ideally purchased in sets so that each of the bedding pieces matches or complements all of the others. It is important that a baby's nursery visually reflects the comfort and quality that the designer bedding offers. Designer nursery bedding sets tend to consist of larger sets to reflect the most luxurious bedding available. The sizes of sets vary from designer to designer but consumers can purchase the set or individual bedding pieces that reflect the needs of a nursery.
Sheets
Most designer nursery bedding comes with a fitted sheet, and then other additional pieces of bedding. Designer nursery bedding does not typically include a flat sheet. The fitted sheet comes in a standard cot size and is meant to fit tightly. If unsure about whether the cot in the nursery is standard, simply measure the size of the cot's mattress. Consider purchasing more than one set of sheets in case of an accident. The most important consideration when choosing sheets is the quality of the fabric. Choose a soft fabric, since the sheets touch the baby's skin. Some parents opt for organic bedding to protect a baby's skin from chemicals.
Cot Skirt
The cot skirt or dust ruffle is the fabric that hangs along the bottom of a cot. It creates a more completed look and hides any storage under the cot. The cot skirt also blocks a baby's view of under the cot, which may get rid of some of a baby's temptation to try to crawl under the cot. If deciding to purchase only a limited number of designer nursery bedding items, the cot skirt is important for finishing the look of a cot.
Comforter
Comforters are a great addition to a nursery, since they are both functional and decorative. Take comforters out of a cot when a baby is sleeping to reduce the risk of suffocation. Comforters are great to set on the floor for a baby to play or lie upon for extra comfort.
Cot Bumpers
If babies roll into, or hit, the cot bars they could get bumps and bruises. Cot bumpers prevent a baby from rolling into the bars of the cot. Make sure that any cot bumpers purchased are thin and meshlike to reduce any risk of suffocation. Cot bumpers are an essential part of a nursery's design and present an added look of comfort and feel to a baby's room.
Blankets
Choose baby blankets that are soft, light, and made of non-allergenic fabrics. The blankets, like the sheets, touch a baby's skin, therefore, high-quality blankets are more desirable for nurseries. Many parents opt for organic blankets to guarantee that fewer chemicals come into contact with a baby's skin.
Decorative Pillows
Decorative pillows are just as their name suggests: decorative. Match decorative pillows from a designer nursery bedding set or collection so that the room looks more complete. Babies do not need pillows until they are toddlers, so keep the decorative pillows out of the cot. Set the decorative pillows on a rocking chair or other furniture in the nursery.
Changing Pad Covers
Changing pads provide a surface for changing a baby. Changing pad covers ensure that the surface is both clean and comfortable for a baby. Purchasing changing pad covers in a set is not necessary, but they are an important piece of a perfect nursery.
Mattress Pad
Mattress pads do not typically come in designer nursery bedding sets, but are purchased separately. Place mattress pads on top of a cot mattress to protect the mattress from accidents.
Nappy Stacker
Some designer nursery sets come with a coordinating nappy stacker that is tied to the side of a cot or changing table. Nappy stackers conveniently hold nappies for storage and are a nice decorative addition to the nursery. It is best to purchase a nappy stacker from a designer nursery bedding collection to ensure it matches the theme of a room.
Window Valance
Window valances decorate the top of a window with a matching bedding fabric. Typically, designer nursery sets only contain one window valance, so if there is more than one window in a room, purchase an additional valance. Make sure that the window's measurements match the window valance.
Mobile
Hanging a mobile above a cot is a great way to entertain a baby. Many mobiles are purchased separately, but purchasing a mobile as a piece of a designer nursery bedding set ensures that the mobile matches the rest of the nursery decor. Mobiles purchased in a designer nursery bedding set correspond with the theme of a room and help to complete a look.
Budget
Before shopping for designer nursery bedding, determine a budget. Designer nursery bedding is usually more expensive, but it is of higher quality and more stylish. High-quality bedding is essential to hold up through many washes. Those looking for a deal need to browse different venues to look for sales or purchase designer pieces separately. Designer nursery bedding is a good investment, and some choose to pass the bedding down to friends and family when a baby becomes older. Designer nursery bedding is available in a wide range of prices. Those looking to save money may mix and match different well-priced pieces of designer nursery bedding.
How to Buy Designer Nursery Bedding on eBay
When you are ready to start looking for your designer nursery bedding, start your shopping at eBay. eBay offers consumers numerous options when it comes to purchasing designer nursery bedding. Start your search for nursery bedding by performing a keyword search using a search box on any eBay page. Input keywords describing the designer nursery bedding that you desire. To get the most results, enter broad keywords and input "designer nursery bedding" into the search box on any eBay page. From here, choose options that describe your ideal bedding to reduce the results from the search. Browse through the results and click on a listing. Read all of the product's descriptions and look at all of the pictures posted of the nursery bedding. If you have any questions about a particular listing, ask the seller. It is important for consumers to make well-informed decisions about their purchases online. Top-rated sellers on eBay are particularly trustworthy since they have excellent feedback and are frequent sellers.
Conclusion
Designer bedding is the best choice for a nursery, since it is both high-quality and comfortable. Comfort and quality are the most important considerations when choosing bedding for a baby. Some parents choose to purchase only organic bedding for their babies to keep chemicals away from their babies' skin. Soft sheets and blankets are also important to keep a baby comfortable. Designer sheets and bedding are durable and last through many washes. Although designer nursery bedding sets are typically more expensive, it is worth it to spend more money to ensure that a baby has high-quality bedding.
Designer bedding is available in countless different colour combinations and themes. Designer nursery bedding pieces include sheets, a cot skirt, a comforter, cot bumpers, a blanket, a mattress pad, a nappy stacker, a window valance, and a mobile. The bedding is purchased either in a set, a collection, or separately in pieces. It is best to buy everything together so that all of the bedding matches a room, although consumers may choose to mix and match different items to save money.There are designer sets available in all different price ranges and in many different styles. eBay offers a wide selection of designer nursery bedding, no matter if you are looking to purchase a set or separate pieces of bedding.