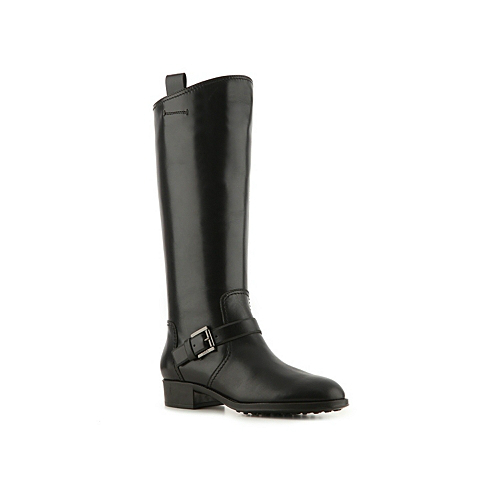 Riding boots have been a wardrobe staple for decades. The purpose of riding boots is to secure the riders to the stirrups while riding horses. All functional riding boots have a slight heel to help the riders remain secure on the stirrups and help with galloping. Further, in modern day riding, and fashion in general, riding boots have become somewhat of a fashion statement as well as a functional piece of a wardrobe.
Consumers who wish to purchase designer riding boots should first determine their purpose. Next, they should know what their personal size is and what kind of sock or stocking should be worn under the boots. Lastly, determining a maximum price point or expense within a personal budget is important before making a pricey purchase. Whether visiting a local cobbler, high street shop, or online websites such as eBay, consumers should be sure they are making a wise decision in purchasing their designer riding boots.
Purpose of Designer Riding Boots
Horse racing and competitions have been around since the medieval era, and even before. Foot attire has changed markedly since then, but is nonetheless still functional. Boots can be a fashion statement for men or women. However, they can also be used practically in everyday events, in practise, or competition.
Fashion Purposes
Designer riding boots are worn over pants or leggings for women and under boot-cut pants for men as well as women. The small heels, usually between 1 and 3 centimetres, helps elevate the height of the person wearing the boots without being too dramatic. Leather-reinforced heels and ankles help the boots be more durable pieces of footwear. Also, some designer riding boots have gold or bronze accented embellishments on the exterior side of the boots, or just may be seamless through and through. Depending on the designer, some prefer to keep things simple and clean while others believe adding more finishing touches elevates the look.
Functional Purposes
If riders purchase designer boots for functional purposes, they can still be fashionable. Some riders prefer to wear their "Sunday's best" while riding in competitions. Just as they comb the horses' hair, and perhaps add decorative ribbons, the riders also like to look presentable themselves. A shiny pair of new designer riding boots helps complete the uniform. Designer riding boots still have the 1- to 3-centimetre heels and reinforced leather backing, but are also functional. If the riders needs to heed forward on the stirrups, they can do so without discomfort. If designer riding boots are not functional, the integrity of the ride can be compromised and training could be all for naught.
Determine the Size of the Designer Riding Boots
The size of the riding boots is important. Size includes the size of the soles as well as the circumference of the boot opening.
Sole Size
Men are known to have wider feet than women, but that does not mean men cannot wear boots intended for women and vice versa. Several designers create unisex boots which are relevant for any gender. However, the key point here is to search for boots that fit the soles properly. Whether the consumers have a wide, narrow, or regular foot, they should be aware of the fit they need. Also, if the riders wear thick socks or thin panty hose under the boots is also important. If the designer riding boots are worn in the winter, for example, and thicker socks are worn, then thus, the fit of the boots are slightly smaller to accommodate the thicker socks. Below is a sizing chart consumers should consider before purchasing the boots.
| Foot Size | Slim | Regular | Wide | X-Wide | Height |
| --- | --- | --- | --- | --- | --- |
| 5 1/2 | 12 5/8 | 12 7/8 | 13 5/8 | 14 1/4 | 18 3/8 |
| 6 - 6 1/2 | 13 | 13 1/4 | 13 7/8 | 14 3/8 | 18 5/8 |
| 7 - 7 1/2 | 13 3/8 | 13 7/8 | 14 1/4 | 15 | 18 7/8 |
| 8 - 8 1/2 | 13 5/8 | 14 1/2 | 14 7/8 | 15 3/8 | 19 1/8 |
| 9 - 9 1/2 | 14 | 14 1/2 | 15 1/4 | 15 7/8 | 19 3/8 |
| 10 - 10 1/2 | 14 1/2 | 14 7/8 | 15 1/2 | 16 3/8 | 19 5/8 |
| 11 | 14 7/8 | 15 3/8 | 16 | 16 7/8 | 19 7/8 |
Those who wear designer riding boots should determine first how often they plan to wear the boots, and how comfortable they may be with each type of sock. While winter riding boots may be looser when not worn with socks, it is not completely uncommon to have a bit of room in the boots.
Calf Size
Most riding boots are as tall as the knee or slightly shorter. Because of the height of the boot shaft, it hits various riders at differing points on their legs. Those with large calves may not be comfortable with where the boots end or how they close. Zipper enclosures on boots look nice, however, if the wearers have larger calves, they can chafe the legs. Alternatively, if they are too loose because the legs are thin, the boots may not provide the support, or fashion appeal, the consumers were searching for.
Determine the Price Point for the Designer Riding Boots
Designer goods vary in price, with haute couture being the most pricey option of any designer brand. While it may be uncommon to have ultra-luxe riding boots within stores and boutiques, it is more common to simply have a designer make their version of riding boots. Faux and real fur sometimes line the boots' interior, or the lining is swapped for materials such as fleece or wool. Each designer can then coordinate price points based on the market, the demand, and the craftsmanship of the riding boots.
Pricing Considerations
Leather and fur are typically the most expensive elements of designer boots, as well as any metalwork embellishments. Further, the time it takes to stitch the boots intricately also adds to the cost. Thus, it can be inferred that leather boots which required dozens of man hours to create are more expensive than rubber riding boots which are simply moulded by a robot.
If consumers want designer boots at a budget-friendly price point, they should consider purchasing the boots in an off-season or perhaps boots that were previously used. While designers do not provide financing, they are known to have sales and less expensive designs available for their consumers who help keep loyalty without breaking the bank.
Comparison of Designer Riding Boot Brands
There are dozens of designers on the market today that design and manufacture riding boots. Choosing the right boots or designer is a matter of personal preference. Below is a list of popular riding boot brands.
B Vertigo
Ovation
Dublin
Equistar
Equi-essentials
Saxon
The list above covers the true riding boot brands, although there are dozens more available within the United Kingdom. For fashionable boots, rather than purely functional boots, consumers have several designers to choose from once again, including:
Nine West
Tory Burch
Enzo Angiolini
MIA
Etienne Aigner
How to Buy Designer Riding Boots on eBay
Buying designer riding boots on eBay is a simple and straightforward process. Simply typing a search query on any eBay web page provides several results. If you are too specific in your search you may not have many options to choose from. Further, if you mistype something you may not get the desired product. If you are too general on your first search, eBay permits you to filter the results according to price, geography, and condition of the item.
Pre-Sale Information
Before purchasing anything from a vendor or seller, be sure to create an account. Creating an account takes only a few moments, but you should have an account ready before purchasing, to ensure the process goes quickly, and be sure you are aware of payment methods. Next, review the seller's feedback score. After each transaction the buyer is encouraged to provide feedback. Over time, excellent feedback scores equate to a ribbon next to a seller's name. Even without the ribbon, there are millions of reputable sellers to do business with.
Conclusion
Purchasing designer riding boots for men or women is a more common enterprise than most might assume. Wearing the boots for fashion, without ever mounting a horse, has become more commonplace than purchasing riding boots and riding a horse. The boots go with everyday outfits, and they also function as part of a winter wardrobe. Whether wearing stockings or thick wool socks, be sure the boots fit you when you most need them to fit. Whether they are strictly part of a competition uniform or simply worn in the autumn months, be sure the sizing is appropriate to the function.
Buying designer riding boots can prove to be expensive, although it does not have to be. Buying boots which are from the season prior or from a vendor who is going out of business can save you several quid. Purchasing designer riding boots on eBay can also help save cost since vendors on the site aim to sell and are typically known for selling at a discount compared to the designer's boutique.