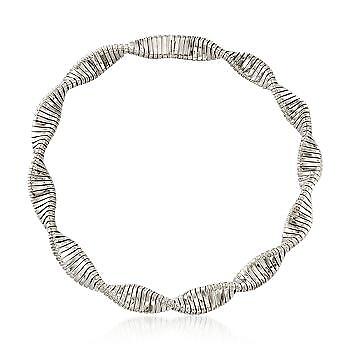 In the world of modern jewellery, quality is sometimes sacrificed for inexpensive, mass-produced pieces that look attractive at first but do not last over time. Designer jewellery is a luxury item that never compromises on quality, producing truly exceptional designs that become heirloom items passed down from generation to generation. In a sense, designer jewellery is a throwback to an earlier time when jewellery was crafted and set by hand, since many designers continue to produce all of their items using only highly-skilled craftsman.
Designer silver necklaces in particular hold up better than their unbranded counterparts, since they are made only using high grade silver combined with beautiful settings and brilliant gemstones. Their resale price remains strong due to both the value of the jewellery and the name of the designer. When it comes to purchasing a designer silver necklace on eBay, buyers should look for a high-quality piece that is personally appealing.
Benefits of Designer Silver Necklaces
Designer silver necklaces are usually the highlight of any jewellery collection, and they can beckon a customer from all the way across a store due to their exceptional design. While the price tag may set some buyers back, there is a reason why these pieces are so expensive. When a customer buys a silver necklace from Tiffany, David Yurman, or Links of London, they are buying a jewellery item made from a craftsman committed to high quality within the industry. For example, the Tiffany Company has been making silver jewellery since 1837, and their name is synonymous with the best that jewellery has to offer. By understanding the qualities that set designer jewellery apart, it quickly becomes clear why designer pieces are so expensive, and so highly desired.
Silver Metal Quality
When working with silver, designers can choose from a few different types, but not all silver suits the quality standards of the company. Silver is a precious metal that is often mixed with another alloy, usually copper, for the jewellery industry. Buyers can find extremely cheap silver necklaces that actually contain a small percentage of pure silver, and a large percentage of other metal alloys. The chart below outlines some of the different silver types.
| Name | Pure Silver Percentage | Mark |
| --- | --- | --- |
| Britannia Silver | 95.8 | 958 |
| Mexican Silver | 95 | 950 |
| Sterling Silver | 92.5 | 925 |
| Coin Silver | 90 | 900 |
| German Silver | 80 | 800 |
The types that use the greatest amount of pure silver, including Britannia silver and sterling silver, are more expensive than their lower grade counterparts. Sterling silver is usually considered the standard for quality silver jewellery. Anything that has a higher silver content than sterling, such as Britannia silver, is often labelled as fine silver by sellers.
Sterling Silver and Fine Silver
Designers prefer to work with either sterling silver or fine silver, though sterling silver is by far the preferred choice. Most of the silver necklaces sold over eBay or found inside jewellery shops come from sterling silver. Of course, if a buyer wants a fine silver necklace, there are designers that work with them, but they are not nearly as numerous as sterling silver necklaces. Both of these types have several benefits over other silver metals, which is why they are the standard preferred metal quality.
Resistance to Tarnishing
All silver tarnishes, and any seller who claims otherwise is misinformed. This is simply due to the chemical composition of silver that reacts against moisture by changing from silver into silver sulphide. Unfortunately for those who purchase their silver jewellery for its lovely metallic sheen, silver sulphide covers their precious silver in a hard, black layer known as tarnish.
The good news is that pure silver does not tarnish easily. The bad news is that copper does, and many types of silver use large percentages of copper in their composition. These copper-laden silver metals are one of the reasons why silver has built up a reputation as being difficult. Sterling silver and fine silver use such a small percentage of copper that it hardly affects their natural resistance to tarnishing. While they do need periodic cleaning to prevent any buildup of tarnish, taking care of sterling silver and fine silver is not very different from caring for gold or platinum. A good bottle of silver polish and a little bit of elbow grease can quickly remove tarnish from a silver necklace.
Protection Against Discolouration
Silver also has an undeserved reputation for discolouring the skin. This is largely due again to low-grade silver with a large copper content. Copper sometimes reacts against the skin and leaves a faint sheen of green around the neck when wearing a silver necklace. Of course, no one wants to spend a good deal of money on a necklace that may leave a stain on their skin. However, buyers do not have to worry about this as far as sterling silver or fine silver is concerned. The low amount of copper used is not enough to react against even sensitive skin.
Strength in Numbers
Gold is actually more valuable than silver, but in its pure state it is almost useless as jewellery. This is because gold is incredibly soft and scratches easily. Even golden jewellery with a high percentage of pure gold, such as 22 ct or 18 ct is not ideal for everyday due because of its lack of durability. Pure silver, on the other hand, does not scratch like gold. Customers can buy a sterling silver necklace and wear it every day without fear of it becoming damaged.
Enhanced With Gold
Many designers such as David Yurman like to enhance their silver necklaces with gold. They typically choose a high quality gold such as 18 ct that would be too soft for everyday use, and then blend it with silver. The result is a brilliantly beautiful necklace that has all the value of gold and the durability of silver. A necklace made of gold and silver chain entwined together is always perfect for any formal occasion.
Choosing A Designer Silver Necklace
Designer necklaces are usually one of the highlights of any jewellery collection. Because of their high price, many customers only own one or two pieces. Therefore, a lot of thought has to go into the purchase of a necklace. This is a jewellery item that is meant to last many years and be worn numerous times. If a customer purchases a highly trendy piece, it may be fashionable for only a few seasons and then fall out of favour.
Timeless Styles
Some silver necklaces never go out of style, regardless of current fashion trends. These are timeless pieces, and they can be extremely simple such as a silver chain necklace, or incredibly ornate like a silver pendant necklace adorned with many gemstone settings. A classic style is easily recognised, and it makes a good choice for designer jewellery due to its lasting value. This way the buyer gets the most out of their money by buying a necklace that can be worn many times.
Buying Designer Silver Necklaces on eBay
The collection of designer silver necklaces on eBay is absolutely stunning. Sellers offer jewellery from all of the top designers located all around the world, giving you the chance to explore new designers you never knew existed. Of course, all of your old favourites are also available on eBay, and if you get particularly lucky you can find a silver necklace from your top designer at an excellent price.
Searching for Designer Silver Necklaces on eBay
A simple search for 'silver necklaces' on eBay easily returns results in the thousands. If you are interested in designer silver necklaces, then you likely need to shop for them by brand, such as 'Tiffany silver necklace' or 'Links of London silver necklace'. Searching this way limits the results to only designers that you want. Typically, there will still be hundreds of results for a single designer, so you may need to limit your search even further by typing in search terms based on gemstone settings or the type of silver used for the necklace. You can even search by the necklace style, such as a choker or pendant necklace.
Conclusion
A designer silver necklace is a piece of jewellery a woman can wear over and over again throughout her lifetime. There are several qualities that set designer necklaces apart from their unnamed counterparts, the main factor being that designers take such pride in their work that they always attach their name to their jewellery.
When it comes to quality, nothing can match a top level designer brand. Only the finest silver metals are used on their necklaces, and sometimes even these metals are enhanced with other precious metals like gold. While some designers do offer trendy necklaces, customers should purchase a designer necklace in a classic style to get the most out of their purchase. Buyers can find all types of designer silver necklaces on eBay that come from all around the world. It is a great way to purchase a fabulous necklace whose quality is second to none.