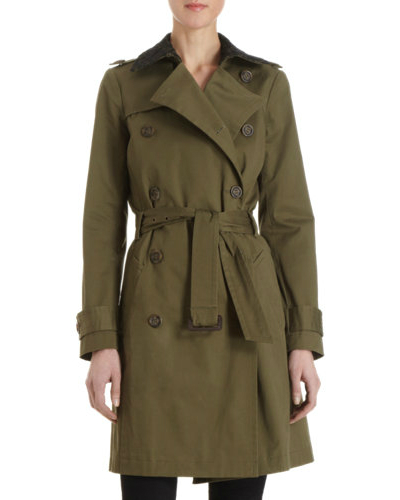 Designer trench coats are not just a fashion buy but they give a person an individual style statement, while being useful and also suitable for most occasions. One can wear them to complement an office outfit, but also with an evening dress on a chilly night. Trench coats are a must have in every woman's wardrobe. They have been around for generations and every year the fashion houses bring out exciting and more desirable collections featuring trench coats.
Because eBay has such as wide collection of items for sale, there is no dearth of choices when it comes to selecting a designer trench coat. Some of the things that need to be kept in mind when buying a trench coat are the comfort, size, style, and purpose for which the trench coat will be worn most. This guide presents some tips to help buyers select the right designer trench coat from eBay so that they get the best deal and a coat that will be the envy of all.
History
A trench coat is one of the most 'glamour' garments of all times. The origin of trench coats is related to the Boer war and the credit of its creation goes to Thomas Burberry. During World War I, trench coats were an element of British Army officers' uniforms and because of their durability quickly became very popular with all soldiers. The trench coat gets its name from the fact that it provided protection against harsh weather to soldiers fighting the war in trenches.
The trench coats captured the attention of Hollywood actors and directors and the appearance of Humphrey Bogart in Casablanca looking dashing in a trench coat put the humble military coat in a fashion spotlight that lasts until today. Both men and women have followed the fashion trends of the trench coat over the years.
Materials Used in Making Trench Coats
As trench coats became popular, their length and style changed. However, the primary purpose of a trench coat is still to provide protection against weather conditions such as rain, wind, and snow. Therefore, the knowledge of materials used in making trench coats becomes important when buying a trench coat.
Wool Gabardine
Gabardine is the classic trench coat material and vintage wool gabardine trench coats are a collector's item. Gabardine is a robust and water-repellent material and military trench coats were made of gabardine because of its durability. Wool gabardine trench coats come with a silk lining that makes them very comfortable to wear; however, wool gabardine trench coats are costly and are mostly custom made.
Cotton
After wool gabardine, cotton is the second most popular of materials used in making trench coats. Cotton is more economically available and easy to stitch and therefore cotton trench coats are more budget friendly. In the early days khaki was used to make trench coats but it did not have much heat- and water-resisting properties and therefore the trend moved on to treated cotton. Cotton trench coats are especially popular in summer as they allow the wearer to have a perfect outdoor look without being swathed in heavy wool.
Silk
One of the modern materials used to make trench coats is silk. Silk is a glamorous material and therefore silk trench coats are more of a fashion statement than a utility garment. They can be worn over a skirt, trouser, or even a dress. Faux silk trench coats are a little more durable and are also cheaper than pure silk ones.
Leather
A leather trench coat is the most modern version of a classic trench coat. A black leather trench coat often brings out the image of notorious Hollywood henchmen but it has not altered the popularity of leather trench coats. Leather is easy to clean, water resistant, durable, protects against cold, and is dirt repellent. While it may not be the perfect fit for every outfit, leather trench coats are robust and hence appropriate for intense wear.
Synthetic Fibres
The development of synthetic fibres has brought down the cost of trench coats considerably. Materials such as Rayon, acetate, and nylon are often used with classic natural materials such as cotton or silk to make the trench coats more stylish and more budget-friendly.
Colours and Style
Military trench coats were traditionally khaki in colour. However, over the years manufacturers have made designer trench coats in a variety of colours, but dark colours remain the most popular. Classic colours such as black, tan, brown, olive, beige, and cream are more popular but red, yellow, and chequered patterns are also somehow popular. The style of a modern-day designer trench coat is a mixture of traditional and new.
Classic Style Elements
Style elements such as back vents, shoulder tabs, and D-ring belts are classic features of designer trench coats. The main classic style elements are presented in this section.
Double-Breasted Style and Single Back Vent
Classic trench coats have a double-breasted style with six or ten buttons running down the front, depending on the length of the coat. Trench coats are also available in single-breasted variety but they are not very popular. Generally, trench coats have a back vent, which allows air to circulate inside the coat without altering its windproof properties and at the same time allows freedom of movement.
Raglan Sleeves and Shoulder Tabs
The sleeves of a trench coat are extra wide and different from normal jacket sleeves and are called raglan sleeves. They provide room for extra movement even when the coat is worn over layers of clothing. In military wear, shoulder tabs were provided to add the ranks without causing any damage to the coat but designer trench coats feature shoulder tabs as a style statement.
Gun Flap and D-Ring Belt
The gun flap, also known as storm flap, is provided at the right for men and left for women. The purpose of this feature is to prevent water from entering the coat, keeping the wearer dry. Most trenches have a D-ring belt to help adjust the fit of the coat. The D-ring is used to hang the coat and also comes in handy when carrying a pouch or mobile case.
Cuff Straps and Removable Lining
Medium-sized cuff straps are a trademark recognition of designer trench coats. These not only add style to the sleeves and give them a dignified appearance but also prevent the water from running inside the sleeves. They can be tightened or kept lose depending on the wearer's style preference. Removable silk or wool lining is often added to add versatility to the coat and make it a multi-season garment.
Modern Style Elements
Along with classic style elements such as those presented in the previous section, over time, designers have added other features, such as fabric combinations or zips, to improve and personalise trench coats. The following are the main style elements that have been modified most over time.
Length and Fabric Combinations
The classic length of a trench coat is below the knees or full length. However, designers have added their own touch to the style by varying the length of the coat. Today, designer trench coats can be bought in lengths varying from waist to full length. The materials used to make designer trench coats are various combinations of fabrics such as wool with leather, cotton with silk, or animal prints.
Buttons, Zips, Sleeves, and Flares
Designers fuel their own whims and fancies to trench coats in the forms of buttons and zips. These can be decorative as well as useful. Modern designer trench coats also experiment with sleeves and flares. The classic straight cut is being traded for flares, pleated look, and full-length sleeves are replaced with short sleeves or no sleeves.
How to Select the Best Trench Coat
With so many types and varieties of trench coats, it is not an easy job to select the best designer trench coat for the wearer. However, if the buyer keeps in mind the following points, including purpose, size, and length, selecting the right trench coat will be an easy job.
Size and Length
The available sizes of trench coats vary from 80 cm to 115 cm. In order to find the right size of trench coat, a woman needs to select one with her correct waist size. Trench coats have longer shoulder length and wider sleeves to accommodate the clothing worn underneath. Trench coats' length varies from 94 cm to 114 cm. Tall women should opt for long trench coats while petite women should opt for well-fitted trenches that are above knee length to give the illusion of length.
Purpose and Budget
Whether the coat is to be used for outdoor purposes or for some special occasion plays an important part in the selection. For outdoor purposes a coat of cotton or wool is the ideal choice. For special occasions, a trench coat made with silk fabric is most suitable. Regarding budget, the buyers need to decide on how much they want to spend on a designer trench coat and use price as a filter when looking for trench coats on eBay.
Find the Right Designer Trench Coat on eBay
eBay has a large collection of designer trench coats in different colours, sizes, and designs. Finding the right kind of trench coat is very simple. First, you need to go to eBay home page. You can do this by either typing eBay's address on your browser or by using a search engine. On the home page, there is a search box where you can type the relevant keywords to get a list of designer trench coats for sale. Just type 'women's designer trench coat' in the search box and pages with relevant results will appear. You can either browse through them or refine the search results by selecting the category, brand, colour, or price that you are interested in.
You can also start with a generic search, such as 'women's trench coat' and select the brand using the provided filters. If you already have a brand in mind, type in the keyword in the search box to get a list of products from the desired manufacturer. Once you have refined your search results, you can select the item you are interested in and click on it to read the details given by the seller. Before finalising the purchase of the coat or placing a bid, make sure that you read all the information about the seller and agree with the mailing and returns policies. If you have any doubts you can contact the seller who, in most cases, will be happy to provide any information you may need.
Conclusion
Designer trench coats are not likely to go out of fashion anytime soon. This makes them a must-have item in any women's wardrobe. A rich selection of designer trench coats is available on eBay. Buyers can select among various styles and brands to find their ideal trench coat for a certain occasion. It may be worth spending more on buying a high-quality classic trench coat because it can be used for many seasons to come, making it a good investment. There may be special features or decorations added to the trench coat by various designers, but its classic appeal will always add a touch of class and sophistication to anyone's wardrobe.
Before making the purchase, the buyers should make sure they have read the entire product's description, and that they are happy with the material, style, and size of the trench coat to avoid spending for return fees, if the buyer has a returns policy. With such a wide range of trench coats available, it is very easy to select the right trench coat within budget. A long scarf, a necklace, or a trendy handbag are accessories that match any trench coat and let the user add a touch of personal style even to a plain trench coat.