Some people spend many hours at desks for work, and they need comfortable and functional chairs to sit in during that time. A good desk chair should support a person's body with ample padding and be appropriate for the work environment. Of course, an attractive look is also important to many buyers, especially those who have clients to impress. In the end, a quality computer chair makes the work day seem like it passes much faster.
Desk Chair Features

Deciding whether or not to buy an office chair with castor wheels is one consideration. Wheels make it easier to move the chair without actually standing up. However, the wheels must have a smooth surface for rolling. Users with thick carpeting in their offices may discover that the wheels are mostly a hindrance. Additionally, some users prefer that their seats not move as they work at their desks. Because sitting for a long time can cause a person's back to perspire, a chair with vents is often appealing. The entire back of the chair could be mesh, or it could just have vents strategically placed along the back. Cup holders come in handy, and the ability to raise and lower the seat could dramatically affect typing comfort. A desk chair that is too high or low puts pressure on the wrists while typing.
Leather Desk Chairs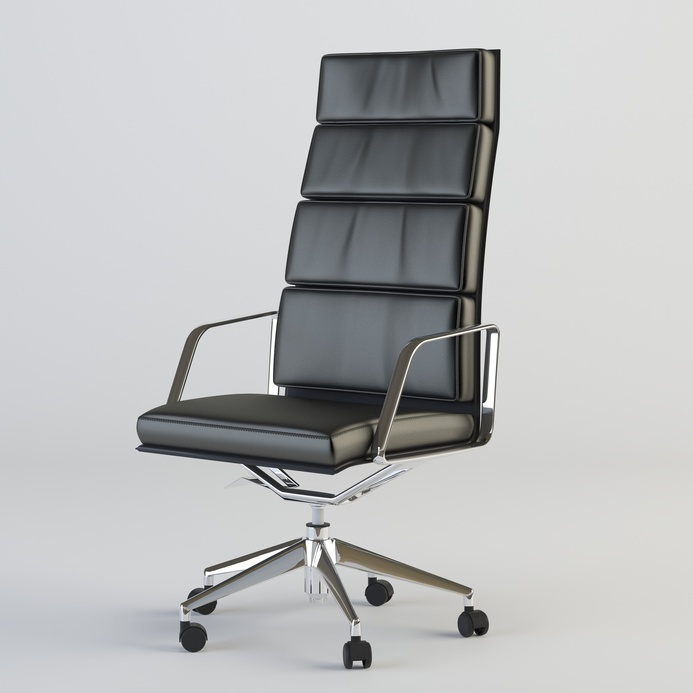 Despite the availability of many types of attractive desk chairs, leather desk chairs always hold their own as the classiest options available. Not only do they offer timeless appeal, but they are also durable and comfortable. The only downfall to leather is the absence of vents for air movement, but most users who love the look of leather would not want vents marring the effect anyway.
Kneeling Desk Chairs
Kneeling chairs place the user in a position with the body leaning slightly forward. The chairs do not have backs, but they do have lower platforms for the knees. The position reduces lower back pain by aligning the spine and preventing the user from slouching back into a seat.
Antique and Vintage Desk Chairs
Antique and vintage furniture sometimes appears more sophisticated than modern chairs, and many people love to decorate their offices with antique and vintage products. Because craftsmen used to make furniture by hand, antique and vintage pieces are often sturdier than modern pieces. However, years of wear and tear can reduce the comfort offered by antique or vintage desk chairs.