If you have ever bought flash memory on e-bay (be it an SD card, USB drive, or any device containing flash memory), then beware! Fraudsters are making a rip roaring trade in flashing these devices to give fake capacities. The biggest fraudsters are based in Hong Kong, and other parts of the Middle East. They will buy for instance a 2gb SD card, reflash the firmware to give a fake capacity (32gb for instance), and then stick a label on it to say it is a 32gb card.
You can put a stop to their illegal activities straight away. If you have been a culprit of this type of cybercrime here is how you can test your usb thumb drive / sd card / MP3 player to test if it's capacity is genuine and not fake:-
To test your SD card when you receive it, please read the following at the address below:-
http://sosfakeflash.wordpress.com/report-a-fake/
To check if your SD card is fake, you need h2testw program:-
http://sosfakeflash.wordpress.com/2008/09/02/h2testw-14-gold-standard-in-detecting-usb-counterfeit-drives/
Run the h2testw to test your card.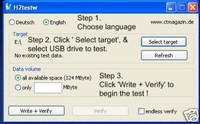 Be patient while the H2testw tests your card. It will write random data to the card. This data is then re-read back and verified. If you get errors after the h2testw test, then your SD card has been modified to give a fake capacity, hence data wraparound corrupts the card. If that is the case, report it to ebay, paypal and to sosfakeflashdrive.gmail.com so we can finally get rid of such counterfeiters once and for all !
H2testw does not harm your memory card in anyway, and once the test has been completed you can reformat your SD card. It can be used for testing MP3 players, SD, CF and any other form of flash memory.
h2testw was written by a magazine writer who was investigating fake flash memory. It is the gold standard for testing fake SD cards, and it is also endorsed by http://sosfakeflash.wordpress.com
Finally, here is a list of-bay sellers who are dealing with frankenflash *FAKE SD* cards and flash memory on e-bay:-
http://sosfakeflash.wordpress.com/2009/07/01/ebay-fake-flash-sellers-list-200907-fake-mp-players-memory-sticks-and-memory-cards/
... and here is a list of GENUINE e-bay dealers:-
http://sosfakeflash.wordpress.com/2009/02/16/safe-ebay-sellers-for-usb-flash-drives-mp-players-memory-cards-genuine-capacity/
Make sure you check the lists of fake and genuine SD card sellers on e-bay I have provided you with before making your purchase!
I hope you have found my e-bay guide useful, and it saves you from falling victim from the frankenflasher's fake drives that are sold on e-bay.