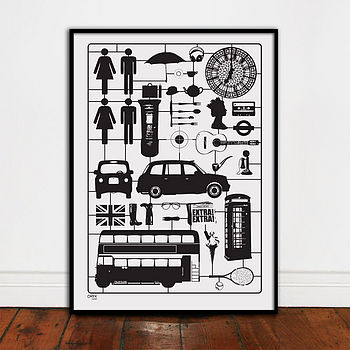 Limited Edition prints are official copies of art and hold more value than unofficial reproductions.
Owners may wish to sell their print or simply want to know the value of their print for several reasons. It may be because they acquired the art and are interested in what it is worth or because they are looking to sell it. There are various ways of valuing contemporary prints; however, there is no way to guarantee what it will sell for as this will depend on the current art market and the popularity of the piece at the time of sale.
Types of Print
Prints are created in different media and it is essential to research them and understand the results that they produce. Contemporary artists usually reproduce their work digitally. A copy is taken from the original image and used to create exact copies.
Contemporary prints refer to 'recent' work and not a specific time or era. Museums sometimes define post-1945 art as contemporary. On the eBay site the contemporary category refers to 1980-Now. Older prints will fall into the modern art category (1900-1979).
The following table briefly describes some of the main traditional and modern printing methods.
| Medium | Description |
| --- | --- |
| Lithography | Lithography is a traditional method of printing which uses a smooth stone or metal plate. A grease pencil is used on it so that the ink will only appear on some parts of the stone. |
| Etching | The etching process involves an image being scratched into the surface of a metal cylinder. This technique will not produce identical prints because of the inking and wiping process of the cylinder. |
| Screen printing | In screen printing ink is transferred through a stencil by a squeegee or file blade. It can reproduce the same design without compromising on quality, as well as print in multiple colours. |
| Giclées | Giclée is sometimes called the modern printing technique of lithography. It can use up to double the amount of colours of lithography and produces fine art inkjet prints on canvas and paper. However, giclée printing is unregulated so there is no guarantee of quality. |
Limited Edition Prints
Artists often choose to make a run of prints which are signed and numbered. These limited edition prints are worth more than unofficial copies.
· Prints from smaller sets of limited edition prints are more valuable than larger sets
· The lower numbered prints in a set are also worth more.
When buying a limited edition print it is important to do extensive research, on the specific print being sold, as well as the seller.
Look for a clear signature and number on the print and that they have not just been digitally added onto the photo.
If it is a genuine limited edition then it should not be on sale elsewhere. Research the internet for the specific print and thoroughly through the listings on eBay. Also, compare prices of similar prints and check the seller's rating. If possible a record of previous owners can help to determine a print's legitimacy. Limited edition prints may increase in value, however, this is not guaranteed. Think carefully before buying prints solely for their investment value.
Why Buy Limited Edition Contemporary Prints?
Limited Edition prints are great collector's items since they are usually signed and numbered as part of a set. The most valuable prints are the lowest numbers of small sets, for example 1/10 would be more valuable than a print labelled 945/1000.
Limited edition prints usually retain or increase their value. However, this will depend on the artist and whether their demand and popularity increases over time. This can be a harder task to predict for contemporary prints due to their more recent nature. Therefore, prints can make a good return, but they are not always a guaranteed investment and so buyers should also consider the enjoyment value.
Five Factors to Consider When Valuing Prints
People are increasingly buying prints from eBay. Buying prints from art galleries is expensive due to the cost of rent, and delivery is often not available. There are many advantages to buying prints on eBay and therefore more people are selling their prints there. There is more choice on eBay which allows buyers to choose a piece that they want, rather than being restricted to the holdings of a local gallery. This also means that sellers are exposed to a far wider market. When valuing a print the following factors should be considered before placing a listing online.
1. Type of Print
State the medium of the print. It may also help to define what it means for those without specialist knowledge. For example not everyone is familiar with the term 'giclée', so it may be helpful to describe it as digital inkjet printing and more specifically whether it is a digital pigment print rather than a poster print.
2. Size
Clearly state the dimensions of the print and highlight whether it matches the original. This will reassure the buyer that it is authentic. Consider providing a photograph which shows the scale of the print, this helps buyers to picture whether it is suitable for their space.
3. Quality and Condition
If the print is of good quality and is in a good condition then it is worth more. Take photos in good lighting which show the brightness of the colours. A poor photograph may put off potential buyers. If possible provide an ownership history of the print.
4. Value for Money
Research in this area is essential. Work out the value of the print by comparing it to similar pieces so that a suitable guide price can be determined. A high resolution signed limited edition print is worth a lot more than a standard photograph poster stuck to a canvas. Be sure that the product is worthy of its price tag.
5. Seller and Delivery Assurance
Remember to calculate delivery costs. If the print is worth a lot of money then insure the print during delivery. This will reassure buyers that the seller is serious about the product and that it is worth being protected during transit.
How to Search on eBay
Search on eBay to find similar prints and to get an idea of what they are being sold for. This is essential research before posting a listing.
eBay has a wide range of art, including contemporary prints and is a large contributor in the secondary art market. To begin an eBay search for limited edition prints go to the Art portal under the Collectables heading. Then navigate to the Prints section where there are sub-sections for Antique, Modern and Contemporary prints.
Results can be filtered using the boxes in the left-hand side panel. This will reduce the number of results. Check the box 'Limited Edition' as well as in any other sections such as 'Subject', 'Condition', 'Price', 'Style', 'Medium' or 'Signed/Unsigned'.
There is a search box on every page and also an advanced feature where the search category can be specified. To find prints quicker for limited edition prints search in the "Art" category. For more search tips use eBay's Search Tips page. Use key words to narrow down preferences and carefully read through the search results to check that they are suitable. Read the details pages, as this will help to see what makes a good description. A rushed and vague details page may put people off a particular listing.
If the searches are unsuccessful then save a search on My eBay which will send an email notification when the search is matched. This research will help to build an understanding of the current market and the range of asking prices for similar prints.
How to Value Prints
To value a limited edition print, carry out extensive research on eBay. If an owner wants to sell in the secondary market then this is a good place to conduct thorough research. Some searches for similar prints by the same artist will help to give a guide price of what it may be worth. eBay has a wide range of limited edition contemporary prints. By becoming familiar with the market then it will ensure that the print is valued more accurately.
To increase the value of a print and enhance its saleability then consider selling it with a high quality frame. A good frame can increase value but it is also easier to sell because it means the buyer does not have to get it framed themselves but they can hang the print straightaway.
The benefits of selling on eBay include access to hundreds of potential buyers. The Seller Centre has advice for new sellers including information about auction-style and fixed price listings. The auction-style listing is suitable for products that have an undetermined value. This allows a popular item to be bid for which can benefit the seller by getting a good price.
A hidden reserve price can be set to ensure that the seller still gets a fair price for the product, but also retains competitiveness for buyers. The Seller Centre also has specific information for sellers operating as private and business sellers.
Security on eBay
Sellers should be aware that eBay offers secure payment through PayPal and that all purchases are protected by the Buyer Protection Program. This allows buyers to shop with confidence and to make the most of the choice of products that eBay offers. The Safety Centre also provides additional support about buying and selling on eBay.
The Ask the Seller function allows potential buyers to ask the seller any questions about the product on sale. The area of limited edition prints is one where it is likely that interested people will want to ask for details and clarifications of a product, especially its authenticity. Provide as much information in the details as possible to reduce the number of questions people will need to ask.
Conclusion
Valuing and then selling limited edition prints does not have to be a difficult and stressful process. It also does not have to be costly or involve an official valuation. Conduct thorough research.
There is much to be learned from researching the market value of your limited edition print by looking on eBay. You can easily:
· watch auctions of similar items
· look at 'Buy it now' prices for similar items
· find 'Completed items' listings for similar prints in the advanced search function