In the Begining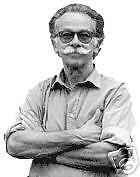 Dick Bruna was born in 1927 in the city of Utrecht. From a very young age he developed a passion for drawing even WWII didnt stop him & he continued to persue his interest. On leaving school he went to London to study in publishing which had been the family business since 1868. After returning to Holland he used his talent to enhance the family business by illustrating the covers to many paperback books published my the company. He was especially fond of using a collage technique which drew him much attention in the world of book art.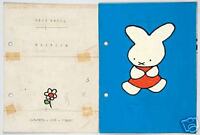 Miffy was born in 1955 while the family was on holiday. His son was playing with a fabric rabbit toy. He got to thinking about rabbits & drew an early version of her there & then. he gradually developed the character until she became the cheeky little Miffy we all know & love today. Dick always uses simple outlines & bold colours which always appeal to children which in my opinion is the secret to his sucess
Miffy's Library

There are many Miffy books around but Miffy's Library are by far the most popular. Every book measures the same size. On the left page is for lines of text & on the right a picture. The following is a list of all the available books in the series to my knowledge. To see the covers of all these books please join the eBay group 'Dick Bruna's Mifftastic World of Miffy'.
Featuring Miffy:
Miffy
Miffy at the Zoo
Miffy in the Snow
Miffy at the Seaside
Miffy Goes Flying
Miffy's Birthday
Miffy at the Playground
Miffy in Hospital
Miffy's Dream
Miffy's Bicycle
Miffy at School
Miffy Goes to Stay
Grandpa & Grandma Bunny
Miffy is Crying
Miffy's House
Aunt Alice's Party
Miffy in the Tent
Dear Grandma Bunny
Miffy at the Gallery
Miffy & Melanie/Nina
Miffy the Ghost
Miffy the Fairy
Miffy Dances
Miffy's Letter
The New Baby
Miffy's Garden
Miffy in Lolly Land
A Flute for Miffy
NEW 2006: Flopear

Featuring Poppy Pig:
Poppy Pig
Poppy Pig's Garden
Poppy Pig's Birthday
Poppy Pig is Sick
Poppy Pig Goes on Holiday
Poppy Pig's Shop
A Song for Poppy Pig

Featuring Snuffy:
Snuffy
Snuffy & the Fire
Snuffy's Puppies
Snuffy is Missing

Featuring Boris Bear:
Boris Bear
Boris & Barbara
Boris on the Mountain
Boris in the Snow
Boris, Barbara & Benny
Boris Bear's Boat
Boris & the Umbrella
Boris the Pilot
Barbara's Clothes Chest
Boris the Champion
Boris & Ko
Boris Does the Shopping

Well thats the whole set....I'm still collecting for my daughter so fingers crossed.