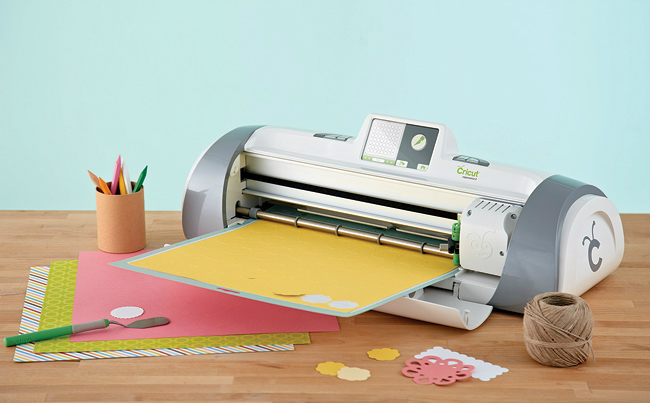 Die cutting is a process that has its origins in the shoe manufacturing industry during the mid-19th century. The slowly growing industrialisation of countries, such as Great Britain, created a process that allowed shoe manufacturers to cut leather into precise pieces for shoe assembly, instead of shoemakers hand-cutting pieces for stitching together shoes. Die cutters eventually evolved into equipment that cut through myriad materials, including tough fibres and sheet metal. Manufacturers tinkered with die cutting technology for decades until machines were developed that cut through one layer of a laminated piece of paper. Computer technology merged with die cutter technology to create an entirely different market for die cutter machines.
Consumers now have acces to die cut printers that produce labels, stamps, stickers, and greeting cards. They can find die cut printers in many craft shops and also in specialised hobby outlets. However, many consumers go online to eBay to find high-quality die cut printers. Before shopping for a die cut printer, consumers should first learn about the die cutting process, follow a few tips for buying a die cut printer, and most important, understand the criteria used to differentiate the varied die cut printer models.
Die Cutting Overview
Die cutting is an automated process that utilises a die to shear webs of low-strength fabric.. The process can be performed with rubber, fibres, cloth plastics, and sheet metal. However, the popularity of card making, especially by hobbyists, has created a market for die printers to perform the same functions as the highly-industrialised die cutters that work with heavier materials. Die cut printers exclusively work with paper and laminations. Rotary and flatbed die cutting are the two principle die cutting methods, with rotary die cutting representing the method utilised to print cards and other paper-based crafts.
Rotary
Card making hobbyists work with a rotary die cut card printer that uses a cylindrical die on a rotary press. They feed long sheets of paper through the press until it reaches the "station", which secures a tool that rotates to cut shapes, make perforations, and produce crisp creases. A line of gears rotate the die at the same speed as the press operates to ensure every cut exactly lines up with the printed material. More advanced rotary die cut machines incorporate multiple stations to cut varied shapes on the same card. Each station possesses its own printing cylinders to ensure accuracy.
Dinking
While craft makers do not utilise dinking die cutters, they need to know the basics of the machines when shopping for the right die cut machine.. Dinking is a die cutting process that uses dinking dies, which also go by the name "hollow cutters". The die edges bevel at 20 degrees and are sharpened to cut into materials that are heavier than paper. The die typically presses into the material with a hammer or mechanical press. Dinking die cutters are found in large manufacturing operations.
Die Cut Printer Buying Tips
Novice craft hobbyists have many options for purchasing a die cut printer. However, the abundance of information can be overwhelming and may lead some consumers to make the wrong purchasing choice. Consult with a craft shop owner and more accomplished peers before making a purchasing decision. They should offer some tips to clarify the purchasing process. The first tip to follow is to never base a die cut printer on appearance. Resist the temptation to buy a die cut printing machine premised on colour or style. Base a purchasing decision on functionality, which includes some of the following tips.
Speed
Card makers who produce crafts as a side business and have limited time constraints shop for high speed die cut printers. Faster machines tend to cost more, but they produce higher outputs and operate efficiently. These high-quality machines are perfect for someone who frequently uses a die cut printer for rush projects.
Accuracy
Hobbyists who occasionally use a die cut printer, and who value accuracy more than speed, should consider purchasing a manual model. These lower priced models are portable, allowing users to take manual die cut machines to art and craft classes. The best manual models fall within the price ranges of most scrapbookers.
The Best of Both Worlds
Consumers who shop with larger budgets should consider keeping an electronic die cut printer at home for commercial purposes, and buy a manual model for classroom or community projects. The manual model is a perfect choice for hobbyists who attend scrapbooking parties.
Price
Budget plays the largest role in the type of die cut printer to buy. Pricier models typically come from renowned brands that specialise in equipment and machines for the craft making industry. Die cut machine manufacturers may offer comparable models, but one company makes a few slight changes that lower the model price. Buying online at eBay may also allow consumers to buy a mint condition die cut printer at a discounted price.
Make a List
Buying a die cut printer involves analysing myriad criteria, from size and weight, to die storage capability. Make a list of die cutter shopping criteria and rank each criterion in terms of importance. This ensures consumers find the right die cut printer that matches their requirements, and it prevents sales professionals from adding on features that consumers do not want or need.
Criteria to Consider Before Buying a Die Cut Printer
Virtually every one of the most popular die cut printers allow users to adjust blade pressure and blade depth. In fact, consumers should not consider a die cut printer that does not possess either of the adjustable attributes. Another similarity between the leading die cut printers is the capability of the laser printers to work with card stock, vellum, and cling vinyl. How does a consumer differentiate between the leading die cut printers? The following chart describes the seven criteria that define distinctive differences between the leading printers.
| Criterion | Description |
| --- | --- |
| Fits object to page | Can automatically fit as many objects per page as possible to reduce paper waste |
| Computer interface | Interfaces with a computer, which allows the user to create personalised design by using software |
| Weld | Machine is prompted to merge letters that form a variation of existing font |
| Cut by colour | Printer accepts instructions to cut varied colour lines in a specified order |
| Fits object to path | Able to cut patterns or text into predetermined shapes, such as squares or parallel lines |
| Functions without computer | Makes cuts without receiving computer instructions by working with a cartridge or SD card |
| Max-free cutting | Can produce cuts without a cutting mat or other material under the paper |
Some of the leading die cut printers share so many similarities that consumers often have to choose between two models based on convenience. According to consumer surveys, the two most important convenience factors for buying a die cut printer are tool storage and carry handles. In addition, die cut printers vary by width as measured in centimetres and weight. Maximum width is an important criterion for consumers who have limited workspace for a die cut printer.
How to Buy a Die Cut Printer on eBay
Buying a die cut printer on eBay begins by utilising eBay's popular search engine. The key to finding the right seller is employing the criteria you use to buy a die cut printer. If you have created a criteria list that includes shopping by brand, then type the brand into the search engine to return a list of sellers offering the brand. For instance, typing "Sizzix die cutting machine&" or "QuicKutz die cutting machines&" into the search engine only returns results for sellers offering either one of those brands. You can also search by geometric shapes or by a theme, such as Christmas..
While you reduce the number of search results by defining keywords, you still must consider a number of prospective sellers. eBay makes this seemingly arduous task easier by presenting information for buyers to analyse seller product pages. The first object you see on a seller's product page is an enlarged photograph of the die cut printer. You can also review the seller's accepted payment methods, delivery terms, and customer feedback. Consider eBay sellers who have compiled positive feedback over the past year and have earned some of that high praise for selling cardmaking products.
Conclusion
Once the domain of bustling manufacturing plants, die cutting machines have evolved into intricate devices that scrapbooking hobbyists and do-it-yourself card makers use to produce high-quality cuts, punches, and perforations. Die cut printers work on a rotary technology system that exactly aligns die cutter cuts with line printing. Hobbyists can create decorative holiday cards and precise cutouts to place inside of scrapbooks. While the craft industry has exploded due to the increase of do-it-yourselfers, many of the do-it-yourselfers do not know how to shop for a die cutting machine.
Consumers must decide whether speed or accuracy matters more in a die cut printer. High speed performance is recommended for do-it-yourselfers who often use a die cutting machine and require mass production in a short period. Electronically automated machines provide high speed performance, while manually operated machines ensure accuracy. Ultimately, consumers make their purchasing decisions based on price and a preset list of criteria that includes weld, cutting by colour, fitting objects to path, and the capability of a die cut printer to interact with a laptop..