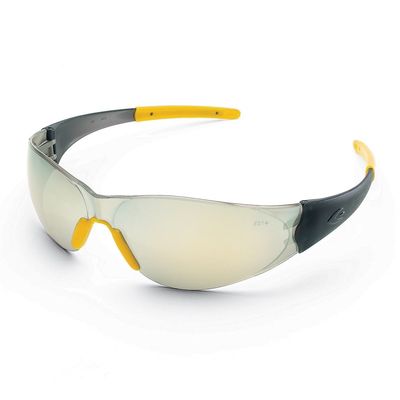 When choosing safety glasses, there are a number of factors to be considered to ensure that you choose the correct eyewear for the job at hand. Safety glasses also provide a high level of UV protection and may also be used as sunglasses.
Practical Work Eyewear
It is important to choose the correct shade of lens depending on the function required. Each shade offers different properties so you should take into consideration the job at hand. Your chosen shape and style of lens will depend on individual requirements and personal choice, as will the large choice of frames available.
Whether at work or play, be assured that with our professional and varied range of safety spectacles - you can do it in style.
The Importance of Eye Safety
Eye injuries in the workplace and at home are very common, it is therefore important that whenever there is a chance of eye injury – no matter how small - that suitable protective eyewear is worn.
Anyone working in or passing through any area where they may be at risk of eye injury should wear protective glasses. Areas of risk may include operating power tools or machinery, demolition tasks, Carpentry, electric garden tools and also where glare from sunlight may cause an accident.
Essential Eye Protection
Some common related tasks include chipping, grinding, riveting, masonry work, machining and sanding, all of which run the risk from flying objects which could damage the eyes if not properly protected. You can protect your eyes from the above hazards with our range of safety glasses.
Goggles that encapsulate the whole eye area are suitable for impact and splash hazards including:
Splash hazards from molten metal, high temperature exposure
Some common related tasks include furnace operations, pouring, casting, gas cutting and welding.
Splash hazards, fumes, vapours & irritating mists
Some common related tasks include chemical handling.
Irritants
Some common related tasks include- carpentry, demolition and sawing and sanding.
Lens Colour Guide
There are a number of colour lenses available; with each colour designed to serve a different purpose and enhance a workers vision under various lighting conditions.
The list below will help determine which lens type is best for your application (Please note: these are general definitions only)
These can be used in normal lighting conditions indoor or outdoor where impact protection is required.
For outdoor application to help reduce glare from the sun or bright light.
Indoor/Outdoor Clear lenses
Featuring a slightly mirrored coating. Serves the same purpose as a grey lens, but allows more visible light through the lens.
Silver & Gold Mirror Lenses
The "mirror" coating reflects light, therefore reducing the amount of light passing through the lens. Used outdoors in the sun to reduce eyestrain.
Blocking the blue portion of the visible light spectrum, this enhances visual contrast. Good for conditions where only ambient light is present (early morning or cloudy weather for example).
Fire, Blue Diamond, Emerald, Banana Mirror & Copper Lenses
Outdoor use to prevent glare from sunlight and resulting eye strain.
Benefits of Polycarbonate Lenses
All the safety glasses in our range are made from polycarbonate. This material has numerous benefits.
Strongest Material
Lightweight
Less Likely to Fog
Scratch Resistance
Filter Out Up to 99.9% of UV Rays
Won't Dry Out
Importance of Fit & Comfort
Safety glasses should be worn so that the temples fit comfortably behind the ears. The frame should be as close to the face as possible and should be comfortably supported by the bridge of the nose.
Many designs now come with a gel nose piece and gel temple sleeves which offer a soft and snug fit for increased comfort - the lighter the frame, the more comfortable the fit!
Some of the newest and most innovative designs offer a wraparound curved lens allowing for excellent optics and coverage.
Caring for Your Glasses
It is important to ensure your safety glasses remain in good condition as damaged glasses interfere with vision and do not provide sufficient protection.
Clean regularly following the manufacturer instructions.
Rough handling should be avoided to prevent scratching.
Scratches can weaken lenses and impair vision.
Glasses should be stored in a clean, dry place.
Always replace scratched, pitted, broken, bent or badly fitting glasses, as these will affect the safety.