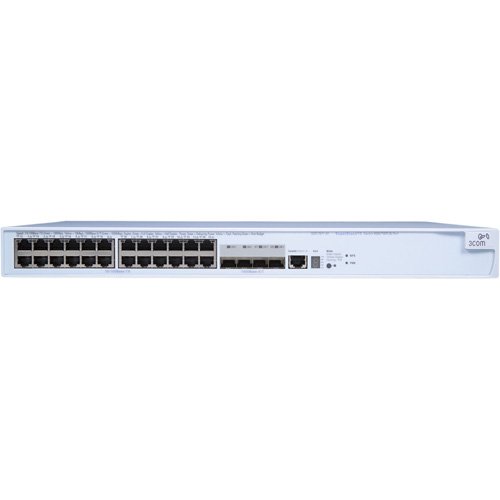 Network switches keep computer users connected: to each other, to printers, to game consoles, and even to DVD drives, all the while sharing an Internet connection from the base computer. They allow the smooth transfer of packets of data from one device to another at high speed: for example, backing up important files on the office network, downloading music, sharing the family photo album, and streaming digital TV to other rooms in the house. Because they are useful and an integral part of any network, switches can be found in almost every home, office, and school in the UK and across all industries.
Whether a consumer is looking for a replacement switch or more ports to improve their file service speeds or they are buying a new network switch for the first time, a quick primer that covers the host of differences between switches in clear language allows it all to become familiar knowledge. This comes in handy when shopping for the right network switch, whether online on sites like eBay or elsewhere, because it is only with familiarity that a buyer can demand good value for their money.
How Network Switches Work
Switches are a fundamental and essential part of any computer network. Network switches make it possible for multiple devices like computers to connect and communicate together using Ethernet connections on a Local Area Network (LAN). The switches also share an incoming wired or wireless Internet connection with all the devices attached through a designated computer.
Network switches look like boxes with ports or connection points on both the back and front sides where the other devices connect. The number of ports available usually depends on the type of network switch model or design, although four to eight ports are most common. Some users circumvent this connection limitation by daisy-chaining network switches together to open up numerous ports. Some of the standard features with which network switches enhance their performance include port monitoring and prioritising ports, link bandwidth, IP management, and VLAN settings. Others have a feature that helps to keep their ports secure.
The Network Switches and Hubs Debate
Switches are inherently smarter than hubs because while a hub transmits packets of data to all other devices on the network, a switch just sends it to one intended receiver. In addition, switches permit any port to use the total bandwidth, while hubs just split it up among the ports. When it comes to handling different speeds on the network, switches are first past the post, with greater proficiency than hubs. In fact, switches are like hubs on steroids, with improved speed and efficiency. While it is easier to detect the difference between switches and hubs in commercial setups because of their constant connection, the same is not for residential users with fewer than four computers connected since performance is almost the same with negligible differences.
The Different Types of Network Switches
There are many different types of network switches categorised according to size and form factor, configuration option, number of LAN ports, duplex speeds, and maximum data rate. Depending on what a consumer is looking for, here are all the switch categories explained in their diversity.
Size and Form Factor
Consumers have to know where they intend to place the switch; ideally, it is a place convenient for them and the switch, and one that offers maximum flexibility. Network switches come in a variety of physical sizes, thicknesses, and form factors, such as standalone and rack-mounted. Rack-mounted form factors use a stacking method to mount an array of switches on a data cabinet. They are larger than the desktop forms so are best for Small Office Home Office (SOHO) setups. The switches here are stackable switches. Standalone switches are much smaller and perfect for residential setups since they do not take up much space as do the desktop type. They act as a single independent unit and do not need stacking.
Network Switch Configuration Option
There are three types of configuration choices most commonly found in network switches: the fully managed, the partially managed, and the unmanaged options. The different configurations differ amongst themselves in the degree of control they give to users, ease of use, cost, and reliability.
Fully managed network switches give users complete control over how to run it, from modifying and optimising settings to backing up and restoring functions. For best use they require constant updates from the manufacturer and a skilled user familiar enough to configure the switch according to their requirement. Partially managed switches have limited control features for basic management, such as regulating port bandwidth, though they offer a cheaper option when compared to the fully managed ones. The unmanaged type of configuration has no controls or buttons and is the easiest to use and most cost-effective. These types of network switches are also known as Plug and Play, since they work right out of the box. Here is a table to show the three types of network switch configuration options and their features.
| Type of Network Switch Configuration | Features |
| --- | --- |
| Fully Managed | Advanced options, can be configured, software needs updating, most costly option |
| Partially Managed | Limited control, basic management, cheaper than fully managed |
| Unmanaged | Plug and Play, no control options, easy to use, affordable |
From the table above, it is clear that consumers must chew over the type of configuration options available to find the easiest and most reliable one for their needs. A point to note is that when a consumer opts to buy a network switch in used condition, they should remember to remove the old configuration option and install the new one, or the switch might fail to work.
Number of LAN Ports
Ports are openings or slots on a network switch where other devices connect. The number of LAN ports a network switch has determines the number of devices that can connect to it. Most switches for small offices or residential setups have four to eight ports, which is sufficient for more than one computer and one other device, such as a printer or scanner. It is important that consumers have an idea of the number of devices they would like to connect to the switch before shopping. The greater the number of ports a network switch has, for example the 13,, 16,, 24, 32, and 48 port switches, the bigger its price tag. While some consumers dig deeper into their pockets, others use the daisy-chaining method to have as many as several dozen ports. In this method, one or more network switch connects to a port on another fast network switch known as the core using a crossover cable.
Maximum Data Rate
The maximum data rate is the highest speed at which the switch can transfer data over the network from one device to the other, with 10 Mbps or 100 Mbps speeds common in most homes and small offices. While no one wants a sluggish transfer rate, blazing speeds of 10 Gbps and 1000 Mbps/ 1 Gbps have correspondingly high price tags, a fact consumers must weigh against their budget and needs. Networks with low latency that transfer small volumes of data can suffice with lower speeds, but those that have to transfer large volumes of data often can be problematic without a corresponding high data transfer rate.
Duplex Modes
Network switches are available in full-duplex and half-duplex communication modes. In full duplex, the transfer of data happens in both directions, back and forth, simultaneously, and with ease, much like a two-way street. This is an ideal method of increasing the bandwidth of workstations and computers up to double the initial speed. In the half-duplex mode, the information travels in only one direction at a time and therefore is much slower than the full-duplex mode. Half-duplex mode is most commonly used in telephony and Voice Over Internet Protocol (VOIP) activities.
How to Buy Network Switches on eBay
Try a quick search for 'network switches&' on the eBay home page for the most varied and extensive of results anywhere online. The user-friendly site makes shopping a breeze, especially when you opt to pay with the recommended payment method, PayPal. If the search results are too many, you can filter through and sort by brand, price, condition, or location to narrow down the choices to a manageable number.
As you go through the listings, check the condition of the network switch, its speed, configuration option, and number of LAN ports to be sure it is what you require. While most sellers offer quality items, the eBay top-rated sellers have network switch listings with complete descriptions and photos; they also offer excellent customer service as well as fast dispatches and shipping. Some even ship for free, and within 24 hours of receiving payment. The feedback other buyers leave for the seller is a fine indicator of the quality of their service. Read through feedback before buying an item, and be sure to leave your own feedback as soon as your network switch arrives home.
Conclusion
Shopping for network switches need not be as overwhelming as some salespeople make it out to be. Network switches are nothing more than small hardware tools that link devices over an Ethernet connection. Savvy consumers know that, to get their money's worth, they must know what they are buying; when they consider factors such as the number of LAN ports, speed, configuration, and form factor, they are many steps closer to their ideal network switch. Some consumers have a specific brand, price, and item condition in mind and use that to pick on a switch. However, it is better to consider these after coming up with the network switch best suited to them using the factors listed above, and not before. For those who love the colour green, eco-friendly and energy-efficient network switches are available to help them save power and money.
While some shoppers decide to spend hours traipsing through brick and mortar stores, others shop on eBay,, whose massive selection is a mouse click away, and the low prices and fast shipping can get them connected in two shakes of a lamb's tail.