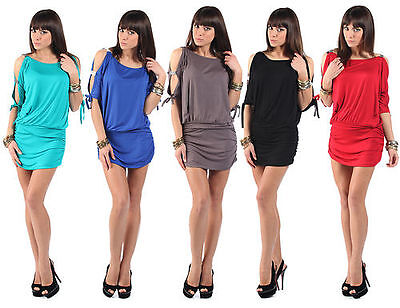 A tunic dress is the simple garment for body but in style. It could be either close fitting or loose, beginning at the neck and extending over a knee to ankle. Tunic is not a new invention of garment it was worn by both men and women in Ancient Rome and Greek. But now days its definition has been changed wear by women with new styling and design. Tunic dresses are comfortable and can be dressed up and down, effortlessly. It's a perfect summer dress can be wear casually or for party. There are so many designs, styles with vibrant and variant colors available in market which suits your mood.
A tunic dress with perfect combination of accessories make you look fantastic after you've bought the right shape for your body type.
High waist skirts are is a throwback to vintage glamour. Its looks great dressed up or down, worn with heels. It creates a flattering optical illusion which draws the eye down to prolongate and slim your silhouette. Pair it up with bright and vibrant tops gives you a look for formal and party wear. Things to be noticed while choosing this style of skirt: Consider your height and body shape when choosing this style of skirt. A fitted smart black skirt looks smashing on shorter girls as it lengthens the body. However, if you are tall and slender, cut and detailing become very important. If you have a small waist and wide hips, avoid wearing skirts that sit in your waist or tailored skirts with horizontal seams as these will accentuate the difference between your waist and your hips, making your hips appear wider that they actually are. Vertical seams create a smoother silhouette. High-waisted skirts look adorable with cropped tops, a light blouse or even just a plain t-shirt! Dress it down with a t-shirt and some flats, or dress it up with a blouse, a belt and some stylish pumps
Ansaonline is one stop shop where you get wide range of shapes, styles and colors of tunic top dresses and NEW Style Women's High Waist skirt. Here you can find the perfect dress for you with affordable price.