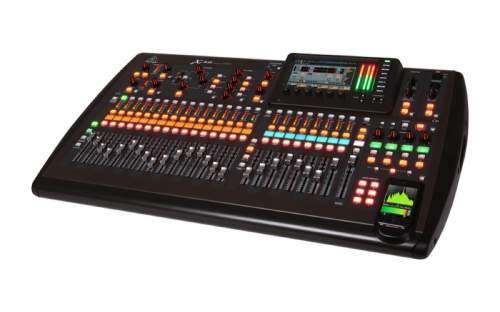 Digital audio mixers are used to mix audio signals to combine different sounds and modify them both for playing live music and for recording music. They also have other applications. For example, in radio broadcasting and public address (PA) systems.
About Digital Audio Mixers
Audio mixers, also known as mixing consoles, mixing desks, or simply mixers, are electronic tools for mixing audio signals. There are both analogue and digital mixers, which have various benefits and drawbacks. Analogue mixers have individual inputs with volume controls that link to a master amplifier. Digital mixers convert inputs into number streams, processing the audio signals with computer software before converting the signals back again.
The advantages of digital mixers, which have increasingly replaced analogue mixers, include their increased versatility and functionality, with many new features and capabilities, their programmability, the large amount of inputs, and their capability of dealing with both analogue and digital signals, as well as their more compact size. They are, however, typically more expensive and also more difficult to learn and operate. Whereas analogue mixers have various knobs and controls that enable intuitive mixing, digital mixers have a variety of interchangeable buttons and menus. Digital mixers also have a small delay or latency caused by the conversion of analogue signals to digital. While this doesn't generally affect live performances, it can on some occasions be disorientating for musicians wearing in-ear monitors. Analogue mixers are also said to produce a warmer or more colourful sound, whereas digital mixers produce a cleaner or less coloured sound.
Choosing a Digital Audio Mixer
Various factors should be considered when buying a mixer, such as budget, space considerations, portability, ease of use, and functionality. Functionality includes factors such as the number of channels and special features.
Number of Channels
Inputs come into the mixer by means of channels. The greater number of channels a mixer has, the more sources can be used. Most channels are input channels and these take up the most space. There are also output channels and sub-group channels. Sub-group channels are used to combine groups of input channels before sending to the master channel. They are useful for making quick, broad adjustments.
Most digital mixers have between eight and 24 channels, though some have fewer than eight and some have more than 24.
Features
Digital audio mixers have a variety of functions that should be considering before making a purchase. The various features include gain controls, EQ controls, kill switches, faders, crossfaders, curve controls and effects.
Gain Controls
Gain controls allow signals to be modulated so that signals are played at the required level. Gain controls allow inputs to be played at the same level rather than having one input louder than the other. They also allow certain signals to be enhanced while others are diminished. This has the benefit of optimising the signal to noise ratio and minimising interference. For recording, controls are set at a level that is high enough to reduce noise, but not so high that the audio signal is clipped or distorted.
EQ Controls
EQ stands for equalisation. EQ controls allow audio signals and tone to be finely controlled and reshaped. There are various types of equaliser. Three of the major types are peaking, shelving, and pass filters. Peaking filters raise or lower frequencies to create a bell curve around a particular frequency. Shelving filters increase or reduce frequencies by a certain amount, with low shelf equalisers affecting low frequencies and high shelf frequencies affecting high frequencies. Pass filters increase or reduce frequencies, but unlike shelving filters which flatten out at a certain level, they do not have a cut off point. Graphic equalisers have several filters for enhancing and minimising various frequencies, with more advanced mixers containing a higher number of filters.
Kill Switches
Kill switches are used to cut certain frequencies altogether. Typically there are three switches that cut out different frequencies, one cutting the bass, one cutting the middle frequencies and one cutting the high frequencies.
Faders
Faders are used to fade out sound, and they can be controlled as required. Digital faders can be viewed on the user interface. Some of the more advanced digital mixers have multi-use faders with the ability to save particular settings and work automatically.
Crossfaders
Crossfaders work like two faders in opposite directions so that one input can be faded in while one is faded out. They are often used to combine the best parts of solos.
Curve Controls
Curve controls are used to adjust the mechanism and sound of crossfaders. They can make the crossfaders sound longer or shorter and smoother or sharper.
Effects
Many digital mixers have a range of special effects to add to live performances and recordings.
Models and Makers
Yamaha are world leaders in electronic mixing technology and produce a range of digital mixers. Other top brands include Mackie, Behringer, Roland, Peavey, Samson, and Sony. Buying from a reputable brand is a good way to ensure a quality product is obtained. This can be an especially important consideration when buying a mixer online. It also means that products can typically be reviewed on the manufacturer's website and easily compared with other products.
Other Considerations
Other considerations might include budget and size. Budget can limit the choice available, especially with digital mixers which are generally more expensive than analogue models. An option to consider if this is the case if to purchase a pre owned mixer. Always be sure to buy from a reputable seller and read the product description carefully if buying a pre owned model.
Find a Digital Audio Mixer on eBay
Digital audio mixers can be found on eBay by two simple methods. The first method is to navigate through various hierarchical categories. The second is to conduct a direct search. To follow the first method, go to the eBay home page. To the left are tabs linking to various categories. Scroll over All Categories and click on Musical Instruments. Then click on Pro Audio Equipment. Click on Mixers from the tabs to the left. Then scroll down to Analogue/Digital and click on Digital. Under Suited For are a number of options giving appropriate uses for the various digital mixers and these can be selected if desired, though many listings are unspecified in this regard so any selection may cut out relevant listings. The condition, brand and number of channels can also be selected. The second method of looking for digital audio mixers is a direct search in the search tab at the top of any eBay page. Simply type in general terms such as "digital audio mixer" or "digital mixing console", or include a specific brand or other criterion if required.
Conclusion
Digital audio mixers are used by musicians to mix audio signals in various ways. Digital mixers have various advantages over analogue mixers, including their increased functionality, versatility and connectivity, their programming and storage capabilities, and their more compact size. Disadvantages include their higher cost, greater difficulty in learning to operate and latency, and some people prefer the warmer sound characteristic of analogue mixers. Digital mixers have a number of features used to mix audio signals. These include gain controls which modulate the level of different signals, EQ controls which finely control audio signals and tone by raising and lowering frequencies, kill switches which cut out certain frequencies, faders which fade out sound as required, crossfaders which fade out two inputs in opposite directions and curve controls which control the sound of crossfaders. Many digital mixers also have a library of special effects to add to tracks. Buying a digital audio mixer is an investment and one that should be carefully considered. Buy from well-known brands to ensure quality and check seller feedback and product descriptions before purchasing.