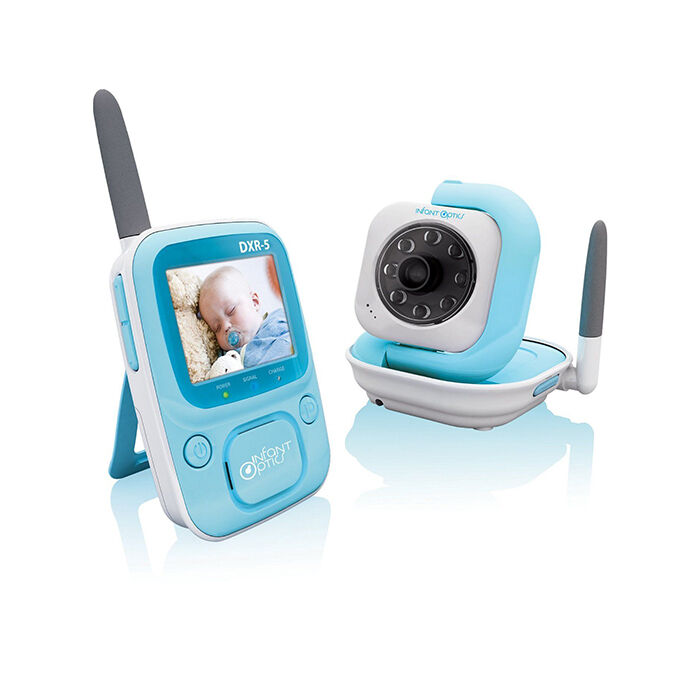 When parents put their little one down to sleep, it eases their minds to hear their baby sleeping soundly and safely while they are in another room. Digital baby monitors are the best way to check on a baby while parents are not in the room next to them. With digital technology, not only are some monitors equipped with cameras and monitors which allow the parents to actually see the child sleeping or playing, but they are so sensitive they pick up baby's breathing and any small sounds.
A long-range baby monitor is a good choice for parents who have a large home and need the monitor to reach a greater distance, while rechargeable batteries are a good way to save money since they do not need to be replaced with disposable batteries. There are many features, prices, brands, and sizes of digital baby monitors, so when consumers are searching for one to buy, they should keep these factors in mind and choose the right one for their budget and individual needs.
Digital Baby Monitor Features
The best way to shop for a digital baby monitor is to decide which features are the most important. Monitors range from simple and inexpensive to extremely sophisticated and more costly, depending on the features that they offer the consumers. A more expensive monitor may not necessarily be better than a more affordable one, but it simply may offer a wider variety of features and extras.
Video Screens
A popular feature on digital baby monitors is a video screen, so not only can the parents hear the baby sleeping, but they can see the infant as well. Sizes of video screens vary from quite small at a few centimetres to much larger video monitors which have crisp, clear, high-definition colour pictures. Some of these video monitors also offer zoom features.
Video monitors are also wireless and easy to use. They cost a bit more than standard monitors that only offer sound, but can be a worthwhile purchase to give parents peace of mind, especially with new babies. Other features of video monitors include infrared cameras which offer night vision viewing, waterproof designs, remote controls, and the option to connect more than one camera. There are even video monitors that play soft lullabies to help babies get to sleep.
Rechargeable Batteries
For parents who want to live a greener and less costly, existence, digital baby monitors with rechargeable batteries are a big plus. Rechargeable batteries save buyers a lot of money over the long term, and they are much more planet friendly than disposable batteries. Also, consumers never have to worry about running to the store to purchase batteries when they begin to run low.
Another great feature of some digital rechargeable baby monitors is that they offer a beeping sound when the battery is becoming low so that it can be recharged immediately before it completely stops the monitor from working, so buyers do not have to go without the baby monitor completely.
Two-Way Talking
Two-way talking allows the parents to communicate with as well as hear the infant. Sometimes a parent's soothing voice helps a wakeful infant fall back to sleep if he or she is having a restless night. High-definition sound is clear and without static, and talkback is as easy as the push of a button. Along with a video picture, the talkback feature creates a full talking as well as seeing experience when the parents use a digital baby monitor.
Night Lights
Not only does a digital baby monitor allow consumers to see, hear, and possibly talk back to baby, but it can also double as a night light. Help baby fall asleep with the soft glow of a night light that is attached to the base of the baby monitor. Some night lights are operated with a remote control, so parents can turn the night light on or off conveniently without disturbing baby's sleep.
Some monitors offer fancier night lights such as colour changing night lights to provide a nighttime light show for infants. Some night lights are set on timers to automatically shut off after a certain amount of time.
Long-Range Capabilities
Parents who have a bedroom far from baby's room may want to pay special attention to the range of the digital baby monitor. Some monitors offer a wider range than others, up to 300 metres in some cases. Generally, most monitors offer a range from 100 to 200 metres, so a monitor which has a farther range is a plus for parents in a large home. Check for a monitor that beeps when the receiver goes too far from the monitor's base, so consumers know when they are out of range and may be unable to hear the baby from that distance.
Breathing/Movement Sensors
A more advanced type of digital baby monitor is one which actually senses the baby's breathing. Some of these, such as models made by Tommee Tippee , offer a sensor pad that go underneath the baby's mattress and it trigger an alarm if he or she stops breathing for more than 20 or 30 seconds.
The sensor pad cannot be felt by the baby, so sleep is not disturbed; this is a big plus for parents who worry about their newborn baby during sleep. Parents do not even have to walk up to baby's cot to check his or her breathing, because a green light signals that everything is fine on the monitor as baby breathes and sleeps normally. When purchasing a breathing sensor or movement monitor, make sure the pad is compatible with the type of mattress that baby sleeps on for the best fit and safest experience.
Digital Baby Monitor Quick Guide
When it comes to buying a digital baby monitor, it can be quite confusing. Many types of brands offer a variety of features, and buyers may not need all of the bells and whistles that a high-end monitor offers. Select the right baby monitor based on specific needs and the budget.
| | | |
| --- | --- | --- |
| Features Desired | Type of Monitor to Purchase | Additional Features Monitor May Have |
| | Basic digital monitor | Rechargeable batteries, talkback capacity, low-battery, indicator light, lullabies, night light |
| Sound, video | Video baby monitor | Wireless system, remote control, night vision camera (infrared), zoom feature |
| Breathing sensor | Sensor pad and monitor | Low-battery alarm, remote control, sensitivity adjustment, sound lights, temperature display/sensor, vibrating option |
Since there are many types of monitors to choose from, it is wise to know what type of monitor is desired to make shopping easier. Monitors with more features are going to be more costly than basic models, but may provide more peace of mind for new parents. Some common brands of digital baby monitors areTomy and Angelcare..
How to Buy a Digital Baby Monitor on eBay
Locate a digital baby monitor on eBay and receive the comfort and peace you need while your small baby is sleeping. There are many types of monitors to look at, so navigate to monitors to begin browsing and making a decision. First, set a budget for what you would ideally like to spend on a monitor. This narrows down some of your options. Next, decide which type of monitor features are the most important to you and relevant for your specific needs, such as video monitor, a sensor pad to monitor breathing, or a baby monitor which offers a longer range of distance.
Choose the right baby monitor that safely monitors your baby's sleep by shopping from a merchant on eBay who is a top-rated seller . Read the seller's description of the digital baby monitor carefully to see exactly what type of monitor you are getting and if it offers all of the necessary features you want to have. Ask a local seller if you can alleviate shipping hassles for both of you and pick up your digital baby monitor in person.
Conclusion
There is nothing more lovely than a sweet, sleeping baby. However, parents who want to ensure their baby's safety during playtime, naptime, or bedtime should invest in a digital baby monitor to reassure themselves that baby is sleeping just fine and breathing normally during times when the infant is not with his or her parents. Technology not only allows crystal clear digital sound without interference, but newer monitors also have screens, which allow baby to not only be seen but heard as well.
Talkback features make it easy for parents to communicate with their infant and possibly even remotely soothe a fussy baby back to sleep without even having to enter the baby's nursery. There are so many benefits to having a digital baby monitor, including an optional night light, a music player that plays lullabies, and a digital zoom which allows parents with video monitors a closer look at their little one. A digital baby monitor gives parents peace of mind, which is always worth any amount, but on eBay, it is affordable as well as all of the other benefits a monitor offers.