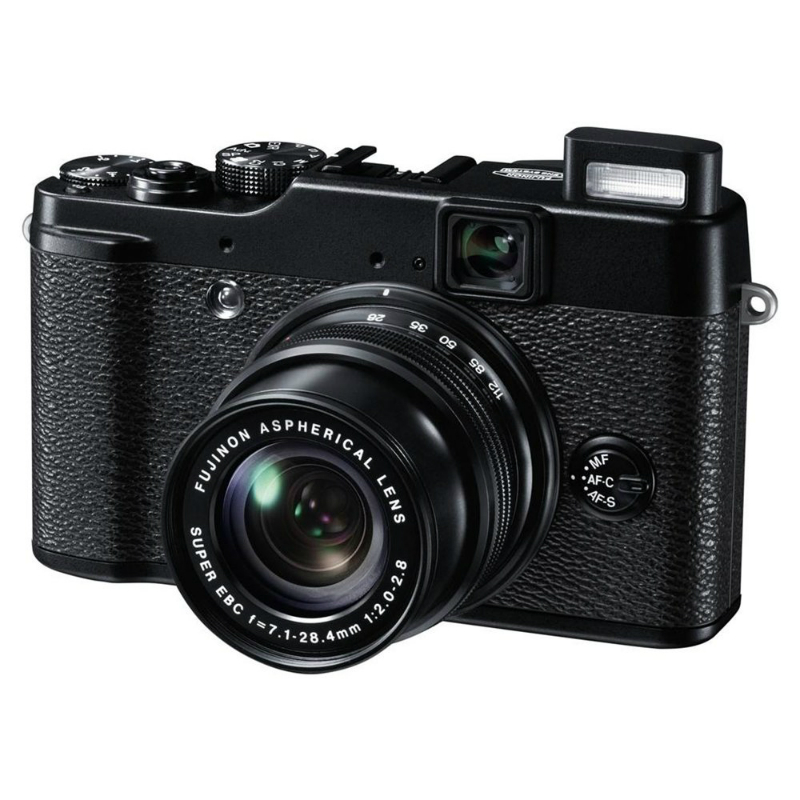 Nowadays, digital cameras have become a must-have gadget. As technology evolves, cameras gain in capabilities and image quality, so making the right choice can be considered a useful investment. But which are the key technical specifications to consider before buying a digital camera? Read on to find out.
About Digital Cameras
Although digital cameras were only commercialised recently, the first prototype of digital camera was built towards the end of the 1960s by engineers working at Kodak. Handheld electronic cameras were launched in the market in the mid-1980s by Sony, although their use was limited to industrial and governmental purposes.
The first digital cameras as we know them today were designed by Fuji and appeared in the market in 1990. Soon after, the world's leading electronics firms began to launch their own models of digital camera and to make these devices more affordable to the general public. Today, digital cameras have surpassed their film counterparts in terms of popularity, and it is estimated that more than 100 million digital cameras are sold every year.
The Basic Parts of a Digital Camera and their Functions
When it comes to buying a digital camera, it is important to have a general understanding of the main parts of this type of cameras as this knowledge can help buyers choose the most adequate model. Modern digital cameras consist of:
| | |
| --- | --- |
| Digital Sensor | A digital sensor is the element that makes a camera truly digital. Sensors consists of a chip that can convert light into digital information, and they are measured in megapixels. As a rule of thumb, the more megapixels a sensor has the better the quality and clarity of the pictures taken will be |
| LCD Display or Screen | An LCD display or screen works as a visual guide when taking pictures |
| Zoom Lens | The zoom lens is rated according to its optical and digital zoom power, a figure that can range between 1x and 10x |
| Memory Card Slot | The memory card slot is usually located on the side or the bottom of the camera and can take SD and SDHC memory cards |
| Connectivity Button | The connectivity button allows users to transfer images from the camera to an external device (like a computer or a printer) using WI-FI, Bluetooth, or a USB port |
| Mode Dial | The mode dial is a button that allows users to select a shooting mode (such as video or still images) and to adjust the camera settings to different scene types like indoors shots, portraits, landscapes, fireworks, close-ups, or sport shots |
| Menu Button | The menu button allows access to a range of functions, including self-timer, photo review, auto-focus, colour choice, or red eye reduction as well as time, date, and language settings |
| Battery | Most digital cameras without a built-in rechargeable battery can take alkaline AA batteries or rechargeable lithium batteries |
Types of Digital Cameras Available in the Market
Digital cameras are mostly classified according to their intended use. Therefore, cameras can be divided into professional digital cameras, compact cameras, and bridge cameras.
Professional Digital Cameras
Professional digital cameras (also known as DSLR) are at the higher end of the market due to their enhanced capabilities and to an extensive range of settings. The digital sensors in DSLR cameras are bigger than those in other camera types, which results in excellent image quality. DSLR cameras can be used with interchangeable lenses.
Compact Digital Cameras
Compact digital cameras are also called point-and-shoot cameras. As their name suggests, they are geared to the amateur market and to those who want to enjoy the quality and convenience of digital pictures without having to be experts in photography.
Bridge Cameras
Lastly, bridge cameras (sometimes called super-zooms) represent an intermediate step between compact digital cameras and DSLRs. Bridge cameras resemble professional digital cameras both in appearance and in technical specifications, although usually they have fixed zoom lenses instead of interchangeable ones.
Rangefinder Cameras
There is yet another type of digital camera in the market. Rangefinder cameras are a compact version of older film cameras but make use of digital technology. These cameras can be also fitted with interchangeable lenses, although the range of lenses available is not as wide as with DSLR cameras.
Choosing a Digital Camera According to their Features
There are several important features that come into play when choosing a digital camera. These features are mostly related to a camera's basic parts, so when shopping around for a digital camera, make sure to consider the following aspects:
The size and capabilities of the LCD display
LCD screens are measured in inches. A large LCD display allows users to frame and review the pictures more accurately, so it is a good idea to choose a digital camera that has an LCD screen of at least 3 inches, with 3.5 inches being the largest size usually available in compact digital cameras. Some LCD displays are touch screens too. However, it must be kept in mind that the larger the display, the sooner the battery will be drained.
Electronic viewfinder versus optical viewfinder
Optical viewfinders are the small displays usually found on top of the LCD display which provide a real-time and undistorted view of the subject to be photographed. Optical viewfinders are more common in DSLR cameras, although some high-end compact and bridge cameras have them too. Electronic viewfinders do not offer views as accurate as optical viewfinders, but this shortcoming is offset by their additional features, such as colour balance preview, exposure guide, or automatic lighting in low-light settings. However, electronic viewfinders drain a camera's battery quickly and require some knowledge of photography in order to make the most of them.
The resolution of the digital sensor
Resolution is measured in megapixels, but unless the pictures taken need to be enlarged, a sensor whose resolution ranges between 4 and 8 megapixels will be good enough for most compact camera users. Going for a higher resolution in a non-professional camera could actually result in poorer image quality. The recommended sensor resolution for most DSLR cameras ranges between 14 and 24 megapixels.
The camera's flash type
Most digital cameras come equipped with a built-in flash. However, those who plan on taking many indoor or night shots should consider choosing a camera that can be fitted with an external flash. It is worth remembering that although external flash units can give excellent results, they are manually operated devices, and the final outcome depends on the user being able to calculate exposure values. Those who may only need to use the flash occasionally should go for an automatic or built-in flash.
Does the camera have image stabilisation?
Some digital cameras can be mounted on a tripod for clearer pictures, but non-professional users who do not need or want to carry a tripod around should check the camera's image stabilisation features. There are two types of image stabilisation mechanisms: digital and optical. Digital mechanisms are not as effective as optical, but for best results, go for a camera that integrates both.
The optical zoom rating
This feature can contribute to sharper pictures. A 3x zoom rating is good enough for compact cameras, while bridge cameras and DSLR buyers can benefit from choosing cameras with an optical zoom rating of 10x and 24x in each case.
The type of batteries required
Rechargeable lithium batteries hold better than AA batteries in cold weather situations. Those who require extra-long battery life should look for digital cameras that have an additional or back-up battery pack.
Storage options
Most compact cameras use SD memory cards. More advanced users can benefit from buying a camera that features compact flash or SDXC memory storage, which can hold up to 2 terabytes worth of files.
ISO (light sensitivity) settings
This is especially important when buying a DSLR camera. ISO settings affect image resolution and clarity in low-light conditions, so those who plan on taking lots of night shots should choose a camera that can go up to 1,600 ISO.
Video recording capabilities
It is recommended to look for cameras that have a high-definition video recording option. These are usually labelled as having 720 or 1080 pixels.
Other considerations
There are other additional features that may come in handy when choosing a digital camera. These include face detection technology, special effects or backgrounds, waterproofing, or the possibility of taking still 3D pictures.
Last but not least, consider how the camera looks and feels. Is it too heavy? Does it look solid enough? Is the camera's functioning intuitive and user-friendly? It is possible to find out about all these factors by reading user reviews online. If you're feeling adventurous you can consider a GoPro camera. These are handheld cameras that be attached to helmets or drones for a truly unique capture experience.
How to Buy a Digital Camera on eBay
All types of digital cameras can be found on eBay. Once on the homepage, click on the All Categories link, which will open a new page where a link to Cameras & Photography can be found. There will be a menu on the left hand side of the page featuring a link to Digital Cameras. The search results can be refined according to brand, price range, megapixels, and optical zoom ratings, among other options.
Conclusion
Buying a digital camera on eBay is a convenient option that can save time, money, and effort. Make sure to check the seller's feedback and to follow the tips outlined in this guide to ensure that the camera chosen is the most suitable to the needs.