DIGITAL PHOTO FRAME – A GUIDE
Every once in a while, there comes a product, that is nothing short of a revolution. The invention of the Wheel, Sliced Bread, Talking movies, Transistor, Video Cassette player, Video Camera, Television, Digital Photography and Mp3 Players are examples of this revolution. Digital Photo Frames is one such product . Say Bye Bye ! to the rusty , dusty and tired photo frame and HELLO! and welcome to the new photo Digital photo frame. Yes it is now a digital frame that moves and shakes, sings and ROCKS! A digital picture can now be played through these devices with accompanying background music as well.
Picture it! This is an ideal Xmas gift to the Nan - so she can enjoy the picture of little Joe singing "Ba Ba Black Sheep" or " Humpty Dumpy". Or the pictures of your recent unforgetable Holday experience you want to linger on. You are lying on the beach of prestine white sand with the view of the toqoise green sea with gentle lapping of the waves. Or in the arms of your loved one you can feel that touch even now! . Memories are made of these !.
Digital photo frame come under various screen sizes:
1.1 inches, 1.4 inches 5.6 inches, 7 inches, 8 Inches, 10.4 inches and 15 inches. Screen size
A. 1.1" Key Chain / Pendant Photo Frame (CSTN)

CSTN Short for colour super-twist nematic, an LCD Technology developed by Sharp Electronics Corporation. Unlike TFT CSTN is based on a passive matrix, which is less expensive to produce. The 1.1" comes in 3 varieties. In the form of a Key chain Fob, a pendant or in a table clock that shows time and Temperature. The number of pictures you can display with this type ranges from 56 pictures to 24 pictures.
Typical specification is as follows:
Display size: 1.1-inch
LCD: colour STN
Viewing direction: 12 o'clock
Pixel arrangement: 96 (RGB) x 64 pixels
View area: 24.07 x 16.71
Active area: 22.449 x 14.961
Pixel size: 0.219 x 0.219
Pixel pitch: 0.234 x 0.234
Picture format: JPEG, BMP, GIF, PNG and TIF
Control buttons: 4 keys for page up, page down, delete and power
The pictures can be deleted one by one or all at once
The pictures can be viewed by page up and down
The pictures can be edited and modified with the picture convert software
USB interface: USB 1.1
Power on / off switch
Auto play mode (slide show)
Working time: 4 - 5 hours
Built-in NAND flash: 4MB (max. storage: 56 photos)
Pictures can be loaded on the device through a USB cable connection to a computer. Ensure that a cable is supplied with the purchase. You need a computer to load the pictures on to the Digital Frame. The computer must be at least Pentium II 266Hz with min 32MB Ram, CD Rom, USB Port. OS must be Windows 98 SE/ME/2000/XP. Photo Viewer software is also usually supplied.
B. 1.4" Digital photo frame & Calendar display & Temp Sensor

This one does more than show pictures; it shows time, calendar and Temperature. Resolves arguments at work or home whether it is hot or cold.
Typical features:
Image display
Calendar display
Temp. Sensor
USB1.1
Memory capacity: 63 pictures
Display type: 1.4" CSTN (240 x 160 dots, 65K colour), TN (clock and time)
Temperature effective range: 0 - 50°C
Sampling time: 10s
Power on/off: magnetism switch
Key function: power on/off; delete single/all, page up, page down
Support format: BMP, GIF, JPG, TIF, PNG
Display mode: single/slide mode
Key function: model adjusts, Celsius/Fahrenheit, snooze/back light
Clock display: year/week/day
Back light/snooze
Working voltage: 2 x AAA 3.0V/USB 5V and RS2032 3.0V
Material: ABS
This is a better investment in time and temperature.
C. 5.6 inches, 7 inches, 8 Inches, 10.4 inches and 15 inches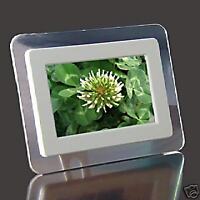 Typical Features:
TFT / LCD Screen
Plays JPEG file format
Plays from memory card inserted into photo frame slot
Supportable media: CF, MMC, SD, MS, SM, XD and memory card
Pictures rotation function: 90°, 180°, and 270°
Zoom in /out function
Slide Show display - pictures slide in and out of the frame in pre-set or random sequence
Pictures can be downloaded to memory card through USB 1.1.interface from PC
Audio Video Input to connect to DVD player /VCR as a LCD monitor.
Video output to show output to Television
Remote controller operations
Frame can be changed
Support .MP3 and .WMA FILE to play
Support MPGE-1/2/4 video format
Can build in 32MB to 2GB FLASH memory.
Build in two speakers with 1W there is a slot for Earphone
Can play picture as slide with background music
Can copy file from USB device to SD or CF card by remote controller directly
Can make a new folder by remote controller directly
Operating System: OSD (On Screen Display) and Remote Controller
AC Adapter: 100-240Vac, 50-60HZ 18W
Additional features to look for:
Support format: JPEG.DVIX, AVI, MP4/3/2/1
4-25 Pictures in one view.
Audio-input/output (stereo): can connect with speakers
Picture rotation function: 90°, 180°, 270°,9x9 thumbnail image are display
Adjustable on the speed of photo display and transition interval at your selection
Final Word
Do a detailed study of the specifications and do not be led by price only. Add transport cost, Customs duty and VAT charges to get an idea of the full cost. Also remember that if something goes wrong with the kit your return cost to manufacturer could be more than the cost of the product if the transport cost is high. Also look for delivery times. Some suppliers state that the delivery is from UK but if you look at the delivery time of 1 to 2 weeks it could come from anywhere in the world. Also find out if the product is CE certified and is compliant for ROHS regulations.
I wish you best of luck with your purchase of Digital Photo Frame. I warmly welcome your suggestions to make this article better.
Thank you for reading this article. Wish you a happy day today and everyday in your life.!
Sukumar
(Let your joy and pleasure be my BLISS!)