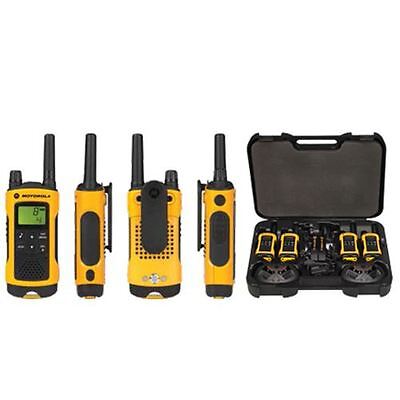 This guide will help you understand:
When you need a licence for a two way radio system.
The common types of licence
How to apply for them with Ofcom.
When you need a licenced two way radio system
If you use a two-way radio system that does not operate on one of the pre-programmed, licence-free frequencies (within the band 446.0 - 446.1 MHz) approved by Ofcom, you'll need a licence. All business radio licences are regulated and issued by Ofcom.
Many businesses choose a licenced two way radio system because, despite the benefits of licence free radios (PMR 446), they do have some disadvantages (such as lower power, interference and a shorter range) which can make them less suitable than licenced radio systems for some businesses.
Taxi and other transport companies, large sites such as hospitals or factories, and businesses based in more than one location are typical examples of situations where a licenced radio system might be a preferred option.
These users need more powerful radios than handheld portable "walkie talkies" provide. If your radio system relies on a base station or vehicle-mounted radios, a licenced radio system is a must.
Ofcom provides different levels of business radio licences. RadioTrader can explain each of these in more detail depending on your needs, but some of the common types are:
Simple UK Light
With this type of licence, you can use hand-portable or mobile radio equipment anywhere in the UK, with access to fifteen frequencies. The licence does not cover use of a base station. The cost is currently £75 for a five-year licence.
Simple Site Light
This is the type of licence you need for operating a radio system with a base station and mobile stations over a small area (typically one kilometre or less). This licence is often used for radio paging systems, with a range of frequencies available for use. The licence fee is £75 for five years.
Technically Assigned
Authorising the use of a wide range of business radio equipment, this type of business radio licence is very flexible, with a wide range of frequencies and coverage areas, from small (in-building) to large (county-wide).
Costs will vary, as they are calculated on various factors such as coverage area and the popularity of the frequency band. Ofcom indicates current costs from around £75 up to £1,480 for a single-channel assignment.
Area Defined
If you want exclusive use of a frequency across any area, be it a 50km2 grid, a county or the whole of the UK, you'll need an Area Defined licence from Ofcom. Again, costs will vary depending on the frequency width, its range and the region it covers, but exclusivity will raise the cost to several thousand pounds.
You'll also need to check with Ofcom first, as availability of UK-wide channels can be limited, but ask RadioTrader if you're unsure as this is something we are always happy to advise you about.
Licence applications
All applications of two way radio licences for business are made via Ofcom. Your application can be made online from their website in most cases (unless you operate more than one base station, have more than one antenna or control points, in which case your application must be paper-based) or you can download a blank application form and post it back to Ofcom's licencing department.
If all this sounds rather complex, don't panic! RadioTrader is happy to help customers with their licence application. We'll cut through the jargon and explain everything!
Get in touch for expert help - Call 0845 018 0888