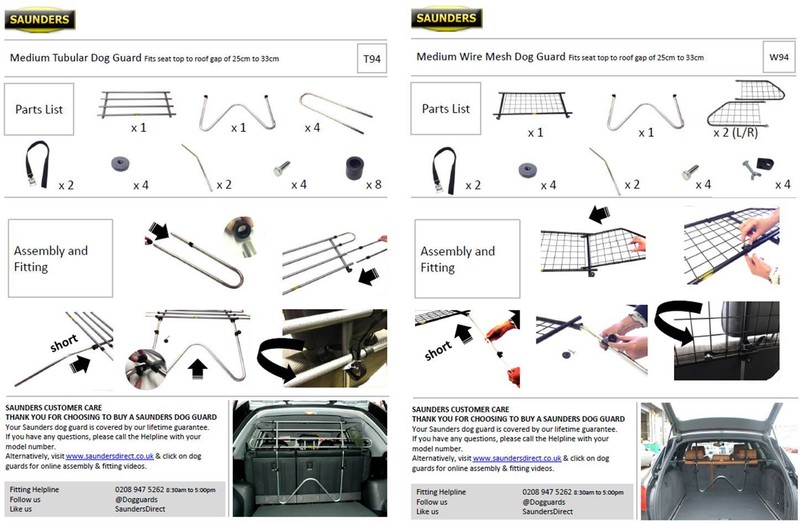 Assembly Tips
We always recommend assembling the dog guards indoors first. You can then make the final adjustments in the car.
Tubular frame - start by inserting the black rubber bushes over the aluminium U tubes. Make sure you push the smaller end of the black rubber bush on first & fully push home the U tube with it's black rubber bushes onto the silver Tubular frame with the Saunders logo facing you.
Wire Mesh frame - check that the centre frame & side wing are facing the same way up with the yellow Saunders logo facing you then slide the wing into the frame. Secure using a black frame clamp & wing nut. You can estimate their position now & adjust later when in the car.
Join the centre frame to the W shaped foot using the bent shiny aluminium legs. Insert the shorter end in the centre frame with the curve facing upwards. Again just loosely tighten the black wheel nut & bolt.
Time to go outside to the car! Raise up the headrests to expose the headrest stalks. Centre the guard using the yellow Saunders logo as a guide. Loosely secure the guard by looping the webbing straps around the headrest stalks & centre frame. Now adjust the height of the guard so the gap above the seat is filled in. It doesn't matter if there is a small gap at the top of the frame but avoid having a gap at the bottom. Tighten the black wheel nuts by hand & the webbing straps.
Finally adjust the side wings & tighten the wing nuts in the case of the Wire Mesh frame.
It's a good idea to regularly check the fixings are tight & make sure the webbing straps are secure.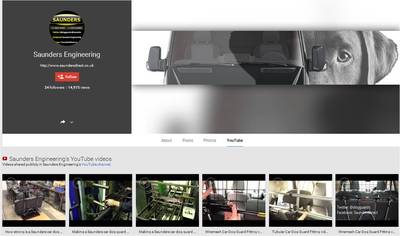 YouTube Channel
We have a range of assembly & fitting vidoes on our YouTube channel https://www.youtube.com/user/SaundersDirect