1st About runescape accounts they will give you the password and username and then take it back there are many ways that they can do this so when you buy it you will receive the user and pass like they said but they will change it before you even login usually.
2nd Buying runescape gp this does work but you can be caught very easily plus only buy from people who are from a company because private sellers arnt that reliable
3rd Runescape guides such as The Ultimate Unofficial Runescape 2 Money Making Guide it is all the same stuff there is no easy way really to make runescape gp the truth is you just have to keep training and keep trying at the game this Guides are making it look very easy but iv bought one before because i didn't have much money on the game but it didn't work at all it was all the same plus images like this are 100%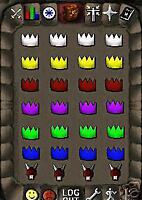 4th Do not buy these runescape duplicators! there is no such thing which can duplicate items its impossible and never buy runescape autos and macros from ebay they usually give you website links in a word document file or just a email and usually these things don't work contain spyware or adaware and you can be caught out extremely easy so i wouldn't.