Dr Martens - brief History
The legend began in Germany (Munich) in 1945. Dr Klaus Maertens injured his foot in a freak sking accident. To make walking easier, he designed a shoe with an air cushioned sole. Not only did his invention solve his problem, they started selling well in Germany. The r.Giggs group, located in Woolaston, Northampton, England loved the design and decided to manufacture under the more anglo name of "Dr Martens" - they produced their first work boot on 14th April 1960 - and the familiar style name of 1460 (14th/6/1960) was born. The range grew and was branded "Airwair" - which is still alive and well today. The original design has now been reproduced as the 'vintage' range, made from the original oxblood and black quilon leathers, hand stitched welted soles...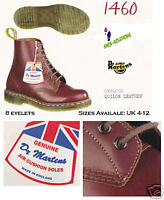 Here is a link to such items on shoe-solutions ebay store :

Interpreting the different leathers
Pictures can never fully display the beauties of the differing types of leathers that Dr Martens manufacture. Each season new leathers are introduced. Some common ones are:
Smooth

- this is the classic leather found on the classic style shoes and boots (1461, 1460, 1490, 1914) - smooth to the touch.

Quilon

- found only on the 'vintage' range (1460, 1490, 1914, 1461), and only in oxblood red and black. A premium leather that stems from the 1st boots to roll off the production line in 1960. A rare boot, made in England.

Mirage

- soft, premium leather - found on the new Saracen range


New Nova

- found on the originale collection / Giovanni. A leather with a subtle texture and Italian influence.

Harvey

- alternative to smooth found on 1461 black shoes. Premium quality.

Crazy Horse

- a soft yet rugged looking brown leather

Analine

- tan leather found on 1461 shoes

Nappa

- super soft black leather - premium quality, found on 1460 boots

Wet patent / softy

- a patent / coated leather found within the 'Harvey' range

Palermo

- soft grained leather, Italian influence.

Hera

- textured black leather

Florida

- rugged toned brown leather

Fine haircell

- grained black leather, tough, generally found on steel toe or industrial style boots

Lamper patent

- a coated leather
These are a selection - there are probably another 30 or so types, mainly seasonal styles.
What does the "Last" mean?
You will see this term mentioned by sellers. The 'last' is the shape of the toe, and can vary by style. Pictures of items can look similar, and the last can be different, so its always worth buying by style number e.g. "1461, 1460, 2976" etc
What's welted mean?
The vast majority of DM products are welted. This is a where a strip of leather is stitched into a shoe between the sole and the upper. This added strength and durability to the shoe, and is why DM's last for such a long time, if cared for.
There are the classic colours of black, dark brown, cherry red. New / recent colours include: oxblood red, white, purple, pink, navy, yellow, green, orange.....some examples are shown below.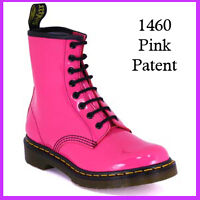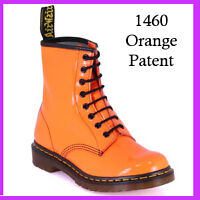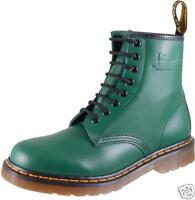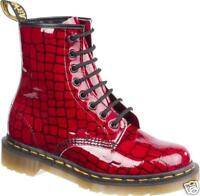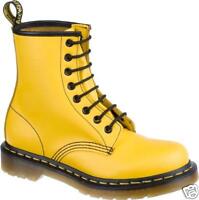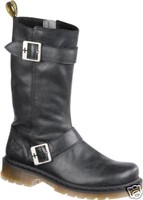 As one of the largest sellers of Dr Martens on eBay with over 500 pairs permanently in stock, I am more than happy to assist any ebayer with infomation about Dr Martens. I hope you like this guide. I have tried to be as accurate as possible and have used my own images and kowledge about the brand I have worn and loved for 20 years.