If you use the "pile" system to store your small items of clothing such as socks, underwear, tights, ties, scarves etc, then you know how difficult it can be to locate the exact item that you're sure is in there!
Drawer dividers can be a simple yet effective solution.
Caraselle, a leading supplier of clothes care products, commissioned a UK company to design and make such a product. The result is the expandable drawer divider based on the principle of a concertina. These drawer dividers are made in strong, pliable 100% recyclable Polypropylene.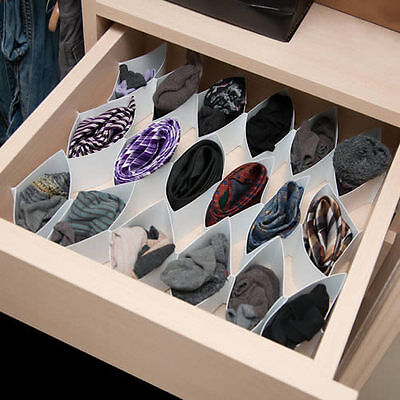 Caraselle's drawer dividers measure 80 x 80 x 70 cm with each compartment being 8 x 8 x 7 cm. They require no assembly as you simply stretch the concertina of dividers to fit your drawer. If the dividers as supplied are too large, they can be cut to size to fit your drawer.
They provide the perfect space for neatly storing small clothing items each in their own section for ease of retrieval.
As well as being helpful for clothes drawers, these dividers are also useful for office drawers - hands up if you have an office drawer which is crammed with all kinds of stationery items.
For more information about drawer dividers,
click here
.