Classic style or modern functionality? Tasteful, muted colours or can't-miss hi-vis gear? Whether you're an old hand or about to embark on your first shooting trip, make sure you look and feel the part by reading our essential guide on how to choose a shooting jacket.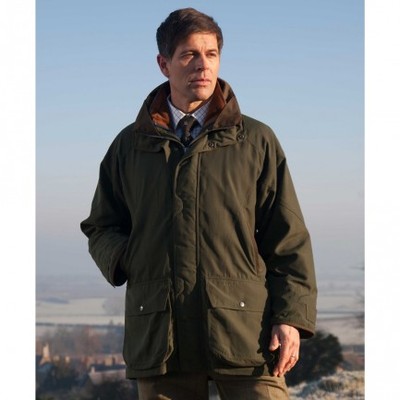 What's in your shooting jacket guide
Why wear a shooting jacket?
Classic vs contemporary
When do you plan to shoot?
Popular shooting jacket brands
Additional shooting attire
What to consider before you buy
While country clothing may, in the past, have conjured up images of portly gents in tweedy plus-fours covered in Labrador hair, a style revolution has occurred. So much so that tweed and waxed jackets adorn the catwalks and look positively chic and stylish. So even if you aren't thinking of taking up a new country sport bear in mind a shooting jacket can look great with jeans or mustard slacks alike.
If you're serious about shooting, the chances are you'll be focusing too intently on your next target to worry about how you look. Beside myriad practical features, however, a good
shooting jacket
will help you feel like you belong in the field, not to mention connect with the sport's strong traditions.
Choose your jacket wisely and it will act as a tool rather than a garment. It will protect you from the elements, camouflage you from your prey, muffle the noise you make, store your gun cartridges – or a snack – and cushion your shoulder from the jolt of a recoiling weapon.
Shooting jackets are designed primarily with practicality in mind, yet you'll often find that the more suitable a jacket is to a particular shooting trip, the more it takes on a style of its own. Only if your jacket is woefully inadequate will you run the risk of getting funny looks from anyone else in your shooting party.
If your jacket helps you shoot more effectively, you will automatically look stylish.
Joining a larger group for a day's shooting? Then
tweed is the fabric of tradition. Hard-wearing, durable and available in a range of weights and classic, flattering cuts, a high-quality
tweed jacket
is a blend of fine wools that will lend you a look of real refinement.
Tweed's natural, autumnal colours and all-round robustness have been an unofficial hunting and
shooting uniform for well over a century, with Harris, manufactured in the Outer Hebrides, and Donegal
tweeds being the most famous examples.
Weather
Although tweed is moisture resistant, it's far from waterproof. Should you get caught in a shower the water will quickly be absorbed into the fabric and the tweed becomes wet and heavy; the rest of the day, meanwhile, becomes miserable. Your movement slows and you're in danger of lagging behind the rest
of your party.
That's why more modern fabrics have overtaken tweed sportswear in terms of popularity. Lightweight, breathable alternatives may feature man-made materials such as
Gore-Tex
, but they'll keep you warm and dry through winter with the addition of a cosy fleece and cool during warmer months. Thicker jackets will offer more insulation without sacrificing mobility.
When visibility – and therefore safety – is a concern, a modern shooting jacket can be bought in bright, high-visibility colours so that you are easy to spot by others.
The time of year you plan to go shooting will be one of biggest influences on your choice of shooting jacket. If you know it's going to be cold, something to keep you warm is paramount – but the trick is to choose a jacket that will insulate without restricting movement. You can wear plenty of layers underneath, but your arms should still have room to move easily.
Wet weather requires a shooting jacket that will keep you dry, as well as your cartridges. However, be mindful of the distinct rustling sound some waterproof fabrics can make: you'll want to be as quiet as possible when moving around.
For those days that begin with thick, grey rainclouds overhead and end up warm and muggy – and vice versa – something that offers versatility will be appreciated. Look for light,
waxed cotton jackets
with storm cuffs and removable hoods. You can even buy jackets with sleeves that can be unzipped for better ventilation.
Jacket
Why it's a must-buy for shooting enthusiasts
Look out for…
Barbour

The South Shields clothing manufacturer has long been a favourite among those who pursue country sports.
Their waxed cotton jackets are waterproof and highly robust – perfect for crawling through undergrowth, safe in the knowledge your elbows won't wear through.
Many Barbour shooting jackets are layered, allowing you to wear them all year round by simply adding and removing an inner lining or fleece.

The Barbour Beaufort waxed cotton shooting jacket.
The Barbour Tweed shooting jacket, featuring a Gore-Tex lining.
The Barbour 3-in-1 layered shooting jacket.

Schoffel

Their sleeveless, waterproof jackets are perfect for mild, early season shooting.
Like Barbour, they also offer multi-layered options for year-round shooting.
Many jackets feature deep cartridge pockets with easy access tabs.

The Schoffel Ptarmigan Tweed shooting jacket.
The lightweight Schoffel Ketton.

Musto

The English manufacturer has a long history of producing stylish, rugged shooting attire.
Many jackets feature bellows pockets for cartridge storage and hand warmer pockets.
Recoil pads are built into some shooting jackets.

The Musto Highlands Field Jacket.
The Musto Lightweight Clay Shooting Jacket.

Harkila

Designed for serious shooting enthusiasts.
Generous sizing to allow for multiple layers to be worn underneath.
Various items of equipment can be carried thanks to bullet holders, radio pockets, inner mobile pockets and even zipped game pockets.

The Harkila Pro Hunter X jacket.
The lighter Harkila Frontier jacket.
The Harkila Edward Gore-Tex shooting jacket.

Seeland

Competitively priced shooting attire.
Offer realistic camouflage schemes on many jackets.
Many jackets come with fluorescent safety waistcoats.

The Eton Realtree Camo jacket.
The Woodcock jacket.
Shooting boots: Look for sturdy grips and impenetrable waterproofing – but above all, make sure they're comfortable if you're going to be walking all day. Nothing will put you off your aim like sore feet.
Shooting vest: Teamed with a lightweight waterproof jacket, you can take off the outer coat when it gets warm and still have somewhere for your cartridges.
Shooting clothing: Waterproof trousers, classic shooting breeks and heavy wool jumpers for the winter. All are useful.
Accessories: Don't forget other essentials, including ear defenders, safety glasses and a hunting bag if you're going for a lighter jacket.