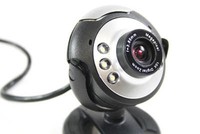 Cable length approx 140 cm
On cable slider control knob that dims or turns off the LED-light enlightening anything in front of the camera.
Installs on Windows Vista straight away when plugged into USB. No need for extra drivers. Works with Skype.
Don't be fooled it's not night vision! Night vision means that tool can see in low light conditions or using near-infra-red or ultraviolet radiation [check out wikipedia].
This WebCam has really nice LED light but it can't be considered as night vision.
Camera has nice clear picture, even distant objects are well visible [keep in mind it's only webcam, so you don't get camcorder quality]
Thanks to relatively large stand it isn't easy to knock over. Rubber underneath gives it also quite good grip so it isn't pulled by weight of the cable.
Microphone is good enough for conversations.
Originally being sold by yt-technology
I'd say if you don't use web cam remote zooming, face tracking etc. it's really worth considering.
If you think this guide helped you to i.e. save money vote please.