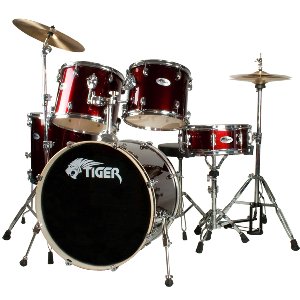 Drum kits are known for playing a vital role on stage, contributing to the unique sounds of some of the biggest bands and musicians in the world, and for this reason, they have a definite rock and somewhat alternative reputation. However, drum kits are actually a very popular musical instrument, even in the home, for both keen drumming enthusiasts and complete beginners.
Choosing an Acoustic or Electric Drum Kit
The first aspect that should be considered when buying a drum kit is whether it will be acoustic or electric. There are benefits to both options, so it is wise first to take into account the pros and cons of each then make a decision that suits personal preferences. Do keep in mind, however, that acoustic drum kits are usually much more affordable than their electronic counterparts, so if price is a factor, acoustic is generally the default choice.
Acoustic drum kits have the advantage that they produce a more realistic sound than electric drum kits. There's no enhancing or masking sounds; the sound that's made is the sound that's heard. This means that drum rolls and other such talents can be showcased in their raw state. There's also a greater flexibility with acoustic drum kits, with the ability to alter the setup to suit different situations. Electronic drum kits, on the other hand, have an ease and convenience that acoustic drum kits do not. They can easily be packed away, making them the obvious choice for those performing gigs outside of the home. The record and playback options are a particularly attractive feature and are perfect for those who make their own music.
Buying a Drum Kit
Professionals and keen drummers will generally have a good idea of what they're looking for, but for beginners and those buying their first drum kits, the range of choice can be a little confusing. Fortunately, these choices can all be broken down into manageable chunks, making it easy to find a drum kit to suit all requirements.
The Standard Drum Kit
Drum kits can be as big or as small as a drummer wants, but when buying a drum kit, the kit should include a set minimum number of pieces, allowing it to comply with what is considered to be the standard drum kit. Anything less than standard, and drummers may be limited on the sounds they can produce, and after sales add-ons of basic materials could prove costly.
| | |
| --- | --- |
| | The standard drum kit should contain one snare drum. This double-headed drum is the main component of a drum kit, and is used for a deep, back-beat sound rather than a major focus. |
| | One bass drum should be included in the standard drum kit. This drum has a very low and booming sound and is typically used as a timekeeper for other sounds rather than for making its own music. |
| | Three tom-tom drums is the norm for a standard drum kit. Tom-toms can be large, standalone drums, but in drum kits they are typically quite small. They're very popular in fusion kits. |
| | A ride cymbal is an integral part of a standard drum kit. The rhythmic sounds make it a valuable timekeeper and generally 'rides' along in conjunction with the drum sounds. |
| | A crash cymbal is one of the most well-known features of a standard drum kit. It creates a definite crashing sound and is used as a way to bring importance to a section of music. |
| | There should be at least three hi-hat cymbals included in the standard drum kit. The sound is very short and concise and can be altered by placing more or less hi-hats in close proximity. |
Size of Drum Kit
The size of a drum kit is purely down to personal taste, and although the size choices are typically aimed at musicians in different genres, namely rock and jazz, this isn't set in stone. If buying a drum kit for a child, size is certainly a deciding factor, and there are many drum kits that are specifically designed for younger musicians.
| | |
| --- | --- |
| Child's Drum | A child's drum kit is usually about two thirds the size of an average drum kit and is ideal for those between three and six. Aspects are typically the same, but on a smaller, more manageable scale. |
| 18-Inch Drum | The smallest of complete drum kits, the 18-inch kit has a 14-inch snare drum, but a larger bass drum. Typically used by jazz musicians, but not particularly limited by genre. |
| 20-Inch Fusion Drum | The larger 20-inch drum includes either a 13- or 14-inch snare drum and a 20-inch bass drum. Fusion kits tend to have less depth than other kits, making them good for children. |
| 22-Inch Drum | The 22-inch kit includes a 22-inch bass drum and a 13- or 14-inch snare drum. These larger models stem from the jazz-funk age and are again a favourite of jazz musicians. |
| 22-Inch Fusion Drum | This large kit includes components of the same sizing as the 22-inch drunk kit, but fusion aspect makes it more compact on the whole and perfect for younger players. It's a US concept that has become big in the UK. |
Optional Drum Kit Add-Ons
There is really no end to the add-ons a drummer can incorporate into a standard drum kit. A greater number of drums adds a greater complexity to the kit and expands the range of sounds that can be created. Add-ons are usually used by professionals, but there's really no reason beginners cannot personalise their kit however they want.
| | |
| --- | --- |
| Bongos | Bongos have African and Cuban origins and consist of a larger drum and smaller drum with a stretched material covering. They are more high-pitched than bass and snare drums. |
| Cowbells | Those looking to expand their musical range may add cowbells. They add a clunky yet clean sound. They are popular in salsa music and can be played with a standard drum pedal. |
| Maracas | Although maracas don't attach to the drum kit hardware, they can easily be incorporated into the kit, creating alternative sounds to complement the style of music created. |
| Tambourines | It may seem strange, but tambourine sounds are commonly found in rock, pop, and jazz music that otherwise drums are primarily used to make. They are a natural addition and work well with cymbals. |
| Bodhran Drums | The 17th-century Bodhran drum, stemming from Ireland, is a popular timekeeper for drum music. The sounds also have their own place in Celtic and world music. |
What to Look for in a Drum Kit
As long as a drum kit contains all the components that make it a standard drum kit, that's the most important thing a buyer can look for. But there are, of course, some added extras which some may like to consider to ensure they're getting the absolute best drum kit available. Drum kits that are made primarily from wood cost more on average than those made from other materials, but a wooden kit will often give a much clearer sound. Wooden drum kits don't have to look old fashioned either, as lacquer finishes are common, bringing a shiny and metallic look, but again, premium finishes mean premium prices. Finally, for those who are planning to transport their drum kit on a regular or semi-regular basis, the strength of the kit is important. If possible, check the strength of the pedals, stands, and outer fittings before purchasing.
Find a Drum Kit on eBay
Drum kits, both new and used, can be found in abundance on eBay, and there is usually a greater variety of models than can be found in a dedicated music store as drum kits from all eras can be found online, and there's a greater chance of finding a limited edition model. To locate a drum kit on eBay, visit the store's dedicated Musical Instrument shop. From here, choose Percussion instruments, followed by Drums & Drum Kits. This lists all items listed as drums and drum kits on eBay, and results can be narrowed down based on personal preferences, such as a new or used drum kit, price, brand, and even location. It may be useful to search for items nearby, so the drum kit can be inspected before purchasing.
Conclusion
Drum kits are a very popular music instrument for both dabbling and professional musicians and are both a fun way to spend time and an educational tool for younger ones. Drum kits are almost fully personalisable, but it's important to look for a standard drum kit which, at minimum, includes five drums, three cymbals, and adequate hardware which will allow drummers to produce a well-rounded sound. Drum kits can be purchased in dedicated music stores although there is often a wider selection available on eBay, which may be a good choice for those looking for their first beginners kit and for those looking for one of a kind and unique models.