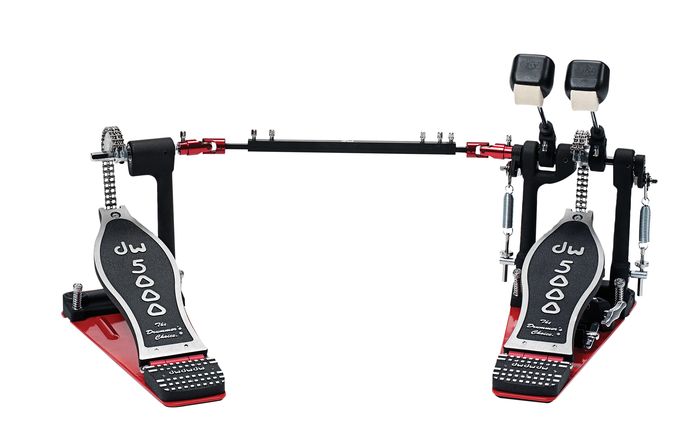 When deciding which is the best bass-drum pedal and hi-hat pedal to buy, the decision will be influenced not only by how much money the drummer has to spend, but also by their level of playing ability. Entry level pedals may be bought relatively cheaply and function suitably well for use by a beginner. An expert drummer, however, will be able to make use of the superior capabilities offered by the most expensive pedals.
Bass drum pedals are built to last and so even the cheapest branded models are usually very reliable. However, the same cannot be said for the quality of hi-hat stands and hi-hat pedals. Cheaper hi-hat stands tend to be noticeably far less well constructed than more expensive ones. As there is a great deal of variation in the quality of the hi-hat stands on offer, it definitely pays to do plenty of research before deciding on one.
Drum Pedal Hardware
If a drummer is considering buying both a new hi-hat stand and a new bass drum pedal, they may want to consider a complete new hardware pack. Drum manufacturers often sell the hardware required to complete most drum kits as a pack consisting of a high-hat stand, bass drum pedal and a pair of cymbal stands. When a set of drum hardware is purchased in a pack it will usually be considerably cheaper than buying the components individually. Buying a hardware pack also has the advantage that everything matches, which improves the overall appearance of the drum kit.
Types of Bass Drum Pedal
The main decision when buying a bass drum pedal is whether to choose a single pedal or a double one. A single pedal will be perfectly adequate for most playing situations. A double pedal can be a good choice for a more experienced player, or one intending to play mostly fast tempo music such as heavy metal.
The Single Pedal
The most popular choice of pedal, the single pedal is usually played with the dominant foot. It has few moving parts which translates into excellent reliability. The compact design of single pedals makes them easy to find space for, both on the drum stand and during transportation. A single drum pedal makes a good choice for beginner to intermediate players, as the pedal will help to cultivate good technique. Some single pedals can be upgraded to double pedals by purchasing the additional hardware should it later be required.
The Double Pedal
A double pedal will allow the drummer to play the bass drum using both feet. The dominant foot plays a pedal fixed to the bass drum, while the other foot plays a second pedal which is connected remotely. There is more to go wrong with a double pedal setup, and they are more cumbersome, but if properly maintained, they can offer a useful alternative to a single pedal.
A drummer buying a double pedal should remember that they will also need to buy a drop clutch for the hi-hat stand. A drop clutch allows the hi-hat to be closed so that the double drum pedals and the hi-hat can be played together.
Types of Hi-Hat Stand
There is a great deal of variation in the types of hi-hat stand available. Anyone looking to buy a new hi-hat needs to familiarise themselves with these differences, to ensure they buy the most suitable model.
Methods of Support
A standard hi-hat will usually have 0, 1, 2, or 3 legs. There are also double pedal hi-hat stands which can be used to play an alternative sound source such as a cowbell or wood block.
| | |
| --- | --- |
| 0 | A hi-hat stand with no legs is called a remote stand. The pedal is linked to the hi-hat via a flexible cable. A remote hi-hat is usually used to play a second pair of hi-hats, or where there is a shortage of available space. The other end of the hi-hat mechanism is designed to be clamped to a cymbal stand or drum rack |
| 1 | A hi-hat stand which rests solely on the pedal is designed for use with a rack mounted drum kit. The hi-hat must be supported by a clamp attaching it to the drum rack. |
| 2 | A two legged hi-hat stand is designed to be used with a double-bass drum pedal. The legs of the stand can be moved to one side to accommodate correct positioning of the remote pedal. The hi-hat stand is given additional support by the pedal housing, meaning it is only marginally less stable than a three legged one. |
| 3 or more | A three-legged stand is an ideal choice for a drum kit where there is no intention for it ever to be played with a double pedal or a drum rack. |
Buying a Bass Drum Pedal
When deciding on a bass drum pedal, it is important not to overspend. Even the cheapest branded drum pedal will do a reasonable job and offer good reliability. The money saved can be better employed upgrading other parts of the kit where the benefit will be more readily felt, such as the hi-hat.
What to Look For
Bass drum pedals can be strap or chain driven. Strap-driven pedals are marginally smoother and quieter, while chain-driven pedals are stronger and more reliable. More expensive pedals are often supplied with kits allowing the owner to swap between the two.
Some drum pedals offer side-operated clamps making it easier to mount the pedal to the drum. Better-quality pedals will offer finger-operated adjusters, rather than those which rely on the use of a drum key. Some manufacturers also provide a clip-on drum key, conveniently mounted on the drum pedal itself.
Drum pedals are often supplied with a case or bag which not only affords them protection when in transit, but can also be a handy place to store spare components.
Buying a Hi-Hat
Hi-hat stands vary enormously in their quality and the experience they offer when played. It is, therefore, a good idea, whenever possible, to allocate a higher proportion of the budget for their purchase.
What to Look For
If buying a more conventional hi-hat stand, look for legs which have been double braced. A stand with stronger legs will be stiffer, meaning it is more stable and also less prone to damage during transportation. Stands with larger rubber feet also offer superior resistance to movement.
A stand which uses finger-operated keys for adjustment is preferable to one which relies on a drum key. Nylon inserts at the points where the stand telescopes for adjustment provide a smoother and more secure method of fastening and help protect the chrome finish as well. Memory locks are also a useful feature, particularly if the stand will be regularly moved.
Some stands offer two different lengths of internal rod, which allows greater scope for changing the height of the hi-hat cymbals. Superior stands also allow adjustment of the foot position on the pedal. Another useful feature to look out for is spikes located within the body of the pedal stand, which allow it to be securely positioned on a drum riser.
Some hi-hat stands are supplied with a bag which makes them easier to carry and also offers useful protection when in transit.
Find Drum Pedals on eBay
To buy drum pedals, go to the eBay homepage. Begin by opening the All Categories tab and then clicking on the link for Musical Instruments,, followed by Percussion.. Next, in the Type criteria click on the Accessories option. Then, expand the Sub-Type criteria by clicking on Choose More and then tick the Pedals option and the Hi-Hat Pedal option, before selecting Go. The search can be further refined using the options on the left of the page. It is possible, for example, to view only the drum pedals which fall within a particular budget. These options can also be used to narrow the search to only include the particular types or brands of drum pedal that are of interest. Another alternative is to enter specific terms into the search bar at the top of any eBay page to locate a particular kind of bass drum pedal. For example, to find an unused DW bass-drum pedal, simply type "DW bass drum pedal new" into the search field.
Conclusion
When choosing new drum pedals it is important to be realistic, not just about the budget but also about the playing level of the person who will be using them. Drum pedals are relatively simple and resilient pieces of equipment and so it should not be necessary to buy anything too expensive. Hi-hat stands and pedals, on the other hand, are a different story. The difference in stability and performance between the cheaper and more expensive models is far greater than that found between drum pedals. It is, therefore, often a good idea to spend more of the budget on a good-quality high-hat stand, rather than on a better drum pedal. There is a great deal of variation between the models of hi-hat stands available and so it is important for the buyer to fully research these differences to ensure they purchase the most suitable one.