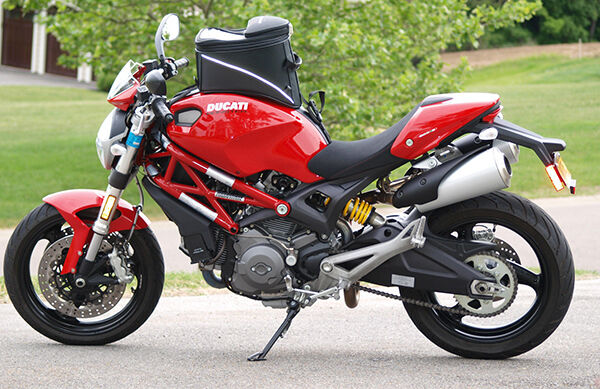 An exposed engine and frame characterises the Ducati Monster. In full production since 1993, the bike accounts for more than two-thirds of Ducati's output. It almost exclusively features a 90-degree V-twin engine; however, many other variations were made over the years.
Swing Arms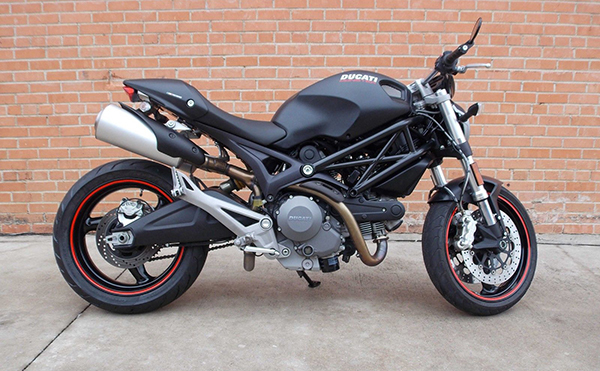 Earlier Ducati Monsters featured double-sided swing arms, while more modern versions tend to have a single-sided arm. This single-sided swing arm allows for easier rear wheel alignment, tire changes, and chain adjustments.
Engine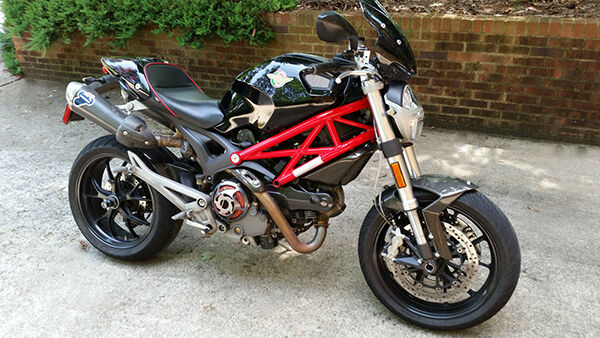 Ducati Monsters feature either a water- or air-cooled engine. The Ducati Monster S4 is fitted with a water-cooled, 916cc, four valve Superbike engine, while the 2004 Ducati Monster S4R has a larger 996cc, four valve per cylinder, desmodromic, liquid-cooled engine. Still, the 2005 Ducati Monster S2R is fitted with a two valve per cylinder desmodromic, air-cooled engine that is easier to work on and maintain, while the 2009 Ducati Monster M1100 features a 1078cc L-twin, air-cooled engine. Though a matter of personal preference, keep in mind that generally speaking, air-cooled engines bear a higher risk for overheating, and are therefore, typically limited in horsepower; however, these motorcycle types are capable of better handling.
Clutch
Earlier Ducati Monsters have an infamously loud, dry clutch, while more modern versions feature a wet clutch. Wet clutches are easier to pull, quieter in operation, and easier to maintain if ridden on a regular basis.
Fuel Injection
Many modern Ducati Monsters, such as the 2000 Ducati M900 are fuel injected; the addition of fuel injection adds to their reliability, especially during cold morning starts, and reduces carburetor issues. Likewise, the 2002 Ducati Fogarty marked the start of all fuel injected Ducati Monsters.
Ducati Model Variations
The Ducati Monster features several different model variations. They often include name indicators, meant to further define the bike and its features, which can help buyers understand the differences between one and another Ducati.
| Terms | Meaning |
| --- | --- |
| S | Generally fitted with better suspension, and other performance enhancements may also be fitted |
| Metallic | Features a metallic paint job |
| Dark | Denotes a slightly cheaper model; features lower-end suspension, black plastic fenders, and a matt black fuel tank |
| City | Adapted for city riding; often blue in colour; and features higher handlebars and lower gearing for easy urban commuting |
| Fogarty | Fully stacked with all the best possible options and features a unique paint scheme |
| Matrix | A limited edition bike |
| Cromo | "S" model Ducati Monsters with a chrome fuel tank |