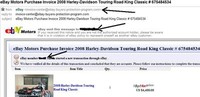 CHECK your PAYPAL REGULARLY & DON'T CLICK ON THIS LINK....
Were there is money to be made e.g here on Ebay and other places, are breeding grounds for those that take pride in harvesting what they did not sow. The scammers and fraudsters are endlessly coming up with tricks and techniques to part us with our cash. These tricksters are targeting innocent Ebay sellers like you and me, they do not choose. As long as you have a pocket with any ammount of cash "you automatically qualify".
Here is one of their tricks: An ebayer buys stuff from your listing which accept "all sorts of modes of payment" for the goods. The buyer then sends you a convincing proof of payment such as a photocopy of a postal orders or simply by claiming that they have paid by paypal. "this is a good reason to always check your paypal account."
Some will try their luck, by telling you that they have paid by paypal or that they are having trouble with paypal, "and claim to have paid but for some strange reason, the transaction is taking time to show up as paid" As soon as you have marked the item as dispatched, the buyer asks to cancel the order. Or simply finally pay for the item then claim to have not received the item and ask for a refund.
Some will send a copy of a fake money order, claiming that they have paid and requesting the seller sends the goods immediately and also requesting tracking details for the parcel. They do come up with very convincing reason why you should post ASAP.
(1) This is a present for my uncles wedding.
(2) We want to record the graduation ceremony with this camera.
(3) We are moving house and we need this item before we move.
These were the reasons I got from a buyer from Nigeria. Some advanced scammers will draft a spoof email and send it to you pretending to be EBAY / PAYPAL. But there is one thing that gives these scammers away and that's what you have to look out for.
*An email asking you to reset your password, security question,and asking you to confirm your date of birth etc. PAYPAL will never ask you to do these in an email.If in doubt,
• Go to your email and check the sender properly . They try to make it look official so take your time and look out for these spoof emails.
• Go to your Paypal account and login. See if there is any mention of the problems/issues mentioned in the email. Did you have any problem getting into your account.If you encounter any problems, contact Paypal from your account.
• Do not click on any of the links that are in the suspicious email. Do not even hover the mouse over the link. Some links will go straight to a software that will install themselves on your machine to record your details I.e passwords, usernames, and other personal details which can then be used for all sorts of big scums in your name.
Keep them out:
• Wait for the cheque to clear. These often bounce.
• Wait for the postal order turns into real hard cash.
• Do not respond to the emails, do not click on the links.
• I wont be asking people to stop accepting orders from certain countries, but when you do. be ready to play poker.
• Always use the excluded countries feature if you need to.
Keep smiling and trade safe. Please don't miss a chance to vote for us and encourage others to do the same, if you found this interesting or useful. please vote today.
Bargain-hubs
Mike B-Hubs