EOS stands for 'Evolution of Smooth', and the brand's all-natural and 95 per cent organic lip balms definitely lead to some smooth lips. Often packaged in colourful spheres that come in multi-packs with various colours and flavours, the EOS brand keeps lips healthy and curved into beautiful smiles.
Favourite Flavours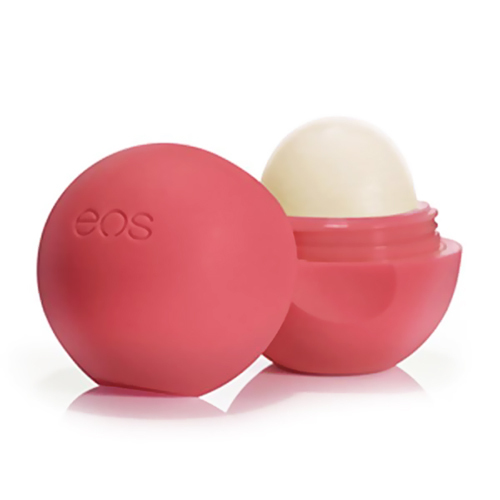 Each EOS lip balm comes in a colourful sphere container that matches the flavoured lip balm inside. The flavours vary, but the EOS summer fruit lip balm delights include blueberry acai, strawberry sorbet, honeysuckle honeydew, pomegranate raspberry, sweet mint, and summer fruit. Medicated tangerine lip balm and lemon drop lip balm with SPF 15 sun protection round out the collection. The 'spheres' are not actually perfectly round. They feature flattened bottoms and thumb-holds for ease of use.
EOS Lip Balm Ingredients
The long-lasting moisture provided by each EOS lip balm comes from 100 per cent natural shea butter, antioxidant-rich vitamin E, and jojoba oil. The ingredients keep lips soft and moist for hours. The lip balms do not contain any petroleum products, phthalates, paraben, gluten, or dyes. The dermatologist-tested formulas are hypoallergenic and suitable for everyone. The natural flavours match the lively colours of the spheres, and each sphere contains 0.25 ounces of solid lip balm.
EOS Smooth Sticks
The EOS Smooth Stick is equally colourful and provides the same 100 per cent natural, 95 per cent organic lip protection, but it offers fewer flavour choices. Pomegranate Raspberry, Vanilla Bean, and Sweet Mint flavours are available in matching twist-up lipstick packages. Women who carry lipstick cases regularly, especially double lipstick cases with mirrors, may want to add this lip balm stick to the cases.
More Smiles with More EOS Spheres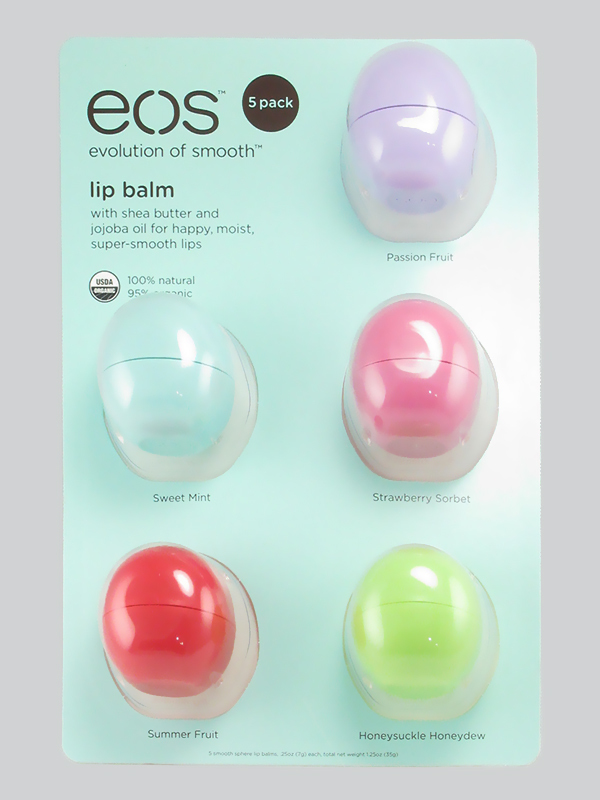 EOS lip balm multi-packs keep users smiling and make excellent small gifts for friends. Many multi-packs contain five different EOS spheres to satisfy the flavour cravings of multiple users. The EOS lip balm two-pack is a treat with its clever design that uses the spheres as the centres of two bright flowers. The largest multi-packs include nine EOS Smooth Spheres, three Smooth Sticks, and three EOS hand lotions, which come packaged in 1.5-ounce oval containers that resemble slightly flattened spheres. These large kits offer enough EOS treats to tuck into every Mother's Day, Father Christmas, and birthday package for several months.