For piercing professionals or buyers who wish to take a hands-on approach to ear piercing, purchasing an ear piercing kit is the easiest and safest way to pierce your ears or someone else's. There are a couple of different types of kits, and kit prices vary according to the supplies the kits include and the type of piercing gun.
Disposable Kits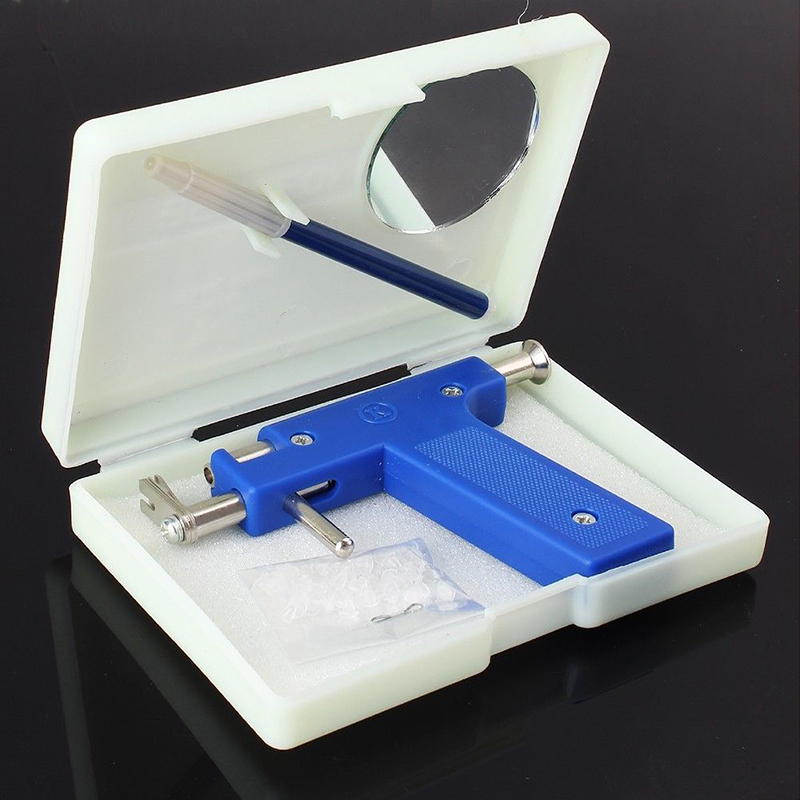 A disposable ear piercing kit comes with a plastic ear piercing gun that is a one-time-only gun. After you pierce your ears, you throw away the gun. This is a guarantee that the gun is sterile. A disposable kit is the least expensive type, and the stainless steel ear stud earrings come pre-loaded inside the piercing gun for simple, painless piercing in seconds. Disposable kits are small and simple to use, but they do not come with aftercare supplies. Most disposable ear piercing kits only come with a single alcohol prep pad. You may need to buy aftercare products separately, and since the disposable gun from the disposable kit works for one piercing only, if you need to pierce multiple ears, opt for a stainless steel kit instead.
Stainless Steel Kits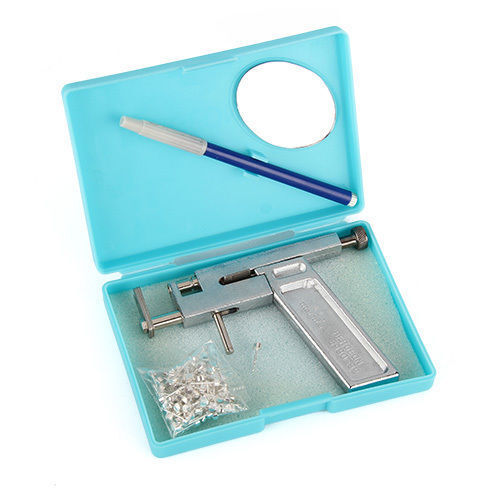 If you need an ear piercing kit for more than one use, then choose one with a stainless steel ear piercing gun and supplies. A solid stainless steel kit made of metal is easy to sterilise and to use many times. The durable gun quickly and smoothly pierces ears to create holes for earrings. Many stainless steel kits come with the piercing gun, several sets of gold- or silver-plated stud earrings to pierce the ears with, and other piercing supplies such as a marking pen to ensure holes are evenly spaced before you pierce the ears and a plastic case to keep everything in. Some of these piercing kits, such as Caflon piercing kits, come with aftercare supplies and other required piercing items, including sterile wipes to use on the ears before piercing and aftercare cream to soothe the holes and help them heal once you are done.
Supplies and Aftercare
Not all ear piercing kits come with the supplies you need to safely and hygienically pierce ears. If your kit is missing some crucial items, you may need to buy them separately, including disposable gloves to wear while you pierce the ears, antibacterial cleaning solution to swab the piercings with in order to ensure proper healing, and cotton swabs to gently apply aftercare solution or cream. Generally, you cannot use an ear piercing gun to pierce other parts of the body, so look for specialised kits in order to pierce the nose, belly button, tragus, or septum safely.