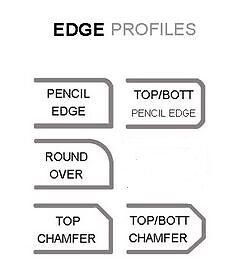 It's ALL about YOU
Obviously we'd like to give you as much choices as possible so you can enjoy your shelf/mantel. And so, we are offering edge profiling services. You can decide what edge profile you'd like:

We will run your chosen edge profile on all 3 sides (visible) as you've decided, and back side will be left untouched as it will face the wall. You can still have all 4 sides profiled so you'll decide how to place it on the wall, just let us know!

Here you can see a range of custom profiles we can apply to your shelf to give extra appeal and often help blend to your existing furniture. All the profiles we do at The Solid Oak Man, are available on any shelf and thickness, we can profile the shelf corners as well as the edges and customise to your liking. Should you have a specific profile in mind, (i.e. to match a piece of furniture), email us a picture and we'll see what we can do. . . . . . . . . . . . . . . . . . .