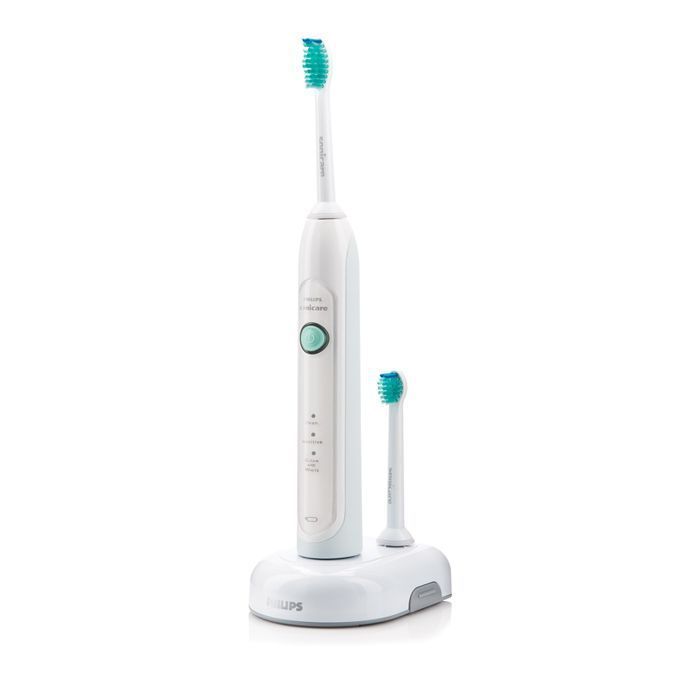 Any source of enlivening the task of brushing teeth can be worth the extra expense if it maintains good oral hygiene. There can be something fun about adding an electrically-powered whir to the daily routine of brushing teeth. It is a good idea to weigh up the pros and cons of manual and electric toothbrushes. Using an electric toothbrush requires less technique than a manual toothbrush, but both can be misused.
There are many aspects of electric toothbrushes that should be considered before buying, including the size of the brush, the softness and movement of the bristles, and timers that alert the user when the recommended two minute brushing period is over. Electric toothbrushes can be found at department stores, large chemists, and electronics shops. If the buyer wishes to shop online, then eBay is a great place to look. The site has an unparalleled selection of electric toothbrushes and offers the opportunity to find a great bargain.
Manual vs. Electric Toothbrushes
While most dentists suggest that using a manual toothbrush can provide more than adequate cleaning for teeth, there are some advantages to using an electric toothbrush. Electric models cost more than disposable, manual toothbrushes, but they often have a variety of features to help with proper dental maintenance. For example, dentists generally recommend that people brush their teeth for two minutes, but studies suggest that most people only spend 30 to 60 seconds. By using a toothbrush with a timer, users can ensure that they are brushing their teeth for the appropriate amount of time and are cleaning all of the surfaces.
Electric toothbrushes are also good for people that suffer from arthritis and have difficulty operating a manual toothbrush. For children, electric toothbrushes can make brushing more fun and can be a great way to promote dental hygiene.
Effective Brushing Techniques
Any brushing is better than none, but using a proper technique when brushing teeth can prevent dental problems. Electric toothbrushes should be held at 45 degrees to the teeth and the brush provides the necessary movement. All chewing surfaces and the insides of the teeth should be cleaned completely. The tongue should also be brushed to remove bacteria from the mouth and prevent halitosis. Teeth should be brushed at least twice a day. Additional brushing can be done after meals and snacks to remove food debris.
Features of Electric Toothbrushes
Not all electric toothbrushes are the same. The follow features can be chosen by the buyer when looking at products. Bear in mind that the heads of electric toothbrushes should be replaced every three months, or sooner if there are signs of wear.
Bristles for Electric Toothbrushes
Bristles for electric toothbrushes are available in three types: soft, medium, and hard. Most dentists recommend that people use soft bristles because medium and hard bristles can cause damage to gums, tooth enamel, and root surfaces if used incorrectly. Bristles may have rounded tips to provide more protection for teeth. The heads of electric toothbrushes can be changed easily, so a buyer can use different types of bristles with the same brush. In addition, some models of electric toothbrush have a range of brushing modes, including a gentle mode for those with sensitive teeth. Other models have sensors to let the user know when too much pressure is being exerted.
Brush Size for Electric Toothbrushes
The electric toothbrush should allow access to all surfaces of the teeth. For most adults, the head of the toothbrush should be approximately 1.25 centimetres wide and 2.5 centimetres long to provide complete cleaning: larger brushes can be difficult to manoeuvre around the molars. The handle of the electric toothbrush should be long enough to provide comfort when brushing. Some adults prefer to use child-sized toothbrushes because they are easier to use when brushing the back teeth.
Movement of Electric Toothbrushes
There are a range of movement types for electric toothbrushes. The following table provides descriptions of the most common types.
| Type of Movement | Description |
| --- | --- |
| Circular | Brush head rotates in one direction |
| Counter oscillation | Brush head rotates in one direction, then reverses |
| Rotation/oscillation | Brush head rotates a quarter of a turn in one direction, then a quarter of a turn in the opposite direction |
| Side to side | Brush head moves horizontally along the teeth |
| Ultrasonic | Bristles vibrate at a very high frequency |
The choice of the movement of the bristles is largely a matter of personal preference. Brushes with circular and side to side movement are usually less expensive than other brushes. However, the rotation/oscillation movement improves cleaning when compared to manual toothbrushes. A study by a non-profit organisation that examines medical practices concluded that rotation/oscillation reduced plaque by 7 percent and gingivitis by 17 percent, when compared to manual brushing.
Batteries for Electric Toothbrushes
Some electric toothbrushes use disposable batteries, while others use rechargeable batteries. Disposable batteries have the advantage of not needing to be recharged daily, but need to be replaced from time to time. Rechargeable batteries usually provide enough charge to last for a full week of brushing when they are new. This allows the user to leave the recharging base at home when away for a few days on holiday or any other trip. Many electric toothbrushes have indicator lights to let the user know when the toothbrush is fully charged or when it needs to be recharged.
Timer for Electric Toothbrushes
The timer function on electric toothbrushes can ensure that users brush their teeth for the appropriate amount of time: two minutes is recommended. Some electric toothbrushes have alarms called quad pacers that provide a signal for the user to move from one quadrant: upper right, lower right, upper left, or lower left, to the next. Each quadrant should be brushed for 30 seconds to provide sufficient cleaning.
Ultraviolet Sanitising for Electric Toothbrushes
Another method of providing cleaning to teeth is ultraviolet sanitising. Sanitisers are built into the charger base of the toothbrush to remove bacteria when the toothbrush is not in use. The ultraviolet light is not harmful to teeth and keeps the brush in a hygienic condition.
Manufacturers of Electric Toothbrushes
There are many manufacturers of electric toothbrushes. The following examples do not constitute an exhaustive list: they are considered to be some of the most reputable and manufacture electric toothbrushes that are widely available.
Braun/Oral-B Electric Toothbrushes
Oral-B is a brand name that is used by Procter & Gamble to provide a wide range of dental products including manual and electric toothbrushes, dental floss, and toothpaste. Braun electric toothbrushes have moved to the Oral-B brand name. Among the electric toothbrushes that Oral-B makes are the TriZone and Professional Care series. The TriZone has three sets of bristles that move in different directions to provide enhanced cleaning. The Professional Care series also use bristles moving in various directions to provide plaque removal and cleaner teeth.
Colgate Electric Toothbrushes
Colgate-Palmolive is a health care manufacturer that provides soaps and detergents in addition to oral hygiene products. The company began at the start of the nineteenth century as a soap and candle maker. Colgate's oral hygiene products include toothpaste, mouth rinses, children's products, and both manual and electric toothbrushes. Electric toothbrushes in the ProClinical range have sensors to adjust the speed and direction of brushstrokes. Battery powered toothbrushes from Colgate include cleaners specifically made for cleaning the tongue and cheeks.
Philips Electric Toothbrushes
Philips is one of the largest manufacturers of electric products in the world and originated in the Netherlands. Philips makes products for use in health care, sound and vision, household products, lighting, and computers. For oral hygiene, Philips makes toothbrushes, brush heads, and dental floss. Electric toothbrushes can be found under the Sonicare or Sonic brand names. The Philips Sonicare for Kids is rated highly for children. It prepares children gradually for brushing with a powered toothbrush. Other products, such as the EasyClean, have speeds up to 31,000 brush strokes per minute.
How to Buy Electric Toothbrushes on eBay
Buying electric toothbrushes on eBay is easy. Most pages, including the eBay home page, have a text box that allow buyers to access the search engine. Simply type "electric toothbrushes" to be presented with a wide variety of results. By adding more search terms to your query, you can obtain more precise listings. Additional search terms can include the manufacturer, type of bristle, or type of battery. You can eliminate search terms by adding a minus sign. For example, if you did not want to view manual toothbrushes in your search results, you could type "electric toothbrushes -manual".
Using Advanced Search Options
eBay offers an advanced search option. The advanced search eliminates some of the time that would be used when performing a simple keyword search, including browsing through a long list of electric toothbrushes. You can search for words in any order, an exact order, or any of the words. This allows you to narrow or broaden the search results if you have a better idea of the electric toothbrush that you prefer. The advanced search option also allows you to look through completed listings, which helps when trying to assess a fair price for an item, and to search the title and description of items. You can limit the search to a particular price range so that you can find electric toothbrushes appropriate for your budget.
Conclusion
There are many factors to consider when buying an electric toothbrush. Rather than being overwhelming, doing some independent research means that buyers are informed about which products are most appropriate for them. There are a number of reputable manufacturers to choose from. Each manufacturer typically focuses on a few variables, including bristle movement and softness, brush size, and power systems, such as disposable or rechargeable batteries.
Often, the most significant benefit of using an electric toothbrush is the timer that ensures that the user brushes for the two minute period that is recommended by dentists. By considering all of the options, buyers can find the best product for their brushing style that will keep their teeth and gums healthy and make visits to the dentist a breeze. The best place to look for electric toothbrushes is eBay, which has products from many manufacturers and a wide variety of styles and systems.