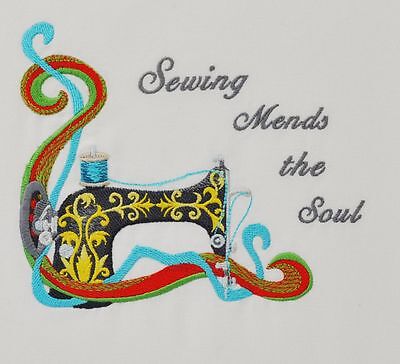 I am often asked what people create with the embroidered quilt blocks I make so I thought I would write a review to explain.
Also known as Block's, Panels, Squares – I call them blocks in this review.
Blocks can be used as feature's on cushions, table runners, aprons, bags, gadget pouches, quilts, bunting, garments and home accessories. Could be made into a framed picture, added to a scrap book or furniture. They can be sewn, glued or stapled to create a unique item.
The blocks can be used in their entirety or just certain parts could be used (cut out)
If the block is intended to go onto an item that may need to be washed, I wash the block along with any fabric or garment that I will be using. Once dry I iron the block, never with steam and always with an ironing cloth. Having decided which method to use I then trim my block to the required size, I always use an acrylic template & rotary cutter not forgetting to leave any seam allowance if necessary.
Method 1.Applique
This method requires the block to be cut ¼ inch larger than the desired finished size.
Turn the raw edges under ¼ inch and Iron - I like to re-measure after pressing and if I am adding a square block I always re-check the angle's are 90o
Pin the block in place - re-measure
Sometimes I hand stitch small blocks in place and normally I tack down the block 1st before the final hand stitching.
If using a sewing machine I set machine on a straight stitch a bit longer than the default setting stitching and stitch about 1/8 inch from the edge, starting at the bottom of the block. This method is also great for using a decorative sewing stitch with some embroidery thread (remembering to put a stabaliser on the wrong side.)
Method 2. Appliqué
This method requires the block to be cut to the desired finished size.
Pin the block in place. Sometimes I use a fabric spray glue if I am doing an odd shape appliqué. Re-measure to ensure block is in correct place.
Set the sewing machine to a zig zag (satin stitch) it's really up to you which length and stitch width you want, I like to do a quite close stitch and I always practice on scrap fabric 1st. The stitch needs to go over the block raw edges and the bottom fabric to secure the block so that none of the block fabric shows on the outside edge, alternatively you could zig zag in ¼ inch in from the block edge and then pull all the protruding treads to give a shabby look.
Method 3. Appliqué
This method requires the block to be cut ¼ inch larger than the desired finished size.
Get another piece of light weight fabric (backing) exactly the same size as the cut down block. I use sew on interfacing.
Place right sides together & pin
Set sewing machine on a straight stitch default setting and stitch all the way round, no need to leave a gap.
Snip the backing and carefully trim off about ½ inch from the stitching.
Turn out right and press so that the backing fabric can not be seen.
Then follow one of the above methods to attach block to the finished item.
Then sit back and admire your finished results. :-)
If you have any ideas or updates to this review I'd love to hear from you and include your thoughts here, please feel free to message me.