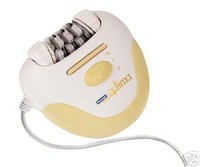 1.Why doesn't my epilator remove hairs properly?
Perhaps you don't move the epilator in the right direction. Make sure you move it against the direction of hair growth.
2. Is there a minimum or maximum hair length for epilation?
The epilator will catch even the shortest hairs of 0.55 mm. To allow optimal epilation, the hair should not be too long (not longer than 1.5cm).
3.How long does epilation of the different body parts take?
The time required for epilating the different areas depends on the density and thickness of the hair. On average, epilating both legs take 10 minutes, epilating the underarms takes
5 minutes and epilating the bikini line takes 5 minutes.
Medical conditions
4.Will the lymphatic vessels in the armpits get damaged when I epilate?
No, the lymphatic vessels are located deeper in the skin and there is no risk of damaging them when you epilate.
Appliance
5.Why are there two different epilating speeds?
Speed 1 is intended for epilating areas with thinner hairs, hard-to-reach areas and areas with bones directly under the skin. You can use speed II (higher speed) for epilating larger areas and thicker hairs.
6.Can I use a body lotion immediately after epilation?
Yes, you can use a lotion right after epilation.
7.Can epilation lead to ingrown hairs and, if so, what can I do to prevent this?
After epilation some hairs may start growing underneath the skin after epilation. To prevent ingrow hairs, we advise you to use a loofah every day. If your appliance comes with an exfolating head, we advise you to use this head to prevent ingrow hairs.
8.Does epilation cause spider veins?
No, epilation does not cause spider veins.
9.Can I moisturise my skin before epilating?
The skin must be dry when you start epilating, so you shouldn't apply any moisturiser to your skin prior to epilation.
Medical conditions
10.Can I epilate my legs if I have varicose veins?
If you have varicose veins you should not epilate your legs. Please contact your doctor if you intend to epilate anyway.
11.Can I swim, sunbathe or go to a tanning salon or sauna immediately after epilating?
If the skin is irritated, you should wait for one day.
12.Are moles a problem during epilation?
Do not epilate moles with hairs. You can safely pass the epilator over small, flat moles.
13.Can I use the epilator in combination with shaving foam or lotion?
No, the appliance should only be used dry, without any shaving foam, lotion etc.
14.How should I treat irritated skin?
You can rub a mild, alcohol-free cream onto the irritated skin.
Power/charging
15.My appliance does not charge. What should I do? (only for rechargeable appliances)
Make sure the socket to which you connect the appliance is live. Check whether the voltage indicated on the appliance corresponds to the local mains voltage. Check whether the appliance plug has been inserted into the appliance properly.
16.How long does the result of epilation last?
The result lasts 2 to 3 weeks.
17.Can I use a deodorant immediately after epilating the underarms?
If your skin is irritated, we advise you to wait one day before applying any deodorant.
18.How does ice or massaging help to prevent pain?
Ice and massaging create a different sensation, which masks the feeling of pain during epilation.
19.Does epilation cause skin irritation?
A slight reddening or irritation of the skin may occur. This is a normal reaction that will quickly disappear. However, if the irritation does not disappear within three days, you should consult your doctor.
20.Should I put anything on my skin after epilation?
You can apply a mild, alcohol-free cream.