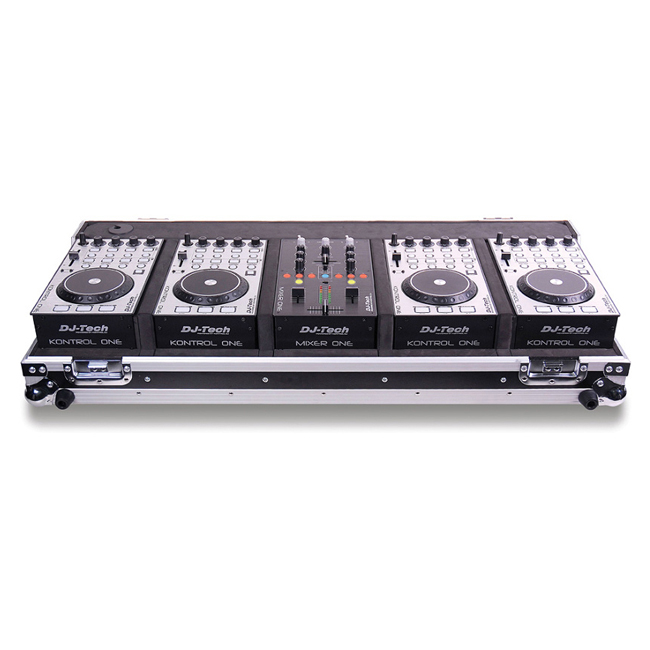 Technological advances have allowed DJs to move away from the traditional "two turntables" DJ setup, with modern equipment integrating digital audio players and computer software. To find the right DJ equipment, consider the type of audio player that is most appropriate to the DJ's needs. A basic DJ setup includes an audio player, a DJ mixer, and headphones.
Knowing what to look for in each component simplifies the shopping process. Some DJs may prefer the sound of vinyl records, whereas others prefer using an all-computer setup with software that is designed to manipulate the audio output. An all-computer system may be the most cost effective option for beginners or DJs who are comfortable with using music mixing software. Consider investing in accessories such as speakers or an amplifier, especially if the equipment is going to be used for smaller functions or venues where a sound system is not available. DJ equipment is available from electronics shops and online from sources such as eBay.
DJ Audio Players
The first step in finding DJ equipment is deciding on the type of audio player required. Although digital audio players, such as CD or MP3 players, are readily available, some prefer the traditional sound and feel of vinyl records.
Vinyl vs. Digital
There is much debate about which audio type is better when it comes to vinyl and digital. Digital media is easier to transport, does not degrade or warp over time, and can be transferred between storage devices with a minimum of effort. However, some DJs feel that vinyl produces higher sound quality and they simply enjoy the feel of vinyl records. Digital vinyl systems compare the two types by combining special records that can be played on turntables with DJ software.
Turntables
Turntables, or decks, are required to play records and are the backbone of a traditional DJ setup. They come with two types of drives that make the turntables turn, namely a belt drive and a direct drive. Belt drive turntables tend to be cheaper, but take longer to speed up, are not recommended for scratching, and make it difficult to manually lock tempos. Direct drive turntables are the most popular choice as they speed up faster and can be used for scratching. Two turntables are needed to mix music. Some turntables come with features like variable speeds, LCD screens, and straight or S-shaped tonearms, which control the stylus.
Slipmats for Turntables
A slipmat fits on the turntable's platter, or top surface. It allows the DJ to spin, scratch, or stop the record by hand while the turntable spins.
Styli for Turntables
Styli come in two shapes: spherical, also known as conical, and elliptical. Spherical styli are suitable for scratch DJs, while elliptical styli are more suited for general use. Spherical styli wear records out faster than elliptical ones and are not recommended for home use.
Cartridges for Turntables
The cartridge holds the stylus, generally referred to as the needle, that reads the information from the vinyl record and changes it into sound output. They are available in different weights and should be kept clean to ensure proper functioning of the stylus. DJ cartridges are more durable than cartridges for an ordinary buyer as they are designed to withstand more stress.
Digital Players for DJs
Digital players include CD players, laptops, and computers. Two types of CD players are available, namely single, or tabletop, and dual, or rackmount, players. Rackmount CD players have two units, one holding two front loading CDs and the other featuring the controls, such as wheels for speed control. Tabletop CD players usually sit on either side of the mixer, as in a vinyl turntable setup. Some feature pressure sensitive platters that allow the DJ to manipulate the "record" playing just like a vinyl record on a turntable. Digital players allow more versatile pitch control, saveable cue points, seamless looping, special effects, and eject lock, which guards against accidentally ejecting a CD while it is in use.
DJ Software
DJ software is used to create unique tracks or to create particular effects while playing music through a laptop or computer. Software can be used to mix digital tracks, create automatic seamless loops, and imitate scratching
DJ Mixers
DJ mixers are used to create different effects for mixing and for beat matching. They feature varying numbers of inputs and channels. Each signal input is a channel and most setups have two channels. This piece of equipment allows the DJ to blend two audio signals in order to create a single output. A crossfader is used to control the volume level of each input and can be used to completely mute one side while playing the other, or to have each side at the same or different volume levels. Different music styles require different features, such as curve controls for scratch DJs. Common features and controls include:
gain/trim control
EQ control
kill switches
faders
crossfader
peak meters
microphone input buttons
These controls manipulate aspects such as the individual level of each input channel, the response of bass, midrange, and treble for each channel, and the transitions between tracks.
DJ Headphones
The most important factor to consider when buying DJ headphones is comfort. The headphones may be worn for extended periods and should fit well. Versatile headphones with swivel earpieces allow the wearer to listen with one ear without experiencing discomfort. In addition, the headphones should have a closed ear design to improve the quality of the sound carried to the DJ. Closed ear headphones require a lower volume in order to be audible and offer some protection against music played at high volumes.
DJ Accessories
Although the equipment listed above is enough to get started with, some accessories make the DJs job easier. These include speakers and amplifiers, and CD players.
DJ Speakers and Amplifiers
Speakers and amplifiers are needed if the venue does not supply this type of equipment. Speakers come in two varieties: powered and unpowered. Powered speakers feature integrated amplifiers, but are not as versatile or mobile as unpowered models. Unpowered speakers must be attached to an amplifier to produce sound and the amplifier chosen should match the power level of the speakers. Connecting an amplifier to speakers with a lower rating can cause the speakers to blow when the volume is turned up.
DJ CD Players
DJs with vinyl setups should invest in a simple CD player that can be added to the system as a backup between sets at some events. This is not needed in a digital setup.
How to Buy DJ Equipment on eBay
eBay's search function makes finding the right DJ equipment easy. Simply type a search phrase, for example "powered speakers", into the search field, which is conveniently located on each page, to see the items for sale from eBay sellers. Narrow the list displayed by choosing the right category and the desired item characteristics. If you would like to expand or further narrow your search results, use the advanced search feature.
Evaluate the Item and Seller
Before you buy on eBay, take a moment to learn all that you can about the item and seller. Click on an individual listing to access the item listing page to find details about the item's condition, buying options, postage and packaging costs, the seller's accepted payment methods, location, and feedback information. If you want to ask a seller a question about a particular listing, click on the "Ask a question" link.
eBay ' s seller feedback feature allows buyers to leave sellers feedback after the completion of each transaction. Basic feedback relates to the seller's products and customer service, while detailed seller ratings provide information about aspects such as the seller's communication and the accuracy of the item description in the listing.
Conclusion
DJs can mix music and create unique versions of tracks when they have the right equipment. The basic setup consists of an audio player, which can be either vinyl or digital, a mixer, and headphones. Choosing between vinyl and digital players is mostly a matter of personal taste. Some DJs feel that vinyl produces superior quality sound, whereas other feel that digital offers a number of benefits, such as mobility and technological advancements in mixing. Turntables are used for playing vinyl records and require a number of accessories, including slipmats, cartridges, and styli that are specially designed for DJs as commercial items are not durable enough to withstand the stress of heavy use. CD players are available in single or dual varieties.
The mixer chosen should be appropriate to the DJ's music style. Some have features that are more suitable for scratch DJs, such as curve controls. Beginners should look for mixers with enough channels and adequate inputs for the audio player selected. Headphones should be comfortable, with a closed ear design that allows the DJ to hear the output of the headphones without turning the volume up too high. Additional accessories, such as speakers and amplifiers, should be added if the DJ's venues require them. A good set of powered speakers allows a mobile DJ to be prepared for any event and venue. eBay sellers offer a range of used and new DJ equipment, perfect for beginners or for experienced DJs who wish to upgrade their current equipment.