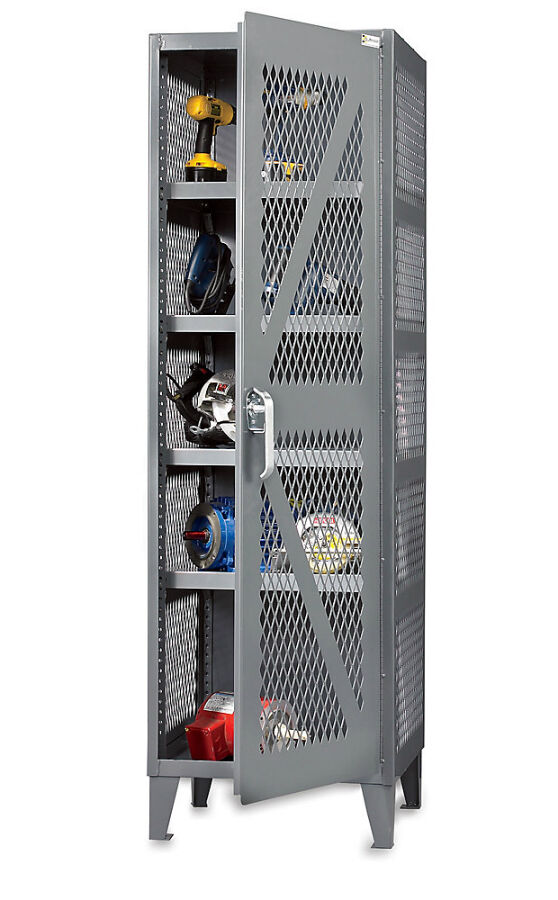 Those who enjoy working on cars as a hobby often find that their ever expanding tool and spare part collections slowly start to take over their garages and work spaces. Throwing things out is unthinkable: the moment something is thrown away it will be needed. The key to keeping the encroaching chaos in check is proper organisation. Finding the right equipment storage accessories is an essential, but often overlooked, part of vehicle maintenance and repair.
Equipment storage accessories come in a range of shapes and sizes and include anything from tool boxes and chests to shelving. Before buying storage accessories, evaluate the user's storage needs by looking at the amount of equipment to be stored and the size of the items. In addition, the amount of space available in the garage or work space should be taken into account. Learn about the storage options available to choose the best type for the user's needs. Equipment storage accessories are available from hardware and furniture shops, and online, from eBay..
Tool Storage Accessories
Equipment storage accessories are mostly designed to store tools and car parts. These items are the biggest cause of a cluttered work area and are easier to use if they are arranged in such a way that they can be found and put away without the need to search. Tools come in a wide range of shapes and sizes, and can be stored in a number of ways. Smaller tools that are used often can be kept in a tool belt for easy access, while a tool box or cabinet may be required for larger items.
Tool Cabinets
Tool cabinets offer a great deal of storage space that can be accessed easily. These units can be either wall-mounted or freestanding. Wall-mounted cabinets do not take up floor space and are especially desirable if space is at a premium. Freestanding cabinets are available with casters, which can make it easier to rearrange the workspace.
Cabinets can have various interior storage space arrangements, including shelves, drawers, and door trays. Shelves are handy for storing smaller items and can be used to keep car manuals and other paperwork in order. Drawers are great for storing smaller automotive tools and deep drawers may have enough space to keep spare parts tidy. Door trays can be used to store smaller items, such as screws and bolts.
While these cabinets are available in different materials, metal remains the most durable choice. Choose handles that are easy to open with dirty hands, but are not going to catch on clothing if the cabinet is placed in a high traffic area. If oils, chemicals, or other items that children should not have access to are going to be stored in the cabinet, choose one with sturdy door locks.
Tool Boxes and Chests
Tool boxes and chests offer smaller storage spaces, but are more mobile. Choose a handheld tool box to store the essential hand tools required for most jobs on the car. This type of tool box is portable and can be carried where needed. These storage accessories usually have internal tiers or shelving to keep tools in their place. While steel tool boxes are the most durable, plastic tool boxes are lighter and easier to carry.
Tool chests are large tool boxes that are not intended to be portable, but some have casters to make them easier to move. They can be with or without interior shelves or tiers. As they are not made to be moved around, choose metal, steel, or aluminium for a durable storage solution. Tool chests can be installed on the back of vans or sports utility vehicles (SUVs), but a tool box may be a more practical option for those who carry out car repairs on the move.
Tool Pouches, Bags, and Belts
Tool pouches,, bags,, and belts can be used to store small hand tools and have the added advantage of allowing easy access to tools while working. These storage accessories are more suited to organising often used items than to storing equipment for an extended period of time.
General Equipment Storage Accessories
While tool storage accessories are usually the most popular choice when it comes to organising a garage or workspace, other options should be considered. This is especially important for those who store spare parts and other vehicle accessories.
Pegboards
A pegboard can be made of metal or wood and is one of the most versatile equipment storage solutions available. A series of small metal hooks can be used to hang tool sets in size order, while larger hooks can be used to hang power tools or extension cords. Pegboards allow items to be organised and easy to see. Ensure that the material used in the backing and the hooks or pegs used to hang items are strong enough to fulfill the user's needs.
Compartment Boxes
As the name suggests, compartment boxes are simply storage boxes that have been split into compartments. When buying a compartment box take note of the size of the individual compartments to ensure that the items that need to be stored can fit into the box. Choose a material that is durable and suited to the workspace, such as steel or aluminium.
Shelving
Shelving is an excellent addition to any garage. Besides keeping equipment organised, the extra packing space can be used to store anything that is cluttering the available workspace. Choose wall-mounted or freestanding shelving in metal or wood. Wall-mounted metal shelving is usually the most durable space-saving solution as this type of material is less likely to suffer damage from the elements.
Storage Bins
Storage bins are great for storing large items or equipment that is seldom used. These bins do not have compartments, tiers, or shelves. However, they do organise and protect power tools and other bulky items. In addition, protective clothing or soft items, such as rags and cloths, can be stored in these bins. As they do not have internal shelves they can hold a larger volume than more organised equipment storage accessories.
How to Buy Equipment Storage Accessories on eBay
Buying on eBay is simple if you know how to search. Type a phrase, for example, "metal shelving&", into the search field, which can be found on every page, to see the items available from eBay sellers. Refine your search by adding keywords that provide more information about the item's features. If you would like to narrow or expand your search, use the advanced search option.. Always add the postage and packaging costs to the item's final selling price in order to calculate the item's total cost. When buying heavy or bulky items, look for local sellers who allow collection. This is a great way to save time and postage and packaging costs.
Before You Buy on eBay
Once you have found the storage accessory that you are looking for, take a moment to evaluate the item. Click on a listing to see the item listing page where you can find information, such as the full item description, buying options, accepted payment methods, postage and packaging costs, and the seller's feedback details. Contact the seller by using the "Ask a question&" link if you need further information about a listing.
Seller Feedback
eBay's seller feedback feature allows you to see what other buyers have experienced when buying from a specific seller. Buyers are encouraged to leave feedback about sellers' products and customer service at the conclusion of each transaction. This information is accessed by clicking on the number next to the seller's username. A consistently positive feedback rating indicates a reliable seller.
Conclusion
Garages and workspaces can become cluttered easily with tools and other vehicle maintenance equipment. However, having the right equipment storage accessories ensures that users can organise and protect their spare parts and tools. It is important to evaluate the equipment to be stored before buying accessories. The number of items, their size, and any special storage instructions should be considered. In addition, the amount of storage space should be taken into account and optimised as far as possible.
Tool cabinets can be wall-mounted or freestanding and come in a range of interior storage designs. Choose cabinets that are spacious and organised enough to match the user's requirements. If buying tool boxes or chests, take the interior arrangement and construction materials into account. Smaller tool organisers are handy for keeping small hand or power tools nearby while working. Compartment boxes and storage bins are larger accessories that may be more suited to stationary workspaces.
Shelving is always a plus as it is easy to install, can be mounted out of the way, and offers an excellent way to save space. Those working from a garage may appreciate the extra packing space as these places are often cluttered with overflow household items. In addition, shelving can be used to store parts and equipment that is seldom used or that is taking up precious floor space. A wide range of equipment storage accessories is available from eBay sellers.