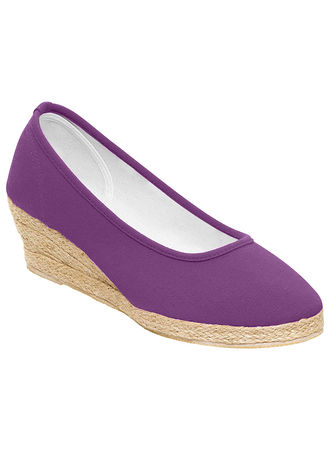 Espadrilles are shoes that typically feature canvas uppers and rubber soles, with a distinctive braided jute rope around the edge. The espadrille dates back to the medieval period, when "espardenyas", as they were called, were worn by soldiers and peasants in the Pyrenees region. The shoe has come a long way since then, with expanded styles and fabrics. It remains a popular item for men and women alike, particularly when the weather calls for a light, comfortable shoe. Men's espadrilles are perfect for the beach, but are also seen on city streets. And while they may be too casual for the office, the range of styles means more ways to wear this comfortable, affordable shoe.
Buyers considering a pair of espadrilles should first inform themselves about different styles and materials available, and consider what best suits their needs. Colour and design are additional factors. It is also helpful to know what kind of fit to expect from an espadrille. Consulting fashion magazines and men's style websites may provide some inspiration and ideas before setting off on the buying process. Taking all of these steps can help men find the right pair of stylish, comfortable espadrilles.
Origins of the Espadrille
The origins of the espadrille date back to the middle ages, when "espardenyas", as they were called, were made in the Pyrenees by specialised shoemakers called alpargateros. Back then, the sole was made of strong esparto grass that had been singed over a fire and then braided. After coating the sole in pitch, the alpargatero would pass the work along to a seamstress, who would sew on the uppers, made of woven flax. Espardenyas were durable enough to be worn by soldiers from Aragon and Catalonia on campaign. And, because they were also comfortable and inexpensive to make, men and women would wear them when they worked or travelled in the fields or mountains.
Advantages of the Espadrille
Many of the original advantages of the espadrille remain true today, and are the reasons for their worldwide popularity. Because espadrilles are lightweight, soft, and conform to the foot's shape, they can be extremely comfortable. They make a great summer substitute for flip-flops. There are also plenty of affordable models; some consumers may even want to buy more than one pair to take on vacation. And, because they are so lightweight, travellers find it easy to pack a pair or two, without taking up much space or weighing down a suitcase.
Potential Disadvantages of Espadrilles
There are a few potential issues that one should take into consideration when purchasing espadrilles. First is the fact that, on the whole, they tend to be less durable than trainers and some other shoes, and therefore do not last as long as other footwear. Of course, durability depends on use: softer surfaces and casual use are less likely to cause wear and tear than paved or rough surfaces. In addition, most espadrilles do not fare well in the rain, so travellers should plan on packing a pair of rain-resistant shoes in case of inclement weather.
Finally, traditional espadrilles may fit too loosely for some people's comfort level. Those who prefer a more snug shoe can look for more constructed espadrilles with more support in the uppers, or, alternatively, a hybrid lace-up version. Tougher materials like leather might also be a better choice, in this case. And for those needing more arch support, separate insoles can be purchased.
Style
While traditional espadrilles, with their canvas uppers and distinctive jute braid, are highly popular for both men and women, styles have expanded to include a range of models. These days, espadrilles can come in different materials and constructions.
Materials
Manufacturers have branched out from traditional canvas uppers and jute soles. Uppers come in canvas, cotton, leather, denim, and suede. Soles can also vary; some are still jute with a touch of rubber, while others are completely rubber, sometimes with a leather insole. Soles made from materials other than jute may still retain the decorative jute braid, while others have done away with it completely.
As for colours and patterns, there is a seemingly limitless range of options: muted, natural tones or deep, saturated colours, stripes, plaids, camouflage, snazzy prints, and beyond. One tip is to buy at least one pair in a solid colour to match a range of outfits; eye-catching prints are fun, but may not pair with everything.
Constructions
There are several variables when it comes to espadrille style. Traditionally, they are simple, lace-free slip-ons. However, more and more interpretations of the classic have appeared. Some styles lengthen the upper and include elastic stretch bands at the sides. Others are lace-ups, either oxfords or high-tops. Still others have more of a heel and stiffer uppers, for a more structured profile. Additional construction details like contrast stitching add flair and interest.
What to Wear with Espadrilles
Espadrilles are widely regarded as a summer shoe, and they look excellent paired with casual summer wear. They can be worn with shorts and a T-shirt on hot days at the beach, or dressed up a bit with a jumper or dress-shirt. They also go well with casual trousers and denims. As long as the setting is relatively informal, the espadrille can go from morning to night, beach to restaurant, making it a fairly versatile shoe.
As mentioned above, espadrilles are generally too casual for business, although a lace-up, oxford-style pair in leather may pass in more relaxed offices.
What to Expect from an Espadrille's Fit
Espadrilles come in men's and women's sizing. The available range of sizes may depend on the manufacturer and retailer. Espadrilles may use US or European sizing, depending on the manufacturer. The following is a chart to help buyers convert from their European to US size, or vice-versa.
| Men's US Size | Men's European Size |
| --- | --- |
| 6, 6 1/2 | 39 |
| 7, 7 1/2 | 40 |
| 8 | 41 |
| 8 1/2 | 42 |
| 9, 9 1/2 | 43 |
| 10, 10 1/2 | 44 |
| 11, 11 1/2 | 45 |
| 12 | 46 |
As noted in the chart, some manufacturers recommend rounding down for US half-sizes, since the espadrille upper quickly conforms to the foot. In addition, certain models may run large or small, so if ordering online, it may be helpful to read that particular manufacturer's information on sizing, as well as product reviews by customers.
While fit can vary depending on the material and model, espadrilles tend to be fairly loose-fitting. Canvas and leather shoes are likely to feel snug at first, but they stretch with wear, conforming to the foot's shape.
When trying on canvas espadrilles, the front toes should reach the tip of the shoe, but not feel crowded or bunched. The heel may feel loose but should not slip off of the foot at every step.
How to Buy Espadrilles on eBay
If you're looking for espadrilles online, eBay's auction website has a wide range of sizes, styles, and colours. To begin, go to eBay's home page and type keywords, such as "men's denim espadrilles" in the search bar. Then, you can narrow search results by size, manufacturer, color, and other factors. eBay's Search Tips page has more information about how to narrow your search and find what you're looking for more efficiently.
Buying With Confidence on eBay
Before bidding on a pair of espadrilles, pay close attention to the product description. It should contain vital information, such as manufacturer, dimensions, materials, and quantity. Also check the terms of shipment and whether there are shipping fees, which should be taken into consideration when deciding how much to bid. If you have any questions, eBay makes it easy to ask the seller a question.
Get to Know the Seller
Reading information about the seller is another way to help ensure a positive transaction. A high percentage of positive feedback rating is usually an indication that the seller is knowledgeable and reliable; you can also read specific feedback from previous customers, particularly pertaining to footwear. Top-rated sellers have earned their status by consistently providing the highest level of customer satisfaction.
Conclusion
Espadrilles originated in the Pyrenees in the Middle Ages, when soldiers and civilians alike prized them for their comfort and durability. Today, they are a popular summer shoe for hot weather and casual activities. Furthermore, they tend to be relatively affordable, lightweight, and easy to pack. Men's espadrille options have significantly expanded beyond the traditional canvas and jute model. Variations on the original include uppers in materials like leather and denim, as well as rubber soles for better support and durability. In addition, styles may be lace-up, high-top, oxford style, or classic, while colors and patterns can range from subtle to eye-catching. There are also a number of ways to wear espadrilles. While usually too casual for a business setting, they go very well with a range of casual wear. Buyers should know what to look for when trying on espadrilles, and what to expect from their long-term fit. By informing themselves about espadrilles, buyers can find a pair that look and feel terrific.