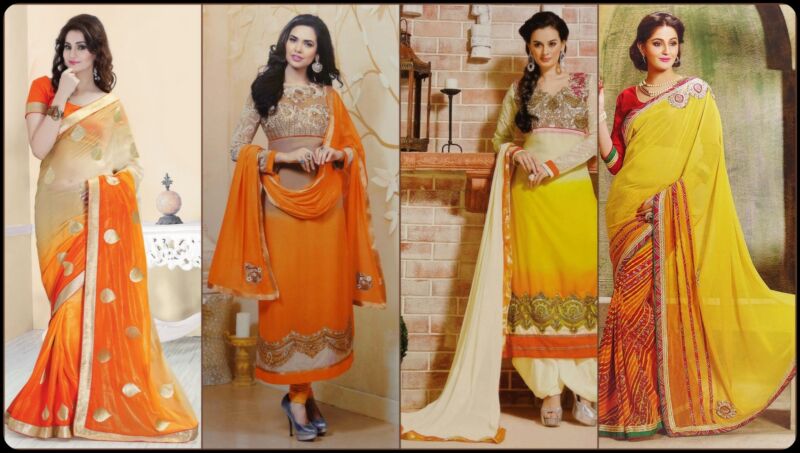 To start with, we have
saree
, the traditional attire of South Asian females is actually a drape which is almost 6 yards long. The origin of sari dates back to the era of Indus Valley Civilization. The word sari was coined from the Sanskrit term 'Sati' which means 'strip of cloth'.
Sari is considered to be the magical apparel that can hide your extra pounds and can make you look stylish and slimmer. Therefore, don't worry if you are fat. A saree would never disappoint you. You just need to team your saree with the right blouse and the perfect knick knacks and you'll look angelic. Of course, a little bit of make-up won't harm. Right? Just avoid wearing heavier fabrics and heavy embellishments as they add more volume to your body. If you have too many flesh on your stomach, spread your pleats evenly rather than focusing on the navel alone. This will help you cover the flesh.
Once you have decided on your saree, focus on the blouse you would opt for. A printed blouse would be a better option than an embellished one. Again, make sure that your blouse is made of a light weight fabric. A quarter sleeved blouse will cover the extra pounds on your arms. Sleeveless blouses may be in trend but they are big NO for you. And if you are planning on wearing a lehenga choli, ensure that the choli covers your waist as well. You don't want to look bulgy.
Besides saree, there are gorgeous
Anarkali salwar suit
that can camouflage the flabs giving you a slim and fit appearance. With palazzo pants and straight suits, it is not much difficult to get a shape to your body type. Go for slim fit salwars rather than loose ones because the body hugging ones will make you look a size smaller. But if you are picking up a churidar with your suit, verify the fabric carefully. Do not go for lycra because of it stretchable texture.
We also have amazing kurti collection in our store made up of extremely cozy fabric. If you are pear shaped, you so need a long kurti that would hide the extra pounds on your thighs and hips. But, make sure that you are wearing a slightly loose kurti and not an extremely loose one if you wish to look slim. When it comes to choosing the fabric, go for cotton-the safest of all fabrics.
A dark and solid color is the best option for you. Pick up the correct accessory to match your outfit and get an attractive hair style done and you're all set for a party.