Evanescence- More than just an awesome band!
I am writing this on the greatest band ever, Evanescence. I, alolng with my friend Casey Lynn have followed this band for over 6 yrs, and we have managed to collect basically everything produced by, for, and about them.
Evanescence is a "gothic rock" band. I promise you they have the most addicting sound you will hear in music! Contrary to what some say, every one of their songs are unique. The people that say they are all the same have NOT LISTED to their music! Period. What I like most about the band is the fact that there is so much to know about the history of how they got started. If you dig deeper than just the CDs you pick up at Wal-Mart, and what you might hear on the radio, you will find that they were making music long before the Daredevil soundtrack. Here is some info you will not get from the occasional walkman listener, or the girl down the street who likes to listen to them in her car.
Evanescence released 4 Cds, not just Fallen, and the first was released a full 5 years before the Daredevil sountrack and the Fallen CD. In 1998, Amy Lee, Ben Moody, David Hodges and Rocky Gray released a limited number of Cds which they entitled the "Solitude EP". They only made 100 of these, and sold all of them in one night at a Little Rock Venue named "Vino's". A few months later they released another EP, this one they dubbed "Sound Asleep" (it is also known as the Whisper EP". They only made 50 of these, and released them in a plastic case with rounded corners. (just a sidenote: The company that manufactured these cases went out of business in 2001. You won't find them at Best Buy so don't bother trying :)
Finally, in 2000 Evanescence released their first full length album, complete with a lyric booklet. It actually looked pretty professional (compared with their small budget earlier CDs). Helping them with the album was with Brad Cavett, who owned a small company he started named "BigWig Enterprises" in Little Rock AR. This album is my personal favorite. Several of the songs were later released on Fallen, but they are darker versions on the Origin album. Plus, the song "Even in Death" is simply an AWESOME song, and you will only find it on this album. Why this Cd wasn't nationally released is a mystery to me. Only 2500 AUTHENTIC copies were produced, the original Cds had the letters BWE in the inner ring of the disc. If your disc doesn't say this, I'm sorry to say you bought a Russian bootleg. The Russian music bootleggers also produced a 19 track Origin CD, which isn't legit but still cool to own if you are a fan.
All three of these CDs are quite awesome, and definitely worth buying (if you can find them!!) Casey and I both have a set of these. I also acquired Amy's personal upright piano, which she used to write several of the songs on the Fallen album when she was a teenager, and actually took piano lessons on it during her childhood. I have been offered quite a bit of money for it, but so far I have decided to keep it as it is perhaps the greatest Evanescence collectible one could obtain. Casey and I are working on creating an Evanescence museum, with many rare collectibles and the piano as the showcase item.
I have video of her and Casey playing on the piano when we got it from her home in Little Rock. Shaun Morgan helped us load it into Casey's truck when we left her house. Here is a picture of Casey and her, you can see their family photos on the piano in the background. Pretty cool huh?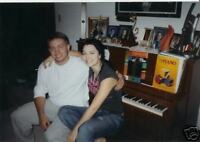 Here is Amy and her Dad, this was taken when Amy was around 14-15 (right around the time her and Ben started the band).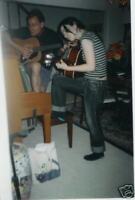 In closing, I must say that if you are truly interested in this band and enjoy listening to them as much as we do, try and get ahold of every song they released. Some were never even put onto a legitimately released CD, but you can find them on the internet. Lastly, if you are looking to add legitimately released CDs from the band to your collection, the only ones that the band released are the Solitude EP, Sound Asleep EP, Origin CD, Fallen, the singles from Fallen (Bring me to Life/Going Under/My Immortal) and Anywhere but Home (includes a DVD). They are releasing a NEW ALBUM later this year entitled "The Open Door". Anything you see on eBay is FAKE, and someone made it in their basement! ("Not for your Ears/the Ultimate collection/etc. etc.)
Enjoy! If you have any questions, email me. Later ~Jacob