The practice of oil painting dates back to fall of Rome when painters began mixing bounding pigment with a drying oil. Using this medium, enormous painting movements like Baroque rose to prominence and gave the world painters like Rembrandt, Caravaggio, and "El Grecko". Getting started with oil painting merely requires purchasing the right oil painting supplies, deciding on inspiring subject matter, and exploring packaged oil painting material options.
Tools for Oil Painting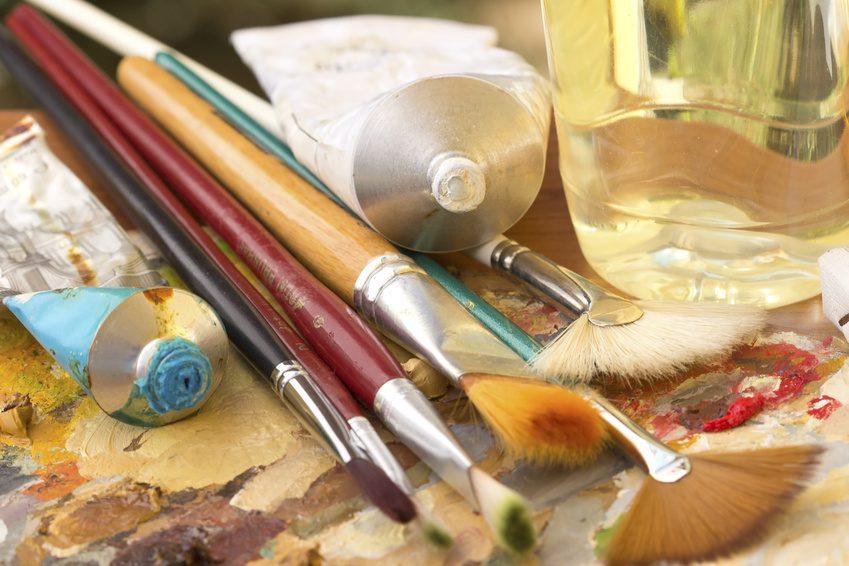 Every painter requires a set of appropriate tools to facilitate the creation of something beautiful. Try to find a nice easel for holding blank canvases comfortably at eye-level while painting. Then, purchase a few canvases of various sizes and a set of oil paints. The latter only needs to include primary colours that mix easily into shades with the addition of black or white. Make sure to get larger amounts of black and white for this purpose. Look for a large palette board with plenty of room for a generous blob of each of the colours, and purchase a brush or an oil paint brush set that includes a wide range of sizes as well as a varnish brush to seal the painting when complete. Sketching pencils help outline a scene or object before applying paints, and a metal rack on wheels provides enough storage for all the oil painting tools without hindering movement throughout a space.
Finding Your Muse
Deciding on a subject for your oil painting sometimes represents the hardest part of starting an artistic process even for longtime professionals. Good lighting and an ample, well-ventilated workspace aid in the success of a budding painter, as well as a comfortable tall chair. When you first start, try painting simple household objects like fruit or small trinkets. After a while, you can begin to work your way up to more advanced subjects like landscapes and human portraiture. Using a view from a nearby window or photographs of relatives might help inspire the beginnings of a personal gallery.
Beginners' Oil Painting Kits and Guides

Oil painting tools come separately or in convenient kits for those less inclined to shop for individual products. Although a good deal of browsing need may be required, as these kits vary in size and contents. Some include everything from an easel to palette. Others offer special trowels and sculpting tools for modifying the paint once it hits the canvas. Beginners might want to search for amateur oil painting books for professional tips and guided instruction. Some even include complete courses for mastering specific techniques and achieving a desired look.