Some houses are just to big for a DECT phone to cover.
Old houses with thick walls, new houses with under floor heating, or just BIG houses with big gardens - sometimes your phone needs a boost.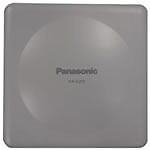 Panasonic A272 Is A Quality Unit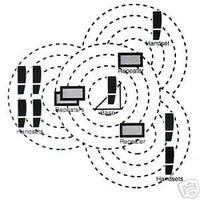 Typical large installation - the main phone is in the middle with repeaters at 1, 5 and 9 oclock (this is not typical, normally one or two repeaters are required maximum)
Nearly all DECT phones work with a repeater but ones with a repeater mode (or best base mode) will nearly always allow wander / crossover / handshake meaning you can pass from the base coverage to the repeater coverage without losing a call.
BT have a Diverse repeater (made by Siemens) this works best on the Diverse 4000 and 5000 series as the 6000 series is NOT made by Siemens.
DST also sell a long range (1km) DECT sender - this is like a repeater but not quite,