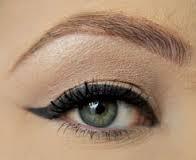 To create the perfect eyeliner flick it is best to use a liquid based product. I have found that using a nib with an almost felt tip type end works best. The benfits are:
It stays on all day
Looks fresh as if it has just been applied
You do not need to touch it up during the day

reaC
It creates a very flattering look to the eyes, I have found that using a kohl eyeliner for this technique can cause it to smudge.
To create the perfect flick start from the inner corner of your eye (depending where you want the eyeliner to start) and then build it up working towards the outer, closing your eye whilst doing this helps create the flick so it matches the shape of your eye. Finish off with mascara to create the perfect look!
This look can be worn day or evening, just build up the eyeliner as little or as much as is desired. For an added twist I use the eyeliner at the bottom of my lashes too, to glam it up I also use a gold (Barry M) eyeliner and create a very thin line at the bottom of my lashes before adding the eyeliner. This look creates a sparkle that you cant quite put your finger on.
http://www.ebay.co.uk/itm/Rimmel-Exaggerate-Eye-Liner-Liquid-Black-intense-2-5ml-black-001-EYELINER-NEW-/251716207525?pt=UK_Health_Beauty_Make_Up_Cosmetics_Eyeliner_PP&hash=item3a9b7483a5